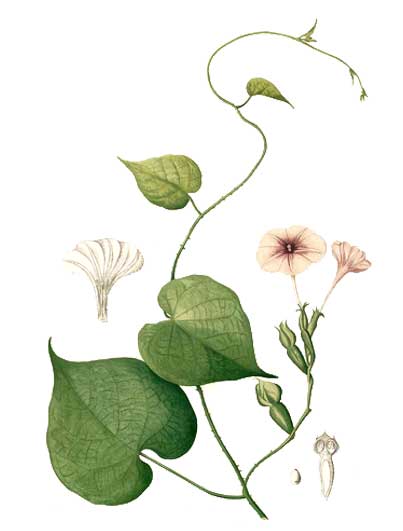 Botany
Tunkin is a smooth, climbing vine. Stems are rough, with small tuberculous outgrowths or prickles. Leaves are smooth, soft, heart-shaped, 5 to 10 centimeters long, and tapering abruptly into a narrow point at the tip. Flowers are large, 5 to 6 centimeters long, pale purple, and borne singly or in small-stalked clusters resembling the morning glory. Fruit is rounded, 10 to 15 millimeters in diameter. Seeds are polished, black, and smooth.
Distribution
- Introduced from tropical America.
- Found in cultivation in Pampanga, Luzon.
Constituents
- Seeds have yielded indolizidine alkaloids, two resin glycosides and muricatins VII and VIII.
- Study of seeds yielded nine previously undescribed resin glycosides, Calonyctins B-J. (see study below) (7)
- Study of seeds for bioactive constituents isolated phenylpropanoids, phenylpropanoid glucosides, and a phenylethanol diglucoside. The phenylpropanoids were ethyl caffeate, caffeic acid, and methyl p-coumarate. The phenylpropanoid glucosides were 6-0)p-coumaroyl)-Beta-D-methylglucopyranoside and 6-0 (p-coumaroyl)-alpha-D-methylglucopyranosde. The phenylethanol diglucoside was identified as 2-(4-[0-beta-D-glucopyranosyl (1-6)-beta-D-glucopyranosyloxy] phenyl} ethanol. (11)
- Study of seeds yielded a new resin glycoside, Muricatin IX, the first representative of resin glycosides in which an organic acid connects the sugar moiety and aglycone moiety to form a macrocyclic ester ring. (12)
Properties
- Seeds considered purgative, vulnerary and antidotal.
- Considered analgesic, antiseptic, antimicrobial and antifungal.
- Studies have shown antimicrobial, anticholinesterase, cardiac depressant, cytotoxic, analgesic properties.

Parts used
Seeds, stems, leaves, plant juice.

Uses
Folkloric
- In the Philippines, seeds are used for wound healing.
- Ground seeds taken orally for gastric and duodenal ulcers.
- Used as efficacious antidotal remedy.
- Also used as purgative.
- Seeds used as substitute for Ipomoea hederacea, sharing the same medicinal properties.
- Juice of the plant used as insecticide and for destroying bedbugs.
- Rural people of Madhya Pradesh use the immature floral pedicels as appetizer and digestive capacity.
- Seeds, stems and leaves used for various skin ailments - gangrenous wounds, cuts, and burn blisters.
- In Africa, used as aphrodisiac.
- In Vedic myth and Hindu practice, used as aphrodisiac; mystically, used in tantric lovemaking, with the salve rubbed into the forehead 'third eye.'
- In India, seeds are used as laxative and carminative. (12)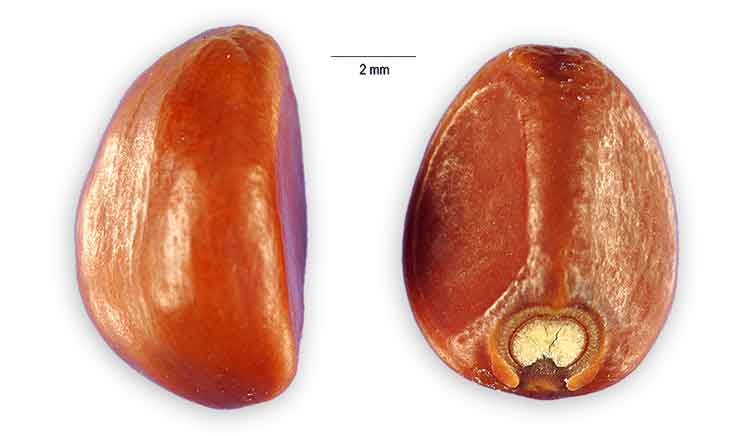 Studies
• Glycoside Muricatin / Cardiac Depressant / Seeds: Seeds yielded a glycoside muricatin which showed to be a cardiac depressant, spasmolytic to the smooth musculature of the gut, and blood pressure lowering on the anesthetized dog. (2)
• Seed Alkaloids: Study of seeds yielded five nitrogen indene alkaloids: ipalbidine, ipalbidinium, ipaldinium, isolpomine and ipomine. (4)
• Seed / Mutagenicity / Antimutagenicty: Study evaluated a seed extract of Ipomoea muricata for mutagenicity and antimutagenicity effects. Results showed an antimutagenic potential at 50, 100, and 250 mg/kg bw, and a mutagenic effect in Swiss mice at 500 and 2,500 mg/kbw. (5)
• Resin Glycosides / Multidrug Resistance Reversal Activities / Enhanced Cytotoxicity of Vincristine / Seeds: Resin glycosides represent an important chemotaxonomic marker of the Convolvulaceae family and possess multidrug resistance (MDR) reversal activity. Previous study yielded nine resin glycosides, Calonyctins B-J. Calonyctins E, J, and muricatic acid C methyl ester were non-cytotoxic but enhanced the cytotoxicity of vincristine by 2,5-407.1 fold at 25 µM in KB/VCR cells. Calonyctin was the most active. (7)
• LD50 / Seed: A 7-day LD50 of crude alcoholic extract of seed was 1100 mg/kbw intraperitoneally, and 7810 mg/kbw orally. Slight depression manifested by decrease in motor activity, loss of screen grip and righting reflex, ataxia, analgesia, diarrhea and loss of appetite were observed with multidimensional screening method. No effects were seen on hematologic parameters. (8) (10)
• Lysergol / Alkaloid / Seeds: Seeds contain many indole alkaloids. Lysergol, one of its major alkaloid, exhibits hypotensive, psychotropic, and uterine and intestine-stimulating properties. Study reports on a simple, precise, accurate, and time-saving method for isolated of LysergolTLC densitometric quantification of lysergol from the seeds showed an average percentage recovery of 99.68, with the amount of Lysergol at 0.23% w/w. (9)
• Analgesic Effect / Seeds: A crude ethyl alcoholic (EtOH) extract of seeds of Ipomoea muricata showed analgesic activity at dose of 100-1000 mg/kbw comparable to 112 mg/kbw of aspirin. (10)
• Chanoclavine / Clavine Alkaloid / Synergy with Tetracycline Against MDR E. coli: Study evaluated the synergy potential and the drug resistance reversal mechanism against multi-drug resistant clinical isolate of Escherichia coli (MDREC). While the chanoclavine did not show antibacterial activity, in combination it could reduce the MIC of tetracycline up to 16-fold. Chanoclavine inhibited the efflux pumps which seem to be ATPase dependent. In silico docking studies showed significant binding affinity of chanoclavine with different proteins involved in drug resistance. Toxicity studies showed the chanoclavine to be safe, non-hepatotoxic, with good intestinal absorption, no CY 2D6 inhibition, non-mutagenic, with no skin irritancy. (13)
• Acetylcholinesterase Inhibitory Activity / Alzheimer's Disease / Seed: Acetylcholinesterase (AChE) is a key enzyme in the breakdown of the neurotransmitter ACh, inhibition of which is a target in the treatment of various neurological disorders such as Alzheimer's disease. This study evaluated a crude methanolic extract of I. muricata seed for potential AChE inhibitory activity compared to Donepezil, a prescription drug for AD. The crude seed extract showed moderate but persistent inhibition of AChE in comparison to Donepezil with its strong but short-lived action. Results suggest a potential herbal alternative for AD treatment. (14)
• Antimicrobial / Seeds: Study evaluated crude ethanolic extract of seeds of Ipomoea muricata for antimicrobial activity against 45 bacterial clinical isolates. A 30% hydroalcoholic extract of seeds showed strong antimicrobial activity against Staphylococcus aureus isolated from abscess, wound, and wound discharge. Extract showed activity against B. subtilis from corneal scraping, peritoneal fluid, urine and wound discharge and strong activity against S. saprophyticus isolated from urine and wound. S. aureus from seminal fluid, endotracheal sputum, throat swab, blood, placental swab and urine and Gram negative clinical isolates were resistant to the crude extract. (15)
Availability
- Wild-crafted.
- Seeds from the cybermarket.