Botany
Ualisualisan is an erect, branched, slightly hairy or nearly smooth, half-woody shrub growing to a height of a meter or less. Leaves are lanceolate, 3 to 5 centimeters long, with toothed margins, pointed tip and blunt or rounded base. Flowers are yellow, about 1.3 centimeters in diameter, borne singly at the axils of the leaves. Fruit is a capsule about 3.5 millimeters long, with two projections and consists of 4 to 9 carpels enclosed by the calyx.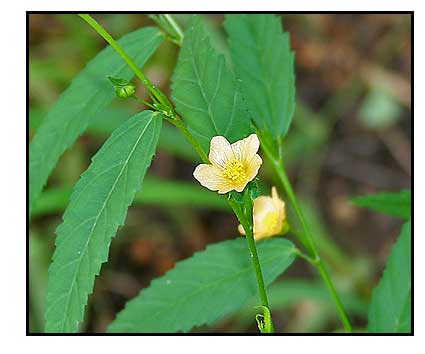 Distribution
- Weed found in open places throughout the Philippines.
- Pantropic.

Constituents
- Roots contain asparagin.
- Leaves contain saponin.
- Saponifiable fraction of fixed oil of seeds yielded oleic, linoleic, palmitic, stearic, myristic and palmitoleic acids. The unsaponifiable fraction yielded ß-amyrin, ß-sitosterol, and an unknown waxy nonsteroidal substance. (15)
- Phytochemical screening of ethanol extract of leaves yielded alkaloids, saponins, cardiac glycosides, steroids, flavonoids, terpenoids, hydrogen cyanide and phenols with absences of resins, reducing sugars, tannins, carbohydrates proteins, fats and oils. *see study below( (32)

Properties
- Plant considered abortifacient, anthelmintic, and antiemetic.
- Leaves considered demulcent, diuretic, anthelmintic, vulnerary.
- Roots considered a bitter tonic, emollient, aphrodisiac, antipyretic, antirheumatic, demulcent, diaphoretic, stomachic and vulnerary.

Parts utilized
Leaves, roots, whole plant,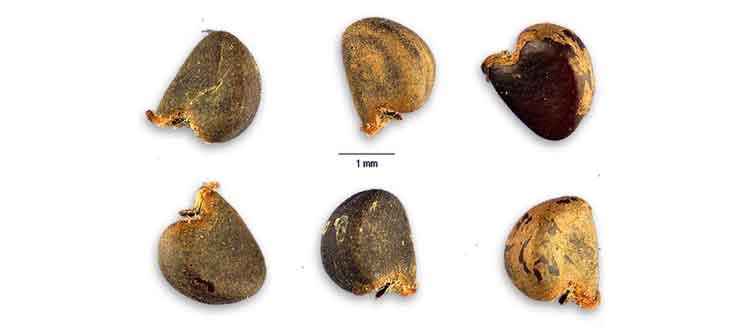 Uses
Folkloric
- Poultices made from boiled leaves are applied to ulcers and sores.
- Decoction of roots and leaves are emollient; taken internally for hemorrhoids, fever, impotency and as a tonic.
- Decoction also used as demulcent; for gonorrhea and rheumatism.
- Roots use as stomachic and antipyretic.
- Decoction or infusion used for fevers, dyspepsia and debility.
- An infusion with ginger added is given in intermittent fevers and chronic bowel complaints, a teacupful twice a day.
-Root juice, sugared or mixed with honey, used to expel worms.
- Juice of leaves, mixed with honey, given for dysentery and chest pains.
- Fresh juice of roots applied to wounds and ulcers to promote healing.
- In Nicaragua, whole plant used for asthma, colds, fever, worms, and renal inflammations. In

India

, used for fever, bronchitis, ulcers, diarrhea, skin diseases; paste of leaves mixed with coconut oil used for dandruff and hair strengthening. In

Nigeria

, used for malaria, ulcer, fever, breast cancer, poisoning, inducing abortion. In

Sri Lanka

, roots and leaves used for hemorrhoids, fever, impotency, gonorrhea, and rheumatism. (

13

)
- In Mexico, leaves smoked for aphrodisiac effect. (

23

)
- In the Yucatan, decoction of roots used for vomiting of blood; decoction of leaves used for fever.
- In India, seeds are given for enlarged glands and for inflammatory swellings.
- In Togo, West Africa, leaves used for eczema, kidney stones, headache.
- In Indian traditional medicine, used for treating liver disorders, urinary disease and disorders of the blood and bile.
-In the Ivory Coast, used for malaria.
- In India, reported tribal use for the treatment of dandruff, rheumatic and liver complaints, kidney stones, testicular swelling, elephantiasis, bronchitis, dysentery, diarrhea and skin diseases. (

34

)
-In Nigeria, leaf decoction or juice used for the treatment of malarial fever, vomiting and gastric disorders. Root decoction used for relief of chest pain, breathing problems and for treatment of tuberculosis. Also, two weeks before delivery, leaves are chewed, believing that the slippery nature of the leaves will hasten and facilitate delivery.(

39

)
Others
• Fiber: Bark yields a fiber, yellow, delicate, filamentous, soft, very lustrous and silky in appearance, of medium strength. In the Ilocos it is used to make a superior-quality rope, of pleasing color and gloss.
• Crafts: Stems are used for making brooms and baskets.
- Tobacco substitute / Euphoriant: Seeds and leaves smoked for euphoria and stimulatory effects. Dried rootbark combined and smoked with marijuana. Mopan Mayan were reported to smoke the dried leaves. In Yucatan, Sida acute (chichi'be) leaves are dried and smoked by "marijuana" to "dry out the brains." (The Smoking of Bones: Mayan Use of Tobacco and Ritual Tobacco Substitute, Kerry Hull Univ. of New Mexico Press) (

23

)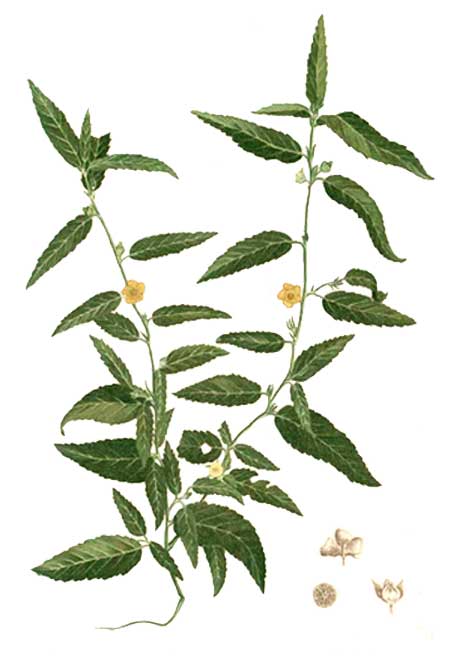 Studies
• Antimalarial: In a study for antimalarial activities of traditional medicinal plants, screening showed Sida acuta has a significant activity with IC50 < 50 microg/mL. Effect was attributed to its alkaloid contents. (

1

)
• Anti-Viral / Anti-HSV: Sida acuta was on of five plants extracts found to have selective activity against HSV. (

2

)
• Hepatoprotective: Phytochemical testing confirmed the presence of phenolic compound, ferulic acid in the roots. Results show significant hepatoprotective effects and provides a rationale for its traditional use in liver disorders. (

3

)
• Antibacterial / Alkaloids: Study yielded indoloquinoline alkaloids which showed good antimicrobial activity against the test microorganisms. Further analysis led to isolated of cryptolepine and quindoline. (

4

)
• Antiplasmodial / Cyptolepine: Study led to the identification of cyptolepine as the active antiplasmodial constituent of the plant. (

5

)
• Antimicrobial: Study of the antimicrobial activity of the crude extract of the aerial parts of Sida acuta showed activity against standard strains and isolates of S aureus, B subtilis and Strep faecalis. (

6

)
• Anti-fertility / Contraceptive: Study yielded alkaloids, steroids, flavones, anthocyanins and phenolic compounds. The ethanolic extract had the most potent antiimplantation activity. The petroleum ether extract possessed estrogenic activity. The adverse effects on fertility were reversible on withdrawal of the extract treatment. (

7

)
• Anti-Neoplastic: A study on a bioassay based on the induction of quinone reductase yielded ten active compounds along with five inactive compounds. Of the compounds, cryptolepinone, N-trans-feruloyltyramine and 5,10-dimethylquindolin-11-one exhibited inhibition of chemically induced preneoplastic lesions. (

8

)
• Anti-Ulcer: Results showed S acuta extract possessed antisecretory and cytoprotective mechanisms and can be a potential source for ulcer treatment. The antiulcer activity has been attributed to alkaloids and flavanoids (

9

).
• Antibacterial / Antifungal / Phytochemicals: Study of chloroform and ethanol extracts yielded carbohydrates, alkaloids, phytosterols, saponins and fixed oils. Antimicrobial screening with S aureus, B subtilis, E Coli, P aeruginosa, C albicans and A niger. There was appreciable antibacterial activity against all the selected bacteria, with maximum activity against S aureus and E coli. (

10

)
• Antioxidants / Tocopherols / Triterpenoids: Study of the whole plant yielded a new tocopherol derivative, 7a-methoxy-a-tocopherol, and a new taraxastane triterpene, taraxast- 1,20(30)-dien-3-one, together with four known compounds, b-tocopherol, a-tocopherol, a-tocospiro B and taraxasterone. Three compounds showed significant antioxidant effect in the DPPH radical scavenging assay. (

11

)
• Negative Effects of High Doses on Cerebral Cortex: Study evaluated the effect of an ethanolic leaf extract of Sida acuta on the histologic features of the cerebral cortex on rats. Results suggest high doses of the extract may affect cerebral cortex functions, indicated by hypoplasia and hypertrophy of cells in the cortical, intermediate, and sub-ventricular layers. (

14

)
• Antibacterial / Staphylococcus aureus / HIV/AIDS Patients: Study evaluated the effects of aqueous and ethanol extracts of leaves of Sida acuta against 45 clinical isolates of Staphylococcus aureus from the nasal cavity of HIV/AIDS patients. Results showed S. acuta has appreciable activity against S. aureus, and suggests a potential for use in the treatment of opportunistic infections caused by S. aureus in the HIV/AIDS setting. (

16

)
• Antibacterial Flavonoids: Study investigated the antimicrobial activity of free and bound flavonoids of Sida acuta. The flavonoid extracts showed only antibacterial activity against all tested bacteria, with S. aureus being the most susceptible. The extract was inactive against tested fungi. (

17

)
• Renal Electrolyte Effects: Study evaluated the effect of an ethanolic extract of leaf on kidney electrolytes of adult Wistar rats. Serum chemistry revealed significantly elevated sodium and decreased potassium levels in animals at doses of 200 mg/kbw. Results suggest the leaf extract could have adverse effects on kidney electrolytes of adult Wistar rats at the experimental doses and duration. (

18

)
• Removal of Fluoride from Drinking Water: Excessive fluoride can be lethal, and may cause dental and skeletal fluorosis. Study showed Sida acuta leaves extract can reduce the fluoride content of water. (

19

)
• Ulcer Healing Effects / H. pylori Induced Ulceration / Leaves: Study evaluated the effects of cold water and ethanol extracts of Sida acuta leaves on H. pylori induced ulcer in mice. Mice treated with clarithromycin were used as positive control. Results showed significant reduction of bacterial load, with reduction in ulcer severity, ulcer index and gastric volume. Stomach histology revealed clear granulation indicating tissue repair and wound healing. (

20

)
• Histological Effects on Cerebral Astrocytes / Cerebral Dysfunction Concern / Leaves: Study evaluated the effects of ethanolic leaf extracts on cerebral astrocytes in Wistar rats. Neurohistological results showed hyperplasia of the astrocytes in the 200 mg/kg treat group, hypertrophy and hypoplasia in the in the 400 mg/kg group, and and hypoplasia in the group that received 600 mg/kg. Results suggest the extract can cause hyperplasia, hypoplasia, and hypertrophy of reactive astrocytes in the cerebral cortex of wistar rats which may cause cerebral dysfunction, (

21

)
• Radical Scavenging / Leaves: GC-MS study of leaves yielded 26 compounds each belonging to different classes such as sterols, flavonoids, terpenes, heterocyclic aromatic compounds, phenols, fatty acids, vitamins, alkaloids, and sesquiterpenoids. In-vitro antioxidant activities were assayed using DPPH, ABTS, nitric oxide, hydroxyl radical and ferric ions. Results showed the ethanolic extract of leaves is an effective scavenger of free radicals and has potential for use as natural antioxidants which is attributable to the presence of secondary metabolites. (

24

)
• Effect on Organ Function Parameters and Electrolytes / Leaves: Study evaluated the effects of Sida acuta leaves on some organ function parameters and physiologically important electrolytes in wistar albino rats. Decreases (p>0.05) in mean concentrations of urea and creatinine were comparable to control. Serum bilirubin levels were insignificantly affected. Serum Na, K, and HCO3 showed significant decreases, with significantly increased Cl. Results suggest that while the extract may not impair liver and kidney functions, possible effects on fluid and electrolyte balance should be close monitored. (

25

)
• Neuropharmacological Effects / Anxiolytic / Sedative / Leaves and Stems: Study evaluated the neuropharmacological effects of leaf and stem extracts of Sida acuta. At higher doses of 500 and 1000 mg/kg, the extract reduced latency time and increased sleeping time induced by pentobarbital indicating a sedative and hypnotic effect. The extract caused an increase in open arm exploration suggesting anxiolytic activity. (

26

)
• Prostate Effect / Leaves: Study evaluated the effects of ethanolic leaf extract of Sida acuta on prostate of male Wistar rats. Morphological study showed increased body weight. Histological exam of the prostate showed dose dependent distortion of the normal cytoarchitecture, with high doses showing prominent distortion. Results suggest consumption of S. acute at high doses may cause adverse effect on the prostate. (

27

)
• Acute and Subchronic Toxicological Studies / Leaves: Study evaluated the acute and subchronic toxicity of ethanolic extract of S. acuta leaves in Wistar albino rats. Results showed the ethanolic extract of leaves in non toxic up to 2000 mg/kbw. Subchronic toxicity study for 28 days in doses-from 100 to 500 mg/kbw showed no significant changes in biochemical parameters (glucose, urea, uric acid, creatinine, AST, ALT, cholesterol), and no hematological and histopathological changes. Based on subchronic toxicity data, 200 mg and 400 mg/kbw were chosen as effective doses for further colon cancer study in Wistar albino rats. (

28

)
• Antifungal / Candida albicans / Flavonoids: Study evaluated free and bound flavonoids of S. acuta against Candida albicans. Results showed good antifungal activity. Free flavonoids were more potent than bound flavonoids. Results suggest potential as a future anticandidal drug. (

29

)
• Antimalarial: Study evaluated a crude methanolic extract of S. acuta for in vitro antimalarial activity against chloroquine-sensitive and resistant strains of Plasmodium falcifarum. The methanolic extract showed good activity against both resistant and sensitive strains with IC50s of 25.43-35.69 µg/mL and 24.83-27.37 µg/mL, respectively. The lowest IC50 was against P. falcifarum K1 (chloroquine resistant cone). Results suggest potential as an antimalarial agent. (

30

)
• Antibacterial / Leaves: Phytochemical screening of a leaf extract yielded alkaloids, steroids, flavonoids, phenols, terpenoids, and cardiac glycosides. On antibacterial testing, Maximum concentration showed maximum zone of inhibition against B. subtilis and E. coli. The extract showed moderate antibacterial activity against S. aureus and P. aeruginosa. (

31

)
• Uterotonic Effect / Leaves: Study evaluated the uterotonic potential of ethanolic extract of leaves of Sida acuta on two pregnant Wistar albino rats. Uterine contractility test showed effects compared with the normal rhythm of the uterus. Atropine did not block the extract-induced contraction. Ergomentrine in doses that blocked adrenaline-induced contractions reduced the extract-induced contractions by half. Results suggest the leaves extract possesses oxytoxic effects and portends danger for pregnant women who might take the infusion. The results c substantiates its use in hastening labor. (see constituents above) (

32

)
• Larvicidal / Repellent / Mosquito Vectors: Study evaluated the larvicidal and repellent activities of Sida acuta extract against three mosquito vectors viz., Culex quinquefasciatus, Aedes aegypti, and Anopheles stephensi. Results showed varying degrees of larvicidal activity with 100% protection against A. Stephensi in 180 min, A. aegypti in 159 min, and C. quinquefasciatus in 120 min. Results suggest excellent potential for controlling the three mosquito vectors. (

33

)
• Anticancer: Study evaluated various extracts of Sida acuta for radical scavenging activity by DPPH assay, cytotoxicity by MTT and SRB assays in Vero, Hep-2, A-549 and HeLa cell lines, followed by short term toxicity studies on Dalton's Lymphoma Ascites (DLA) and Ehrlich's Ascites Carcinoma (EAC) cells. Results showed significant decrease in viability of cells in a concentration dependent manner. The chloroform and toluene extracts showed significant antiproliferative activity. There was a dose dependent increase in lifespan and mean survival time in animals treated with the extracts. Results showed significant anticancer potential (

35

)
• Effect on the Testis / Histo-Hormonal Studies / Leaves: Study evaluated the effects of ethanolic leaf extract of Sida acuta on the histology of the testis and reproductive hormones of male adult Wistar rats. Hormonal studies showed dose-dependent significant (p<0.05 increase in luteinizing hormone (LH). Follicle stimulating hormone (FSH) was reducd in low and medium dose animals. Testosterone level remained insignificant. Histological observations of the testes showed dose-dependent distortion of the normal cytoarchitecture, showing prominent prominent distortion at high doses. Results suggest consumption of Sida acuta at high doses may cause adverse effects on reproductive parameters and organs. (

36

)
• Anticancer / A-431 and HeLa Cell Lines : Study evaluated the in vitro cytotoxicity of a chloroform extract of Sida acuta against A-431 (human epidermoid carcinoma) and HeLa (human cervical cancer) cell lines. Effect on cell growth showed significant cytotoxicity against A-431 cell line with cell growth inhibition of 50% (IC50 375 and HeLa cell line with IC50 610±2.5. Results showed significant anticancer activity. (

37

)
• Anticonvulsant / CNS Depressant Activity: / A-431 and HeLa Cell Lines: Study evaluated methanolic extracts of whole plant of Sida acuta and S. rhombifolia for anticonvulsant activity using maximal electroshock (MES) induced seizures and pentylenetetrazole (PTZ) induced seizures and CNS depressant activity using traction test, rota rod and locomotor activity in mice. The extracts significantly reduced duration of seizures and and mean time duration on rotating rod (p<0.0001) with reduction in motor coordination. (

38

)
• Laxative Effect / Leaves: Study evaluated the laxative potential of aqueous leaf extract of S. acuta in loperamide-induced constipation in Wistar rats. Results showed a significant decrease (p<0.05) in the number and water content of faecal pellets. (

40

)
• Cross-Cytotoxicity of Antimalarial Drugs and Medicinal Plants on Renal Cells: The association of Artemisinin-based combination therapy with herbal medicines seems to be a factor favoring the occurrence of serious adverse effects, hepatic disorders and acute renal failure. Study evaluated the cross-toxicity of these associations with renal cells. African green monkey kidney cells (VERO) were incubated with antimalarial drugs and plant products: Artesumate/amodiaquine (ASAQ), artemether, lumefantrine, Sida acuta and Enantia polycarpa. ASAQ showed significant cell destruction compared to control. Cell mortality was 30% in the tubes treated with ASAQ and Sida acuta. The renal toxicity observed with ASAQ, Sida acuta and combination of antimalarial drugs and herb s appears dose-dependent or cumulative. The mechanism of toxicity needs to be further studied. (

41

)
• Anti-Inflammatory / Analgesic / Whole Plant: Study of a methanolic extract of whole plant of S. acuta showed anti-inflammatory effect using carrageenan induced rat paw edema animal model and analgesic activity using acetic acid induced writhing test and hot plate analgesic in mice. (

42

)
• Antidiabetic / Alpha Amylase Effect: Study evaluated a hydroalcoholic extract of Sida acuta by studies on alpha amylase activity. Inhibitory concentration (IC50) of the extract against alpha amylase was 17.10 µg/ml compared with acarbose at 9.27 µg/ml. Results showed significant alpha amylase inhibitory activity and potential for use as adjuvant therapy in the management of diabetes. (

43

)
• Antimalarial / / Plasmodium falcifarum / Cryptolepine: Study evaluated extracts of Sida acuta against two strains of Plasmodium falcifarum, a chloroquine-resistant and a chloroquine-sensitive strain. Extracts were obtained by preparing water decoction of powdered plant. Results showed antiplasmodial activity. The principal active component was identified as cryptolepine, and alkaloid known to exhibit various pharmacological activities like antitrypanosomal and antifungal effects. (

44

)
• Antihyperglycemic / Antidiabetic / Leaves: Study evaluated the effect of aqueous and methanol extracts of Sida acuta on blood glucose levels in both normal and diabetic rats. Both extracts significantly increased the tolerance for glucose in glucose fed normal rabbits. Both extracts significantly reduced blood glucose levels in alloxanized diabetic rats (p<0.05). (

45

)
• Neurohistological Effect on the Hippocampus / Herbal Interaction / Leaves: Study evaluated the interactive influence of Sida acuta and Rauvolfia vomitoria on the hippocampus of albino rats using neurohistological parameters. Sida acuta induced degeneration of pyramidal cells while R. vomitoria exhibited neuroprotective effect. Co-administration significantly reversed changes to near normal. Results suggest R. vomitoria had potential of ameliorating the neurodegenerative effect caused by Sida acuta leaf extract on pyramidal cells of the =hippocampus of albino rats. (

46

)
• Nanoparticles / Antibacterial / Leaves: Study reports on a simple, one-step, environmental-friendly biosynthesis of silver nanoparticles using Sida acuta leaf extract as reducing and capping agent. Antimicrobial testing showed good inhibitory activity against Pseudomonas aeruginosa and Candida albicans. (

47

)
• Diuretic / Antiurolithiatic: Study evaluated the diuretic and antiurolithiatic effects of Sida acuta in albino rats. Results showed dose dependent increase in urine output, with no effect on sodium excretion, which suggests the diuretic effect could be due to an aquaretic action. The extract also showed significant prophylactic antiurolithiatic activity in a zinc disc implantation model. (

48

)
• Antimalarial / Effect on Malarial Vectors / Leaves: Study evaluated methanolic extract of Sida acuta and Vetiveria zizanioides leaves and roots for antimalarial activity against Plasmodium berghei infections in mice. The extracts exhibited significant antiplasmodial activity as evidenced by higher mortality against mosquito larvae. The leaf and root extracts showed markedly significant antimalarial activity and antivectorial activity effects even at low concentrations. Results suggest potential in mosquito control along with safety for nontarget organism. (

49

)
• Bioinsecticidal / Red Cotton Bug / Leaves: Study evaluated the insecticidal effect of methanol and ethyl acetate extracts of leaves of Sida acute against red cotton bug Dysdercus angulatus. Insecticidal activity showed LD10 = 2.671 µg/gm, LD50 = 6.165 µg/gm, LD90= 13.25 µg/gm, LD99 = 14.32 µg/gm in the ethyl acetate extract. Results showed the mortality increased with increase in concentration of the plant extract and the EA solvent extract showed more insecticidal effect. (

50

)
• Effect on Corrosion Inhibition / Leaves: Study evaluated an aqueous extract of Sida acuta leaves on its influence on corrosion inhibition of aluminum in 1N NaOH solution. Results from chemical and electrochemical measurements showed the extract acts as a mixed-type inhibitor. The protective film formed on the surface of aluminum by adsorption of water-soluble chemical constituents of SAL extract was confirmed by scanning electron microscopy studies. (

51

)
• Amelioration of MSG Neurotoxicity / Leaves: The brain is reportedly sensitive to monosodium glutamate (MSG) toxicity via oxidative stress. Sida acuta leaf ethanolic extract possesses antioxidant activity which can mitigate the neurotoxicity. Study investigated the possible protective effect of EE leaf extract on MSG-induced toxicity in 26 female rats. Data indicated that MSG significantly (p<0.05) elevated MDA level, reduced GSH level and activities of SOD and CAT, reduced PCV and neutrophil count, and distorted cerebellar Purkinje cells and pyramidal neurones of CA3. Co-treatment of SALEE with MSG significantly (p<0.05) reversed these changes to near normal levels. Results suggest MSG may be detrimental to brain but that oral co-administration may provide relative protection from MSG-induced oxidative impairment and microscopic alterations of the rat brain. (

52

)
• Gastric Antiulcer Activity / Leaves: Study evaluated the gastric antiulcer activity of ethanolic extract of Sida acuta leaves on ulcers induced by aspirin plus pylorus ligation, aspirin, and ethanol treatment in fasted albino rats. Results showed significant antiulcer activity by reduction of ulcer index. (

53

)
• Changes in Quality Attributes during Storage: Study evaluated the post-harvest life of local underutilized green leafy vegetables by using convenient and affordable consumer size packages. Two underutilized leafy vegetables, including Olap (Sida acuta) were subjected to pre-packaging in low density polyethylene bags and stored at ambient condition (27-29ºC temperature and 50-70% relative humidity). Results showed prepackaged leaves were superior over unpacked leaves throughout the period of storage in controlling physiological loss in weight, yellowing, and sensory quality. (

54

)

Availability
Wildcrafted.
Cultivated.
Seeds in the cybermarket.