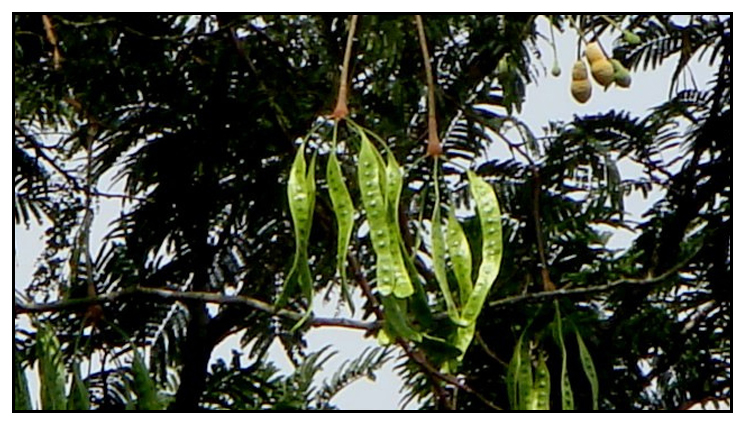 Botany
Upang is an evergreen growing 15 to 40 meters high. Branchlets are pubescent. Leaves are alternate, bipinnate on stalks 2 to 6 centimeter long. Pinnae are 10 to 19 pairs, 5 - 9 centimeters long each with 31-38 pairs of opposite, linear pinnules, 5 - 9 millimeters long and about 2 millimeters wide. Flowers are numerous, small, creamy white to brownish yellow, in densely crowded pear-shaped, pendulous inflorescence heads. Flowers yield a nectar, with a strong and sickly smell. The apical flowers develop fruits. Pods are large, 35-55 centimeters long and 3-5 centimeters wide.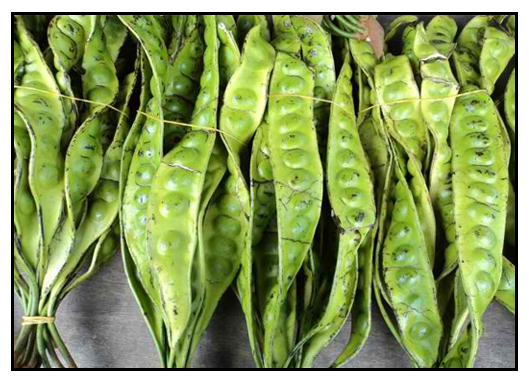 Distribution
- Commonly found in the Philippines.
- Indigenous to Southeast Asia.
- Also found in Malaysia, Indonesia and Thailand.
- Pollinated by bats; seeds dispersed by birds. (18)
Constituents
- Extracts from pods and seeds have yielded high content of total polyphenols, phytosterols, and flavonoids.
- Nutritional analysis of seeds yielded (per 100 g edible portion) ash 1.2-4.6 g, protein 6.0-27.5 g, fat 1.6-13.3g, carbohydrate 13.2-52.9 g, crude fiber 1.7-2.0 g, energy 91.0-441.5 kcal, calcium 108.0-265.1 mg, iron 2.2-2.7 mg, phosphorus 115.0 mg, potassium 341.0 mg, magnesium 29.0 mg, manganese 42.0 ppm, copper 36.7 ppm, zinc 8.2 ppm, vitamin C 19.3 mg, α-tocopherol 4.15 mg, thiamin 0.28 mg. (3)
- Analysis of extracted samples of seeds for seeds yielded 77 compounds. Propanoic acid, 3,3'-thiobis-didodecyl ester was present in highest percentage. Other main compounds were linoleic acid chloride, palmitic acid, linoleic acid, myristic acid, arachidonic acid, undecanoic acid and 2-hexyl-1-decanol. (11)
- Phytochemical analysis of seeds in water, methanol, and hydromethanolic extracts yielded carbohydrates, amino acid, alkaloids, saponins, tannins, flavonoids, terpenoids, glycosides, xanthoproteins and phenols. (see study below) (21)
Properties
- The bitter taste and stink smell has diminished its use as food. It can produce a strong repulsive urine odor as early as 30 minutes after consumption, which may persist for a day or two. Belching and sweating may likewise emit the odor. (30)
- Studies have suggest antioxidant, antiangiogenic, gastroprotective, antibacterial, hypoglycemic, anti-anemic, hemagglutinating effects.

Parts used
Seeds

Uses
Culinary
- Part of sprouts and thickened inflorescence stalks, young leaves, young fruit pods and seeds are eaten raw, or roasted and cooked as vegetable. Popularly eaten in Myanmar, Thailand, Malaysia, Indonesia and India. Seeds with its pungent garlic odor is used as condiment for cooking and used in native Indian and Thai dishes and delicacies.
Folkloric
- No reported medicinal use in the Philippines.
- In folk medicine, used for diabetes, hypertension, and kidney problems
- Seeds used to treat diabetes, kidney pain, and cholera.
- Applied externally to wounds and ulcers; used as carminative.
- In Malaysia, aboriginal tribes use raw bean pod and seeds orally for diabetes; root decoction used for hypertension and diabetes. (8) Fresh seeds are cooked and used to treat kidney disorders. (23)
Others
- Fiber: Wood used in manufacture of paper. (18)
- Wood: Non-durable with service life of 1 year. Used for temporary light construction, carpentry, mouldings, crates and boxes, etc. (18)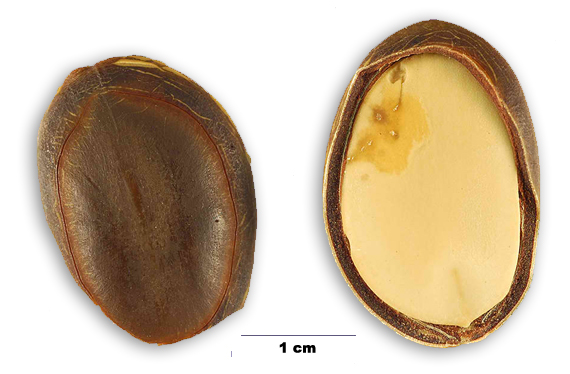 Studies
• Antiangiogenic / Antioxidant: Study evaluated the antiangiogenic effect of eight extracts of P. speciosa empty pods. Extracts showed a high content of total phenols and demonstrated a strong antioxidant effect in DPPH scavenging testing. It showed antiangiogenic activity with significant inhibition of microvessel outgrowth from rat aortic tissue implants by more than 50%, possibly through decreased expression of vascular endothelial growth factor in endothelial cells. (4)
• Antibacterial / Peel: Study evaluated the antibacterial effect of the various peel extract to Staphylococcus aureus and E. coli. Results showed the ethyl acetate extract to have the highest antibacterial activity. (5)
• Anti-Ulcer / Gastroprotective: Study evaluated the gastroprotective effects of Parkia speciosa against ethanol-induced gastric mucosa in Sprague Dawley rats. Results showed gastroprotective effects in extract treated rats with upregulation of heat-shock protein 70 and downregulation of pro-apoptotic protein BAX, with significant increases in antioxidant defense enzymes glutathione (GSH) and superoxide dismutase (SOD). No symptoms of toxicity or death were observed during the acute toxicity tests. (6)
• Hypoglycemic / Seed: Study showed chloroform extracts produced a significant depression of blood glucose levels in alloxan-induced diabetic rats. The occurrence of ß-sitosterol, stigmasterol and stimast-4-en-3-one were reported for the first time, and may have a potential for new hypoglycemic agents. (7) An aqueous seed extract of Parkia speciosa was investigated for hypoglycemic effects on normal rats. Results showed significant blood glucose reducing effect. (12)
• Effect on Liver Drug Metabolism: Parkia speciosa was found to significantly increase liver drug metabolism in-vitro and in-vivo. (9) (10)
• Activated Carbon from Pods: Activated carbon with relatively high surface areas were prepared from Parkia speciosa pods with chemical activation. The yield of AC decreased as carbonization temperature increased. (13)
• Antioxidant / Polyphenolic Constituents / Empty Pods: Study evaluated the antioxidant activities of aqueous and ethanol extracts of P. speciosa empty pods using various antioxidant assays. With the exception of superoxide radical scavenging activity, ethanol extracts showed stronger DPPH and ABTS radical scavenging, anti-lipid peroxidation, metal chelating and reducing power activities than aqueous extracts, and also showed higher level of total flavonoids and total phenols. Major polyphenolic constituents were gallic acid, catechin, ellagic acid, and quercetin. (15)
• In Vitro Antioxidant Activity / Polyphenolic Content / Pods: Study evaluated the relationship between antioxidant activity and total phenolics and flavonoid contents. Total phenolic and flavonoid content were 14.16 ± 0.02 mg gallic acid equivalents / g dry weight and 5.28 ± 0,03 mg rutin equivalents / g dry weight, respectively. Extract showed significant dose-dependent antioxidant activity in both reducing power assay and DPPH free radical scavenging assay. Results suggest a potential source of natural antioxidants. (16)
• Antibacterial to S. aureus and E. coli / Peel: Study evaluated the antibacterial activity of peel extract of Parkia speciosa to Staphylococcus aureus and Escherichia coli. The ethyl acetate extract showed highest antibacterial activity with 404.51% of streptomycin's antibacterial activity against S. aureus and 279.12% of streptomycin 10 mg/mL antibacterial activity against E. coli. (17)
• Cardioprotective / Antihypertensive / Empty Pods: Study investigated the potential effect of empty pod extract on hypertension development and changes in the heart induced by N(G)-nitro-L-arginine methyl ester (L-NAME) in male Sprague Dawley rats. Results showed the empty pods has potential of preventing hypertension possibly via preventing the loss of plasma nitric oxide and has cardioprotective effects by reducing angiotensin-converting enzyme activity and oxidative stress in heart of rats administered L-NAME. (19)
• Anti-Ulcer / Indomethacin-Induced Peptic Ulcer: Study evaluated the anti-ulcer effects of ethanol extract of P. speciosa n indomethacin-induced ulcer in albino rats. Results showed significant (p<0.05) reduction in acidity of gastric juice and significant (p<0.05) reduction in lesion length. Histological studies showed lesser collagen and fibrosis in tissues of treated rats. Phytochemical screening yielded flavanoid, terpenoid, and phenolic acid. (20)
• Antioxidant / Anti-Inflammatory / Antidiabetic / Antimicrobial / Seeds: In vitro antioxidant capacity by DPPH radical and H2O2 scavenging capacities yielded IC50s of 315.75 µg/ml and 166.63 µg/ml, respectively. IC50 values for in vitro anti-inflammatory activity by various assays were: lipoxygenase inhibition (IC50 493.34 µg/ml), proteinase inhibition (IC50 1132.3 µg/ml), and RBC membrane stabilization (IC50 67.01 µg/ml). Antidiabetic potential by pancreatic lipase and amylase inhibition were 89.5% and 79.2%, respectively. Antimicrobial activity evaluation showed zones of inhibition against common pathogens S. aureus, E. coli, P. aeruginosa, and K. pneumonia.(see constituents above) (21)
• Antiproliferative Study / Low Cytotoxicity on Cancer Cell Lines: Study assessed the antiproliferative effect of ethanolic and aqueous extracts of P. speciosa seed and pod on colon cancer (HT29), cervical cancer (HeLa), liver cancer (HepG2) cell lines. Results showed extracts from both seed and pod have low cytotoxic effect on all cancer cell lines studied. (22)
• Freeze-Dried Extract for Treatment of Diabetes / Invention: The invention related to the process of preparation of freeze-dried fruit of Parkia, preferably P. speciosa, for use in the treatment, co-treatment and/or prevention of diabetes mellitus. (24)
• Hemagglutinating Activity / Seed Proteins: Study of proteins from P. speciosa seeds identified protein Gj, a protein similar to putative aristolochene synthase, 3'-partial from Oryza sativa, and showed to have hemagglutinating activity of 0.39 mµg/mul. Fraction C2 showed hemagglutinating activity of 1.17 mug/muL. (25)
• Anti-Inflammatory / Human Umbilical Vein Endothelial Cells / Empty Pod: Study evaluated the anti-inflammatory properties of P. speciosa empty pod extract in human umbilical vein endothelial cells (HUVECs). Results showed the empty pod extract exhibited potential anti-inflammatory potential against TNF-α induced inflammation, possibly by modulation of the NF-kB p65 pathway. The effects were comparable to quercetin, which was used as positive control. (26)
• Anti-Anemia / Seed: Study of P. speciosa seed extract showed enhancement of hemoglobin level (Hb) in white mouse blood (Rattus norvegicus). (27)
• Activated Carbon from Pods: Study evaluated P. speciosa pod as precursor for activated carbon by activation with phosphoric acid. (28)
• Hypoglycemic: Study evaluated the hypoglycemic effect of three plants: Parkia speciosa, Leucaena leucocephala, and Laurus nobilis on various rat models. All three of the traditional plants potentially reduced blood glucose level of all rats. Parkia speciosa was the most effective in reducing blood glucose level followed by L. nobilis and L. leucocephala. (29)
Availability
Wild-crafted.