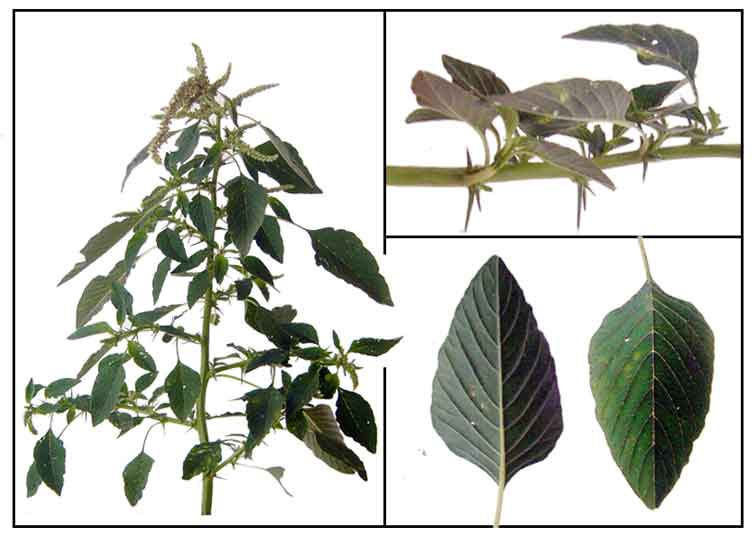 Botany
Uray is a stout, erect, smooth, branched herb, 0.4 to 1 meter high. Stems are armed with slender, axillary spines. (The presence of spines differentiate it from kolitis (Amaranthus viridis). Leaves are glabrous, long-petioled, oblong to oblong ovate, or elliptic-lanceolate, 4 to 10 centimeters long, obtuse, alternate.
Flowers are very numerous, stalkless, green or greening-white, about 1 millimeter long, and borne in dense, axillary clusters and in elongated terminal axillary spikes. Sepals are 5 or 1-3, ovate to linear, often aristate. Petals are scarious. Bracts are linear, bristle-pointed and as long as the sepals or longer.
Fruits are utricles, wrinkled, nearly as long as the sepals. Seeds are minute, black and shining.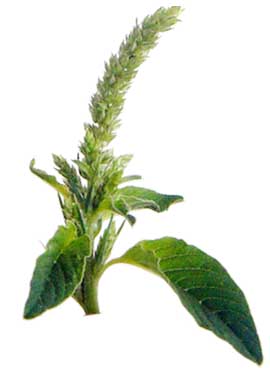 Distribution
- Weed found throughout the Philippines at lowlands and low altitudes, in open waste place, gregarious and abundant along sand bars and margins of streams.
- Probably introduced; now, pantropic.
Properties
- Slightly sweet-tasting, mucilaginous.
- Considered refrigerant, antidote, diaphoretic, febrifuge, astringent, laxative, emmenagogue.
- Sudorific, lactagogue.
- Root considered diuretic.
- Leaves considered emollient.

Constituents
- Leaf contains anthraquinone derivatives, cardiac glycosides and saponins.
- Study yields 18 kinds of amino acids, 8 of which are essential.
- Contains 7-p-coumaroyl apigenin 4-O-beta-D-glucopyranoside, a new coumaroyl flavone glycoside called spinoside, xylofuranoxyl uracil, beta-D-ribofuranosyl adenine, beta-sitosterol glucoside, hydroxycinnamates, quercetin and kaempferol glycosides, betalains, betaxanthin, betacyanin; amaranthine and isoamaranthine, gomphrenin, betanin, ß-sitosterol, stigmasterol, linoleic acid, rutin and beta-carotene.
- Phytochemical screening of leaves yielded phytoconstituents like fixed oils and fats, carbohydrates, glycosides, gum, mucilage, phenolic compounds, protein amino acids, tannins and saponins.
- Phytochemical analysis of the plant has yielded more than 20 active chemical constituents, among which are betalains, hydroxycinnamates, saponins, steroids, and flavonoids. The main betalains were identified as amaranthine and isoamaranthine. (43)
- Phytochemical analysis of various extracts of leaves yielded alkaloids, carbohydrates, cardiac glycosides, flavonoids, phenol, amino acids and proteins, saponins, tannins, terpenoids, quinones and resins. (46)
- As a green vegetable is has high nutritive value. 100 g of plant leaves contain about 4g protein, 1.16g carbohydrates, 0.6g fat, 2,4g fiber, 2.76g ash, 91g moisture, 27 kcal of energy. (52)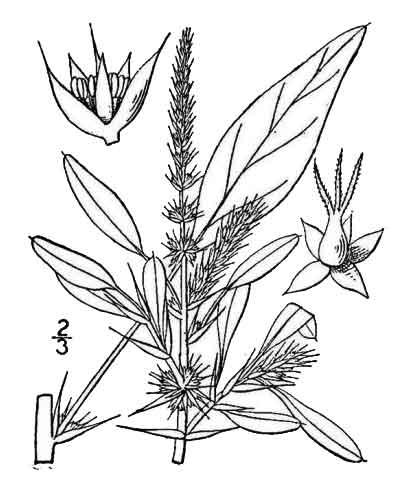 Parts utilized
· Roots, stems and leaves.
· Harvest the root at any time of the year.
· Wash thoroughly, cut into pieces and sun-dry.

Uses
Edibility / Nutritional
- Plant , especially the young leaves, can be used as vegetable.
- In Singapore, young leaves used as a spinach substitute; also, as much used in Indo-China and East Africa.
Folkloric
· In the Philippines, decoction of roots has been used for treatment of gonorrhea.
· Roots - sun dried, calcined, powdered and made into pill - used for gonorrhea.
· Used for fever, bronchitis, snake bites, bacillary dysentery, diarrhea, acute and chronic gastroenteritis, urinary tract inflammation.
· Bruised leaves used for eczema.
· Used as antidote for snake-poison; also, as lactagogue.
· Dosage: Use 30 to 60 gms of dried material or 60 to 120 gms of fresh material, as infusion or decoction. For external application, employ decoction of fresh material as wash for ulcers and sores. Decoction also used as gargle for sore throat.
· For bleeding hemorrhoids, uray can be combined with Verbena officinalis and boiled into decoction. To the decoction, add a small amount of vinegar and drink. Bleeding should cease the following day.
· Poultice of seeds used for broken bones.
· Like all amaranths, uray is used for coughs. Plant used as expectorant and to relieve breathing in acute bronchitis.
- Used as mouth wash for toothaches.
· In Pakistan, roots are used for menorrhagia, gonorrhea, eczema, colic and as lactagogue. Leaves and roots used as laxative, on boils and as poultice for abscesses.
· In the traditional medicine of Taiwan and China, used for diabetes.
· In the Gold Coast, enema prepared from the plant used for piles.
· In China, poultice of seeds used for broken bones; used internally for bleeding, diarrhea and menorrhagia.
· In Malaya, root decoction used as diuretic.
· In Mauritius, root decoction used as diuretic.
· In India, infusion of roots used in treatment of eczema. Roots also used for menorrhagia.
· In Nepal, used as abortifacient.
· Bruised leaves used as emollient; applied externally to ulcerations in the mouth, eczema, burns, wounds, boils, earaches and hemorrhoids.
· Plant sap used as eye wash to treat ophthalmia and convulsions in children.
· In Malaysia, used as expectorant and for acute bronchitis.
· Bark decoction used for malaria.
· In Ayurveda, leaf infusion used as diuretic and for treatment of anemia. Root paste used in treatment of gonorrhea. (23) Used as emmenagogue and galactagogue. Used as refrigerant, antipathetic, stomachic, diuretic, laxative, and digestive. Also used for hemorrhoids, kidney problems, rat bites. biliousness, leprosy, bronchitis, malaria, dysentery, dysuria. (52)
· In Nigeria, ashes from burnt plant used for sores; juice from plant used as eye wash. (48)
· In Hindi medicine, roots used as a specific colic remedy.
· In Thai medicine, used to treat diarrhea. Roots used for toothaches.
· In the Bhadrak district of Odisha, India, warmed leaves are applied locally three time daily for five to cure boils and burns. (41)
· The Anyi-Ndenye women of eastern Cote d'Ivoire use leaf enema during pregnancy. (42)
· In the Guianas, root used for toothache; leaf compresses used as compresses in herbal curative baths by the Surinam Saramaccan Bush Negroes. (49)

Others
• Dye: Plant yields yellow and green dyes.

Studies
• Antifertility: Study that included the aqueous and ethanolic extracts of A spinosus roots was studied for anti-fertility effects. The results showed alcoholic extract use in day 1 to day 5 of pregnancy showed significant pregnancy interruption, more likely with the alcohol than aqueous extracts. (1)
• Antimalarial: Study showed the efficacy of AS extracts against Plasmodium falcifarum supporting its traditional use for anti-parasitic activity. (2)
• Immunomodulatory: Study assessed the immunomodulatory effects of AS water extract and results suggested a heat-labile anti-apoptotic component. (3)
• Hepatoprotective / Antioxidant: Study results strongly indicated potently hepatoprotective activity in experimental hepatic damage in animals. Study suggests the protective mechanism to be from the presence of flavonoids and phenolics. (4)
• Anti-diabetic / Spermatogenic: Study showed methanolic extract of AS significantly decreased blood glucose, comparable to glibenclamide. It also showed hypolipidemic effects and accelerated spermatogenesis by increasing sperm count and accessory sex organ weights. Results supports it folkloric use for diabetes. (5)
• Anti-Inflammatory / Leaves: Study of methanol extract of AS leaves showed anti-inflammatory activity probably through inhibition of prostaglandin biosynthesis. (6)
• Immunomodulatory / B-Lymphocyte Proliferation: Study of A spinosus water extract exhibited immuno-stimulating activity through direct stimulation of B-lymphocyte activation in vitro and suggests possible subsequent T cell proliferation in vitro. Results suggest a potential for future nutraceutical and immuno-pharmacologic use for AS. (7)
• Adverse Hematologic Effects: Study of ethanol extract in pigs showed significant reduction of PCV, RBC and hemoglobin of pigs. Results suggest caution of in use to avoid probably toxic effects. (8)
• Anti-Diarrheal / Anti-Ulcer: Study of ethanol extract of the whole plant of AS significantly inhibited travel time of a charcoal meal. Anti-ulcer effects were noted with differing degrees of protection with extract and with cimetidine. (10)
• Phytochemicals / Betalains: Study of phenolic profile yielded betalains - amaranthine and isoamaranthine. Extracts were found to contain hydroxycinnamates, quercetin, kaempferol glycosides.
• Immunomodulatory: Study of water extract of AS inhibited the spontaneous and dexamethasone-induced apoptosis of splenocytes. Results suggest a potentially valuable substance for future nutraceutical and immunopharmacological use. (12)
• Antinociceptive / Anti-Inflammatory: Study of 50% water extract of AS showed significant and dose-dependent anti-inflammatory activity and central and peripheral analgesic activity. (13)
• Antioxidant: Study showed the antioxidant activity of the extracts to be concentration dependent. Study yielded rutin and quercetin which showed inhibition of haemoglycosylation. (14)
• Antibacterial / Roots: Study evaluated ethanol and aqueous extracts of roots for antibacterial activity against ten bacterial strains including Gram+ and Gram- bacteria. Results showed the plant could be a source of bacterial agents. The ethanol extract showed the best results. (17)
• Gold Nanoparticles Synthesis: Study reported the application of the ethanolic extract of A. spinosus for the synthesis of gold nanoparticles. Cytotoxicity studies showed the synthesized AuNPs to be non toxic with a potential use in biomedical applications. (18)
• Gut Modulatory and Bronchodilator Activities: Study showed A. spinosus to possess laxative activity partially through a cholinergic action. A spasmolytic effect was mediated through calcium channel blocking. Bronchodilator activity was achieved through a combination of ß-adrenergic and CCB pathways. (19)
• Antioxidant / Antipyretic: Study of methanolic extract of leaves showed potent antioxidant activity on DPPH, superoxide, hydroxyl, NO and ABTS radical scavenging assays. Extract also showed significant antipyretic activity. (20)
• Anthelmintic / Anti-Inflammatory: Study of petroleum ether and ethanolic extracts of whole plant showed dose-dependent and significant inhibition of carrageenan-induced paw edema. Anti-inflammatory effect was comparable to ibuprofen, and attributed to its steroid, alkaloid, and flavonoid contents. An aqueous extract showed dose-dependent anthelmintic activity against adult Indian earthworms Pheretima posthuma and Tubifex tubifex. (21)
• Antitumor / Leaves: Study evaluated the antitumor potentials of an ethanol extract of A. spinosus against EAC bearing Swiss albino mice. Results showed significant antitumor effects with a decrease in tumor volume and viable cell count, increase in mean survival time and non viable tumor cell count. (22)
• Anti-Peptic Ulcer / Leaves: Study evaluated the anti-peptic ulcer activity of leaves of A. spinosus in peptic ulcer models in rats induced by ethanol and cysteamine. Results showed anti-peptic ulcer activity, however, less than that of omeprazole. (23)
• Anti-Gastric Ulcer / Roots: Study in albino rats showed significant anti-gastric ulcer in root, stem and leaves. The root showed the highest activity which was comparable to that of omeprazole. (24)
• Anti-Diabetic / In Vitro Alpha-Amylase Inhibition / In Vivo Antioxidant: Study investigated a methanolic extract of A. spinosus for in vitro alpha-amylase enzyme inhibition by CNPG3 (2-chloro-4-nitrophenol α-d-maltotrioside) and in vivo antioxidant potential of malondialdehyde (MDA), glutathione (GSH), catalase (CAT) and total thiols (TT) in alloxan-induced diabetic rats. Results showed potent alpha-amylase, anti-diabetic and antioxidant activities. (25)
• Hematologic Effects: Study evaluated the effect of ethanolic extract of leaves given orally to growing pigs. Results showed significant reduction (p<0.05) in PCV, RBC, and Hb. Saponins, a subgroup of glycosides, known to cause hemolysis of RBC, may be responsible for the altered RBC and WBC profile. (27)
• Anti- Diabetic Potential / Leaves: Study evaluated the antidiabetic potential of A. spinosus leaves on type1 and type2 diabetes. Metformin was used as standard drug. Higher doses significantly decreased plasma glucose levels (p<0.01 and p<0.001), hepatic glucose-6-phosphatase activity (p<0.01 and p<0.001), and increased hepatic glycogen content (p<0.01) with increases in hexokinase activity in both types 1 and 2 diabetic rats. Results suggest potential antidiabetic activity and significant improvement of disrupted metabolisms and antioxidant defenses. (28)
• Biochemical Effects on the Liver: Study investigated the biochemical role of methanolic extract of A. spinosus on liver of Sprague Dawley rats. Results showed significant increase for both acute as well as chronic studies in protein and glycogen contents at 250 mg/kg dose level. At normal therapeutic doses, Amaranthus spinosus is considered safe for the treatment of liver problems. (30)
• Antidepressant: Study evaluated the antidepressant activity of methanolic extract of A. spinosus on Forced Swimming Test (FST) and Tail Suspension Test (TST) models. Results showed antidepressant activity. At higher concentration, both extracts showed significant (p<0.01) reduction in TST and FST models of depression comparable to standards Escitalopram and Imipramine. (31)
• Anthelmintic: Study evaluated the anthelmintic activity of three plants belonging to the Amaranthaceae family viz., A. spinosus, A. caudatus, and A. viridis against Pheretima posthuma. All three showed dose dependent vermicidal activities. (32)
• Effect on Kidney and Hematologic Parameters / Leaves: Study of methanol leaf extract suggest Amaranthus spinosus is a potential blood supplement. Consumption of leaf extract does not cause kidney malfunction. It can also be consumed for nutritional purposes. (33)
• Anti-Gastric Ulcer / Leaves: Study evaluated the anti ulcer activity of leaves in aspirin induced gastric ulcers in rats. Results showed significant reduction of ulcer index induced by aspirin. There was gastric anti-secretory effect with decreased gastric volume and acidity. There was further increase in gastric mucin. Results were comparable to standard antiulcer drug raniditine. Results showed antiulcerogenic activity mediated through antioxidant defense mechanism. (34)
• Toxicity Study / Leaves: Study evaluated the effect of 75% spiny amaranth leaves to female albino rats with regards body weight, liver and renal indices, hematologic and histologic responses. Rats fed with leaves showed decreased body weight compared to rats fed with a normal diet. Effect was attributed to antinutritional factors and non-palatability of the feed. Otherwise, results suggest spiny amaranth leaves have relatively low or no toxicity profile.(Note: This might be a misapplied study. The scientific name for spiny amaranth is Amaranthus spinosus. Amaranthus viridis has a common name of "green amaranth. (G.Stuart) (see: Kolitis) (36)
• Anti-Inflammatory / Analgesic / Anti-Diarrheal / Leaves: Study of methanol extract of leaves showed anti-inflammatory activity as evidenced by inhibition of carrageenan-induced rat paw edema, significant (p<0.05) inhibition of acetic acid-induced increased vascular permeability, and inhibition of cotton pellet granuloma. Analgesic activity was exhibited by significant and dose-related reduction of writhings with acetic-acid and reduction of paw licking induced by formalin. Extract showed statistically significant (p<0.05) reduction in castor oil-induced diarrhea in rats. Effects were attributed to inhibition of prostaglandin synthesis. (37)
• Hematological Effects: Study evaluated the effects of an aqueous extract of whole plant on hematological levels of albino rats. Results did not show mortality in all treatment groups. However, there was dose dependent reduction in RBC, hemoglobin, PVC, and MCHC and a significant increase in WBC and MCV at dose level of 1000 mg/kbw. After 90 days of treatment withdrawal, hematological parameters returned to control levels. (38)
• Diuretic: Study evaluated the diuretic activity of aqueous extract of A. spinosus on rats. Urine analysis showed Na+, K+, and Cl- levels were significantly (p<0.05) increased with 250 and 500 mg/kg as rats treated with furosemide 15 mg/kg. Urine volume was significantly increase (p<0.05), The diuretic effect was comparable to that of standard diuretic furosemide. (39)
• Analgesic: Study evaluated various extracts of whole plant of A. spinosus for analgesic activity. Peripheral and central antinociceptive potentials were evaluated in acetic acid induced writhing and radiant heat tail-flick models in mice. Results showed a linear dose relationship. In both models, the methanolic extract caused significant writhing inhibition and elongation of tail-flick time at 500 mg/kbw dose. (40)
• Superoxide Dismutase (SOD) / Antioxidant Enzyme / Seeds: SOD is an ubiquitous potent antioxidant enzyme that primarily scavenges superoxide radicals, which cause oxidative damage to a living organism's essential proteins, lipids, and DNA. The cellular damage caused by free radicals can contribute to aging, RA, Parkinson's disease, diabetes, Alzheimer's disease, and cancer, among others. The crude enzyme SOD has been isolated from the seeds of A. spinosus. Study suggests A. spinosus can be both traditional food and potential source of the antioxidant SOD enzyme, with great implications in therapeutics. (44)
• Anti-Inflammatory / Anticancer / Leaves: Study evaluated methanol extracts of A. spinosus leaves against different cell lines such as breast, colorectal, liver, and normal cell lines. Results showed a significant decrease of in the level of tumor development and viable cell count Percentage of leaf methanol extracts HEP G2, MCF-7, and HT-29 cells show IC50 values less than 30 mg/ml. Amaranthus spinsosus leaves reveal significant antitumor effects in cancers of breast, colorectal, liver and normal cell lines. (45)
• FeO Nanoparticles / Antioxidant / Leaves: Study reports on the synthesis of FeO-NPs using A. spinosus leaf extracts as reducing agents. The extract mediated iron oxide nanoparticles showed better photocatalytic and antioxidant capacity than sodium borohydride mediated nanoparticles. (46)
• Anxiolytic / In Combination with Delphinium denudatum: Study showed the hydroalcoholic extracts of A. spinosus and D. denudatum and their combination possessed antianxierty effect. Further research is suggested to determine mechanism of action and responsible phytochemicals. The synergistic effect of both drugs showed better effects. Also, ASE showed to be more effective than DDE. (50)
• Wound Healing / Antimicrobial / Antioxidant: Study evaluated the wound healing activity of ethanolic extract of Amaranthus spinosus on rats infected by microbes using wound excision model and antioxidant potential for fast recovery from wounds. Results showed A. spinosus significantly restored wound tissues in both infected and non-infected animals. A 10% ointment elicited completed wound contraction. There was also reduction of epithelization period, The extract was effective against all selected microbial strains, and maximum zone of inhibition was noted against Staphylococcus epidermis. Antioxidant evaluation showed significant restored level of oxidative free radicals and facilitation of wound recovery. Amaranthus spinosus may be an alternative therapy for healing both infected and non-infected wounds. (51)
• Antigenotoxic / Leaves: Study evaluated the possible genotoxic effects of A. spinosus leaf extract on Allium cepa root meristematic cells and its antigenotoxic effects against H2O2-induced genetic damage in A. cepa. Results showed the aqueous plant extract had ability to inhibit the oxidative damage induced by the direct-acting mutagen (H2O2) at a precise concentration. (53)
• Antidiabetic Potent in Type 1 and Type 2 Diiabetes / Systematic Study: : Study systematically investigated the antidiabetic potential of A. spinosus leaves traditionally known and used for the treatment of diabetes. The ethanolic extract of leaves was administered to type-1 and type-2 diabetic rats.. Glibenclamide and metformin were used as positive controls. Results showed A. spinosus has potential antidiabetic activity and significantly improves disrupted metabolisms and antioxidant defense in type-1 and type-2 diabetic rats. (54)


Availability
Wild-crafted.