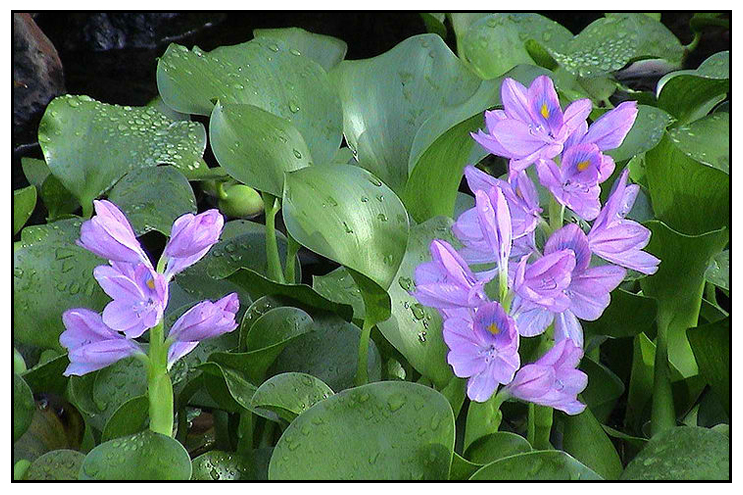 Gen Info
Genus is named in honor of J. A. F. Eichorn, a Prussian minister.

Botany
Eichornia crassipes is a floating and clump-forming aquatic herb with long roots and runners. Leaves form a rosette, obovate to alomost rounded, the petiole inflated like a bladder. Flowers are large, showy, 6-lobed, pale violet, about 20 centimeters long. Fruit is an ovoid capsule.
Distribution
- A weed in rivers, ponds, and lakes in the Philippines.
- Occasionally planted in ponds or aquaria as an ornamental.
- Native to Brazil.
- Now almost pantropic.
Constituents
- Fresh plant yielded alkaloids, flavonoids, phenols, sterols, terpenoids, anthoquinones, and protein. (See study below) (3)
Properties
Considered styptic.
- Studies suggest antimicrobial, hepatoprotective, antitumor properties.

Parts used
Shoots, leaves, juice.

Uses
Folkloric
- No recorded folkloric medicinal use in the Philippines.
- In Chhattisgarh, used as styptic. Fresh juice of weed used to treat fresh wounds to stop the spread of infection. With vinegar, used for treatment of septic wounds. In folklore medicine, used to relieve swelling, burning, hemorrhage, and goiter. (2)
Others
- Veterinary: Used a tonic for skin of horses, for irritation and inflammation. (2)
Studies
• Acute Toxiciy Study: Study evaluated the acute oral toxicity of various plant extracts in Swiss mice. The highest dose administered, 2000 mg/kbw, did not produce mortality of changes in general behavior of the test animals. Results indicate safety of EA, aqueous extract and methanol fractionate of aqueous extract. (1)
• Anti-Inflammatory / Shoots and Leaves: Study evaluated various solvent extracts of EC for anti-inflammatory activity on formaldehyde induced paw edema in male Swiss albino mice. Results showed all tested extracts of leaves and shoot portion possess anti-inflammatory activity. (2)
• Phytochemicals / Antimicrobial: Study of extracts and fractionates of fresh Eichornia carssipes showed significant and remarkable activity against two bacteria (Micrococcus luteus and Rhodospirillum rubrum) and two fungi (Monoscus ruber and Aspergillus fumigatus. Phytochemical screening of fresh pllant yielded alkaloids, flavonoids, phenols, sterols, terpenoids, anthoquinones, and protein.(3)
• Antifungal and Anti-Algal: Study of crude methanolic extract and its fractions showed inhibition of Candida albicans. Some anti-algal activity was seen against green microalgae, Chlorella vulgaris and Dictyochloropsis spendida, as well as cyanobacteria, Spirulina platensis and Nostoc piscinale. An alkaloid and four phthalate derivatives was presumed responsible for the antimicrobial and antialgal activities. (4)
• Antibacterial and Antifungal: Study of various extracts showed the ethanolic hot extract showed antibacterial and antifungal activity. Major components in the extracts were saponins, polyoses, alkaloid salts, and reducing compounds. Results show the devastating aquatic weed, with its strong antimicrobial potentials and biologically active phytochemicals, may be useful for developing alternative compounds to treat infectious diseases. (5)
• Antitumor on In-Vivo Induced-Melanoma: Water hyacinth is considered by some to be the world's worse aquatic plant, presenting a severe environmental and economic problems in all gulf coast states and many other parts of the world. Study screened a 50% methanolic leaf extract for tumor inhibition potential using B16F10 in vivo melanoma-tumor bearing hybrid mice models. Results showed tumor inhibition in animals subjected to 500 mg/kbw, with decrease of tumor volume when compared to control groups. (6)
• Antioxidant: Study evaluated the antioxidant activity of ethanol extract of fresh Eichornia crassipes on reducing power assay and DPPH assay. Results showed concentration dependent reducing power. Free radical scavenging activity was comparable to 400µg of ascorbic acid. Results showed the potential of water hyacinth as a source of natural antioxidants. (7)
• Hepatoprotective / CCl4 Hepatotoxicity: Study evaluated the hepatoprotective activity of methanolic extract of E crassipes against CCl4 induced albino rats. Results showed hepatoprotective activity, with significant reduction in SGPT, SGOT, alkaline phosphatase and bilirubin. (8)
• Phytoremediation Potential / Zinc, Lead, and Cadmium: Study evaluated the efficacy of aquatic macrophyte E. crassipes for the removal of selected heavy metals (Zn, Cd, and Pb) in laboratory conditions. Results showed E. crassipes removed appreciable amount of the heavy metals, and concludes EC is a hyper accumulator of Zn, Cd and Pb from aqueous solution. (9)
• Arsenic Removal from Organs of Arsenic Treated Rat / Root Extract: Study evaluated an ethanol extract of water hyacinth in ameliorating arsenic from arsenic-treated rats. Results showed significant reduction of arsenic accumulation in liver, spleen, kidney, intestine, lungs and skin, reducing the oxidative stress caused by arsenic as evidenced by decreased malondialdehyde in the organs. (10)

Availability
Wild-crafted.