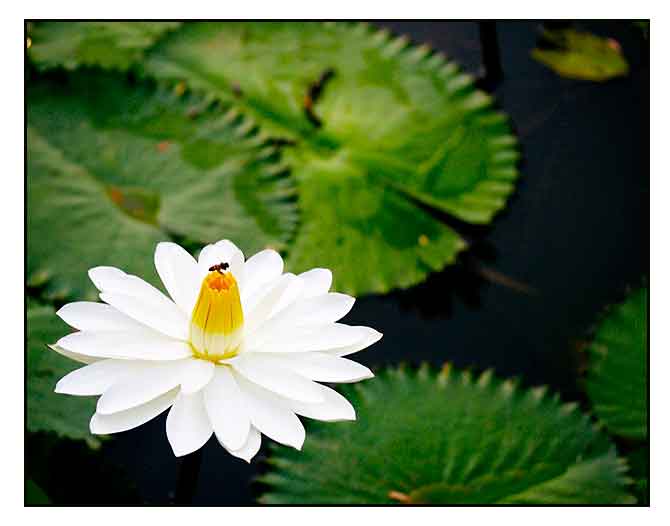 Gen info
- White lotus is one of the most important plants in ancient Egyptian art, ritual, food and medicine, with all parts utilized.
- In ancient times, the Egyptian lotus was worshiped, considered a symbol of creation It is considered the national flower of Egypt.
- In ancient Greece, it was a symbol of innocence and modesty.
- The flower was included in Meghan Markle's wedding veil, to represent Malawi, which also contained the distinctive flora of each Commonwealth country. (4)
Botany
White lotus is an aquatic, perennial, herbaceous, flowering plant with a perennial rootstock growing to a height of abut 45 cm from the bottom of ponds and lakes, producing a rosette of large leaves that float on the surface of the water. Flowers are white, sometimes tinged and ringed with pink, up to 25 cm in diameter, and rising above the water.
Distribution
- Ornamental cultivation for garden pools and greenhouse culture for its flowers.
- Found in tropical Africa, East Asia, China, Indian subcontinent, Myanmar, Thailand, Vietnam, Malaysia, Indonesia, Philippines,, New Guinea, and Australia.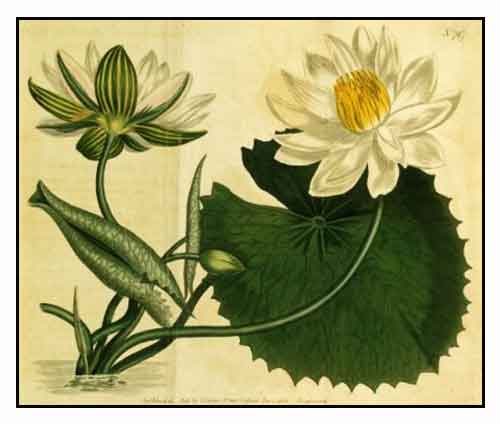 Constituents
- Phytochemical screening of methanol extract of shade dried rhizomes yielded alkaloids, anthraquinones, carbohydrates, cardiac glycosides, flavonoids, saponins, steroids, tannins, and triterpenes. (see study below) (5)
- in a study of phytochemicals in aqueous and acetone plant extracts, phenols, tannins, saponins, and steroids were significantly higher (p<0.05) in the aqueous extracts, while proanthocyanidins and flavonols were higher (p<0.05) were higher in the acetone extract. (see study below) (9)
- Ethanolic extract of leaves yielded tannins, flavonoids, alkaloids, anthraquinones, saponins, cardiac glycosides, and phenolics (see study below) (10)
- Study of petal extracted with distilled water, 50% ethanol, and 95% ethanol yielded total phenol contents of 485.77 mg/g. 660.43 mg/g, and 652.77 mg/g, respectively. Total flavonoid contents were 17.40 mg/g, 48.39 mg/g and 42.10 mg/g, respectively. (see study below) (16)
- Chemical composition of soutab flour was 13.1% protein, 10% moisture, 2.8% ash, 2.3% fiber, 0.48% fats. Antinutritional factors were tannin 0.09% and phytic acid 233.251 mg/200 g. In vitro protein digestibility was 70%. Mineral contents (mg/100g) yielded Na 245.8 mg, K 790 mg, Ca 85.12 mg, P 360 mg, Mg 171.3 mg, Fe 5.64 mg, Cu 1.99 mg and Zn 3.82mg. Protein fractions were 4.17% globulin, 52.12% albumin, 3.74% prolamin, 1.53% globulin G1, 10.62% glotelin G2, 28.37% glotelin G3, and 2.13% insoluble protein. (see study bellow) (18)

Properties
- Considered soothing. anodyne, , cardiotonic, astringent, diuretic, tranquilizing, detoxicant, anti-inflammatory, aphrodisiac. (3)
- Studies have suggest antioxidant, antimicrobial, antidiarrheal, anxiolytic, antidepressant, sedative, antidiabetic, hepatoprotective properties.

Parts used
- Roots, seeds, flowers, leaves, whole plant..

Uses
Edibility
- Roots are eaten raw or cooked. Boiled, it is eatenb as a starchy vegetable. Also ground in flour, which can be use to make porridge. (3)
- Flower and stems eaten raw or cooked. Unripe fruits are eaten raw; used in salads. (3)
- Seeds are edible, cooked or ground into a powder and mixed with flour and used for making cakes. Seeds can be roasted, pickled, or put in curries. (3)
- Tubers used as famine food in developing countries.
- In Sudan, seed is eaten like grain. Fresh tuber eaten raw or blanched with or without milk and roasted. (18)
Folkloric
- Roots used in treatment of dyspepsia, enteritis, diarrhea, hemorrhoids, urinary problems, fevers and insomnia. (3)
- Seeds crushed in water used as treatment for diabetes. (3)
- In West Cameroon, used by Beamlike tribes to cure male sexual disorders, psychiatric conditions, The Hausus in northern Nigeria use the whole plant decoction for treatment of rheumatism and as an antitumor agent. (11)

Studies
• Antidiarrheal / Rhizome: Study evaluated the antidiarrheal activity of a methanol rhizome extract of N. lotus in laboratory animals Acute oral toxicity study showed an oral median lethal dose (LD50) greater than 5,000 mg/kg p.o. in mice. In castor oil-induced diarrhea, the extract at doses of 200, 400, and 500 mg produced statistically significant reduction in frequency of diarrhea (p<0.001). At higher concentration, the rhizome extract produced significant relaxant activity on guinea pig ileum. (5)
• Enrichment in Antioxidant Flavonoids / Stamens: Study showed UAE (ultrasonic assisted extraction) combined with MPR (macroporous resin adsorption) purification can help enhance the flavonoid antioxidant potential of stamens extract. (6)
• Alleviation of Sexual Disability in Hypertensive Male Rats: Study evaluated the suppressive effect of Nymphaea lotus on erectile dysfunction induced by NO deficiency in male rats. L-NAME administration significantly elevated blood pressure in male rats and decreased copulatory rate by enhancing intromission latency and decreasing the numbers of intromission and ejaculation. Nymphaea lotus was able to totally reverse the increment of hemodynamic parameters and histological damage and exhibit anxiolytic-like effect in hypertensive male rats. N. lotus uses NO pathway to facilitate sexual response at central and peripheral levels, with double medicinal effect against anxiety and erectile dysfunction. (7)
• Effect on Fear and Anxiety Behavior / Leaves: Study evaluated the effect of leaves extract of Nymphaea lotus on neurobehaviour using mice as experimental model on fear and anxiety. Results using Elevated Plus Maze method showed the leaf extract reduced fear/anxiety related behavior as evidenced by significantly increased (p<0.01) time spent in open arm, with similar effects on head dips. (8)
• Antioxidant: Study evaluated aqueous and acetone plant extracts for antioxidant activity. The acetone extracts displayed better DPPH and NO radical scavenging activity with low IC50 of 0.016 mg/mL. The aqueous extract showed better ABTS radical scavenging activity with IC50 0.04 mg/mL. Results suggest a good source of natural antioxidants. (see constituents above) (9)
• Antimicrobial Against Wound Pathogens: Study evaluated ethanolic extracts of leaves for antimicrobial activity against gram-positive Staphylococcus aureus and Streptococcus pyogenes and gram-negative bacteria Escherichia coli, Klebsiella pneumoniae and Pseudomonas aeruginosa isolated from wounds. Results showed S, aureus, S. pyogennes and E coli were highly susceptible with zones of inhibition ranging from 8 to 25 mm. S. pneumoniae and P. aeruginosa showed moderate susceptibility. (see constituents above)(see constituents above) (10)
• Anxiolytic / Leaves: Study evaluated the anxiolytic effect of leaves of water lily on mice using open field maze and transition box apparatus. The light duration box and frequency of transition were statistically higher (p<0.001) compared to control. Results suggest the plant tend to reduce the level of anxiety in mice. (12)
• Hormonal Effects on Hyperprolactinemic Female Rats: Nymphaea lotus is a plant used for the treatment of hyperprolactinemia and infertility diseases. Study evaluated the hormonal effects of an aqueous extract of N. lotus in metoclopramide-induced hyperprolactinemia in rats. Induction of hyperprolactinemia caused a significant increase (p<0.05) in serum prolactin and estradiol levels, while FSH and LH and progesterone showed reduction. Administration of the aqueous extract significantly improved (p<0.05) the levels of these hormones, especially prolactin and progesterone. (13)
• Toxicity Studies / Flowers: Study evaluated the acute, neuro- and subchronic toxicity studies of N. lotus flowers following OECD guidelines. Acute toxicity study showed no signs of toxicity at 2,000 mg/kbw and 5,000 mg/kg, The LD50 of the aqueous extract of flowers is superior to 5,000 mg/kg. Repeated administration for 28 days induced no signs of neurobehavioral changes in male, but female rats exhibited dose-dependent response in open field test, suggesting sex and dose-relative psychotropic effects. Brain potassium and calcium concentrations were increased in all rats. suggesting transmembrane current stabilizing properties of brain cells by the extract. The 28-days administration of flower extract caused dose-dependent increase in levels of serum urea, proteins, creatinine and bilirubin and reduced GGTP and ALP activities. The alkaloids, nitrites and phytosterols in the flower extract may account for the neuroprotective, antioxidant, and immunoboosting properties. Nymphaea lotus does not possess neurotoxicity but is able to induce behavioral changes in rats. Results suggest the use of the plant as drug or supplementary food should be carefully considered. (14)
• Sedative / CNS Depressant / Rhizome: Study evaluated the effect of a methanol rhizome extract of water lily on sleep onset and duration and effect on CNS depression. Sedative activity was evaluated using diazepam-induced sleep (DIS) and beam-walk assay (BWA) while CNS effect was evaluated using open field test (OFT) and light/dark box (LDB) tests in mice. Results showed N. lotus has sedative and CNS depressant activity and can be explored for potential in the management of these conditions. (15)
• Antioxidant / Petals: Study evaluated the phytochemical composition, antioxidant activities, ferric reducing antioxidant power and protective effect ct against oxidative stress induced-hemolysis of N. lotus extracts in rats red blood cells. Results showed antioxidant activity by DPPH scavenging and ferric antioxidant assays and protective effects on cell membranes from free radicals by Nymphaea lotus petal extracts. Activity was attributed to the rich phenolic contents. (see constituents above) (16)
• Antidiabetic / Roots: Study evaluated an ethanolic extract of roots for antidiabetic activity using STZ-induced diabetic rats. Results showed significant protection and maximum reduction in blood glucose (p<0.05). Results showed significant anti-diabetic activity inn comparison to standard Glibenclamide.   (17)
• Tubers Flour / Breadmaking: Study evaluated the use of soutab tubers flour to substitute wheat flour in bread making. Results showed protein content decreased with increasing level of soutab flour added. On gluten washing test, there was a significant decrease in the amount of wet gluten (p≤0.05) when soutab flour was increased. Sensory evaluation results showed the bread made with control and 10% soutab flour had best acceptability score. (see constituents above) (18)
• Protective Against Chronic Mild Stress Induced Testicular Lipid Peroxidation: Study evaluated the protective properties of Nymphaea lotus against deleterious effects induced by unpredictable chronic mild stress on testes of albino male rates. Chronic mild stress significantly decreased the amount of nitrites levels and increased the level of testicular lipid peroxidation. N. lotus significantly reduced (p<0.001 for 75mg/kg and p<0.01 for 200 mg/kg) MDA levels suggesting a lipid peroxidation inhibitory effect of the plant. The unpredictable chronic mild stress used in the study enhanced oxidative stress in testis and caused histological changes that N. lotus treatment significantly minimized. (19)
• Hepatoprotective / CCl4-TInduced Toxicity: Study evaluated the protective effect of a methanol extract of NL against carbon tetrachloride-induced chronic hepatotoxicity in male Wistar rats. N. lotus significantly (p<0.05) lowered the levels of ALT, AST, and TB and exhibited antioxidant potentials in rats exposed to CCl4. Histopathological evaluation showed amelioration of cellular infiltration and fibrosis caused by CCl4. Results suggest NL has hepatoprotective properties in CCl4-intoxicated rats via antioxidative mechanism. (20)
• Effects on Learning and Memory / Leaves: Study evaluated the effect of ethanolic extract of N. lotus on learning and memory in Swiss mice. The Morris water maze test was used to evaluate the neuro-cognitive effects of the plant. LD50 (median lethal dose) was above 5000 mg/kg orally in mice. Results showed enhancement of cognitive functions and suggest potential in the treatment of retrograde amnesia and neuro-cognitive disorders. (21)
Availability
Wild-crafted.