Botany
Alas cuatro is an erect, nearly or quite smooth, branched plant, about 20 to 80 centimeters in height. Leaves are narrowly ovate, 4 to 10 centimeters long. Involucres are crowded, calyx-like, about 1 centimeter long or less, with one flower. Perianth is white, purple, or yellow, 3 to 4 centimeters long, with a cylindrical tube which is slightly enlarged and upward, and with a spreading limb. Fruit is narrowly ovoid, about 8 millimeters long, black and finely ribbed.
Distribution
- Throughout the Philippines in settled areas.
- In cultivation; also frequently spontaneously.
- Introduced from Mexico by the Spaniards>
- Now pantropic.
Constituents
- Roots contain oxymethylanthroquinone.
- Plant contains trigonelline, an alkaloid, that possess a purgative action.
- Also contains galactose and arabinose.
- Phytochemical screening yielded steroids, alkaloid, flavonoid, carbohydrates, glycosides, and proteins in the total alcoholic extracts.
- Phytochemical screening yielded ten compounds: chrysophanol, physcion, stigmasterol, mirabijalone A, boeravinone C, Aurantiamide acetate, glycerin monoeicosate, β-sitosterol, 4-hydroxy-3-methoxybenzoic acid. (14)
- Roots isolated eleven compounds identified as astragaloside II, astragaloside II, astragaloside IV, astragaloside VI, flazin, 4'-hydroxy-2, 3-dihydroflavone 7-beta-D-glucopyranoside, gingerglycolipid A,, 3, 4-dihydroxybenzaldehyd, p-hydroxybenzaldehyde, beta-sitosterol, and daucosterol. (16)
- Leaves water and alcoholic extracts yielded glycosides, tannins, phenolic acids, resins, alkaloids and proteins; while saponins and flavonoids were not found. Trace elements were K 161.2 µg/ml, Na 19, Fe 18.7; Cd 0.8, Cu 0.3, and Pb 0.1 µg/ml. (31)
- Study to investigate the anti-HIV constituents from roots isolated and identified eleven compounds viz. astragaloside II (1), astragaloside II (2), astragaloside IV (3), astragaloside VI (4), flazin (5), 4'-hydroxy-2, 3-dihydroflavone 7-beta-D-glucopyranoside (6), gingerglycolipid A (7), 3, 4-dihydroxybenzaldehyd (8), p-hydroxybenzaldehyde (9), beta-sitosterol (10) and daucosterol (11). (36)
- Phytochemical screening of flower extract yielded alkaloids, carbohydrates, glycosides, inulin, tannins, terpenoids, proteins and free amino acids, flavonoids, lignin, and volatile oils. (see study below) (38)
- Study of roots isolated four new rotenoids: mirabijalone A-D (1-4), together with 9-O-methyl-4-hydroxyboeravinone 8 (5), boeravinone C (6) and F (7), and 1,2,3,4‐tetrahydro‐1‐methylisoquinoline-7,8‐diol (8). (see study below) (40)

Properties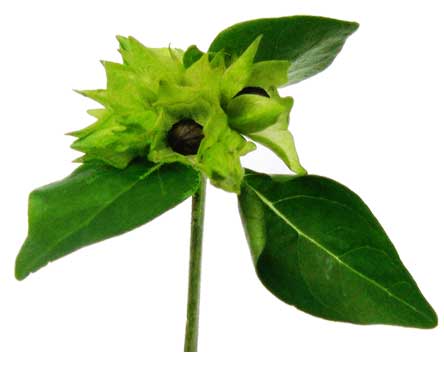 - Considered diuretic, purgative, vulnerary.
- Tubers are weakly purgative and emetic.
- Root is believed to be aphrodisiac; also reported to be purgative, emetic and cathartic.
- Studies have shown anticancer, antispasmodic, antibacterial, hepatoprotective, anti-inflammatory, analgesic, anti-viral, antihyperglyceic, antilipidemic, antioxidant, anti-arthritic properties.
Parts used
Leaves, roots, tubers.
Uses
Edibility
- Leaves are used as emergency food.
- Used as condiment. Crushed seed used as pepper substitute.
Folkloric
- Juice of leaves are soothing when applied to areas of urticaria.
- In India and Java bruised leaves used as poultices for boils and abscesses, and the juice used for uterine discharges.
- Juices of leaves used internally for gonorrhea.
- Infusion of leaves used as a diuretic and for dropsy.
- Roots used as mild purgative, emetic and cathartic.
- Leaves are anti-inflammatory. Decoction used for abscesses.
- Leaf juice used for wounds.
- In China, used in traditional medicine in treatment of diabetes.
- In Peru, root decoction used as diuretic.
- In India and Java, bruised leaves used for poulticing boils and abscesses; juice used for uterine discharges.
- In Brazil, Kayapo indians inhale the powdered dried flowers for headaches; the Assurani Indians grate the tuberous seeds and drink it for intestinal parasites. Poultice of leaves and flowers used for eczema, skin infections and itching.
- In south Brazil, leaves used to treat inflammatory and painful diseases; also used as laxative.
- In Mexico, the decoction of entire plant is used vaginal discharge, dysentery, diarrhea, abdominal colic and muscle pains.
- In Thailand, seed powder used for infections.
- In South Africa, used as a purgative.
Others
• Colorant: Edible crimson dye from flowers; used as colorant for cosmetics, cakes and jellies.
• Cosmetics: Pounded seeds used in Malaya, China and Japan for making cosmetic powder. Powdered root, likewise used for cosmetic preparations, mixed with rice powder and sandalwood. In China, flowers are also used for cosmetic purposes.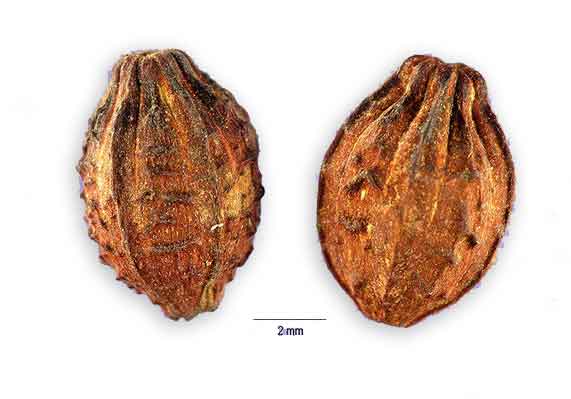 Studies
• Antispasmodic / Flowers: Study of flower extract of M. jalapa showed an inhibitory effect on gut smooth muscle contractility probably through a serotoninergic mechanism interacting with other adrenergic systems. (2)
• Antimicrobial / Leaf: Study evaluated ethanol extract of Mirabilis jalapa leaves against five pathogenic bacterial strains i.e., E. coli, S. aureus, S. typhi, B. cereus, K. pneumoniae. Antagonistic toxins isolated from bacterial and fungi isolated from refuse dumps were also evaluated on the pathogens. The leaf extract showed higher antimicrobial efficacy than the toxins. Both toxins and extract showed antimicrobial activity comparable to conventional antibiotics, and suggests a potential as agents for biocontrol and chemotherapy. (3) The methanol extract of MJ showed stronger and broader spectrum of microbial activity compared to other extracts, using amikacin as the standard bacterial agent.
• Cytotoxicity / MI-30 / Ribosome-Inactivating / Anticancer: (1) Study of protein fractions with ribosome-inactivating protein (RIP) properties from the leaves of MJ showed cytotoxic activity against a breast cancer cell line. (6)
• Cytotoxicity / Leaves: Study isolated from the leaves of MJ, a 30 kD protein fraction named MI-30, with the properties of a ribosome-inactivating protein. It produced cytotoxic effect, more toward breast and cervical cancer cells as compared to normal mononuclear cells (12).
• Antibacterial / Diarrhea-Causing Pathogens: Study of roots showed antibacterial activity against diarrhea-causing pathogens: Staph aureus, Strep pyogenes, E coli, Enterobacter sp., V cholera, Shigella flexner and S typhi.
• Phytochemicals / Pharmacognosy: Study yielded the presence of triterpenoids, alkaloids, glycosides and flavonoids. Diagnostic features are multicellular trichomes, anisocytic stomata and calcium oxalate.
• Analgesic / Antinociceptive Activity: Study demonstrated antinociceptive activity in mice, supporting its folkloric use as an analgesic. (4)
• Protein Biochemical Properties / Anticancer / Antibacterial: Study of crude proteins showed to be active against B subtilis. Proteins also exhibited anticancer activity to permanent cell lines L929 (mouse fibroblasts).
• Antiviral / Antiproliferative / Abortifacient: Purified protein from the root tubers of Mirabilis jalapa exhibited antiviral, abortifacient and anti-proliferative activities.
• Anti-Inflammatory / Leaves: Study evaluated the total alcoholic extract and petroleum ether fraction of leaves for anti-inflammatory activity using carrageenan induced paw edema and cotton pellet induced granuloma models. Results showed significant anti-inflammatory activity as evidenced by inhibition inn increase in number of fibroblasts and synthesis of collagen and mucopolysaccharides during granuloma tissue formation. (13) Evaluation in Wistar albino rats showed dose-dependent anti-inflammatory activity in a carrageenan-induced paw edema model. (17)
• Antioxidant / Cytotoxicity: Various extracts of leaves and bark of Mirabilis jalapa were evaluated for cytotoxicity and antioxidant activity. On brine shrimp lethality bioassay, a petroleum ether extract showed significant cytotoxic activity, with an LC50 of 8.132 compared to vincristine sulfate. A crude methanol extract showed mild antioxidant activity. (18)
• Free Radical Scavenging / Antibacterial: Study showed significant antioxidant properties and a potential to serve as free radical inhibitor or scavenger. A methanolic extract showed a wide spectrum of inhibition against Gram+ and Gram- bacterial. (19)
• Natural Indicator in Acid Base Titration / Flower: Study of flower extract showed potential use as an acid base indicator in different types of acid base titrations. (20)
• Antihyperglycemic Activity / Aerial Parts: Study evaluated the antihyperglycemic activity of a hydroalcoholic extract of aerial parts in streptozotocin-induced hyperglycemic animals. Results showed antihyperglycemic activity probably mediated through pancreatic and extra-pancreatic pathways. (21)
• Antimicrobial / White-Flowered Mirabilis jalapa Leaves: Study showed white flowered plant of M. jalapa has strong antibacterial potential with activity against a wide range of microorganisms. (22)
• Seeds / Effects on Clotting Time and Bleeding Time: In traditional use, the plant has been found to stop hemorrhages. Study showed a decrease in prothrombin time, decrease in activated partial thromboplastin time, and decrease in bleeding time. Results suggest M. jalapa is effective in blood disorders associated with increased bleeding. (23)
• Anti-Arthritic Effects: Study evaluated the effect of an ethanolic extract of flowers in formaldehyde and Freund's adjuvant-induced arthritis in wistar rats. Results showed significant suppression of paw edema in both models suggesting significant anti-arthritic activity. (24)
• Proteins from Ripe Seeds / Antimicrobial / Anti-Cancer: Study evaluated crude proteins extracted from mature seeds. Antibacterial activity was seen against Bacillus subtilis. Potent anticancer activity was exhibited to permanent cell lines L929 (mouse fibroblasts). (25)
• Seed Epicarp / Antioxidant: Study showed a seed epicarp extract to possess strong antioxidant activity and suggests an inexpensive and potential source of natural antioxidants and pharmaceuticals. (26)
• Roots / Cytotoxic Rotenoids: Study yielded four fractions of compounds from the root extracts which include boeravinone B, boeravinone E, and mirabijalone B. Compounds tested indicated important cytotoxic activity against cell lines tested. (27)
• Natural Dye / Flower: Study suggests Mirabilis jalapa flower, abundantly available, can be exploited as a good source of natural dye for wool and cotton dyeing, from olive green to brown depending on the choice of mordant. (30)
• Antibacterial / Leaves: Water and alcoholic extract of leaves at concentration of 0.5 mg/ml showed effective inhibition of growth of Staphylococcus aureus, Escherichia coli, and Proteus mirabilis. (see constituents) (31)
• Mirabilis Antiviral Protein (MAB) / Potential Applications: RIPs (ribosome inactivating proteins) have been isolated from plants. An RIP has N-glycosidase activity, which can modify large mRNA and inhibit further translation. MAB (Mirabilis Antiviral Protein), a type I RIP, is a frequently used RIP for medicinal purposes, isolated from roots, leaves, and seeds of M. jalapa. MAP exhibits a wide range of biologic activities viz. antiviral, anticancer and antibacterial. It is highly rigid, thermostable, and maintains antiviral activity at high temperature. (32)
• Hypoglycemic / Hypolipidemic / Roots: Study of ethanolic extract of roots of Mirabilis jalapa in streptozotocin induced diabetes in mice showed hypoglycemic and hypolipidemic effects. Repeated administration of root extract lowered blood glucose level, decreased serum insulin, and improved insulin sensitivity index, and also lowered serum total cholesterol, triglyceride levels. (33)
• Anticancer Proteins / Apoptotic Pathway: Study evaluated partially purified proteins for mechanisms of anticancer and cytotoxic effects. Brine shrimp cytotoxicity showed an LD50 of 95.50-489.78 µg/ml at 24 and 48 hours. Testing the proteins on vero cells showed potent anticancer activity through apoptotic pathway. (34)
• Hepatoprotective / Antitubercular Drug Hepatotoxicity / Leaves: Study evaluated the protective effect of ethanol extract of MJ leaves on anti-tubercular drugs induced hepatotoxicity. Results showed a hepatoprotective effect with significant reduction of liver biomarker enzymes and restored antioxidant levels to pretreatment status. (35)
• Mild Steel Corrosion Inhibition / Flowers: Study showed efficient corrosion inhibition of acid extract of Mirabilis jalapa flowers for mild steel in 1M HCl. (37)
• Antibacterial Against Gastrointestinal Pathogens / Flower: Study evaluated fried flower powder extracted in various solvents for antibacterial activity against gastrointestinal pathogens like E. coli, S. aureus, S. pneumoniae, P. aeruginosa, K. pneumonia, B. cereus, L. acidophilus, E. faecalis, S. typhi and S. dysenteriae. Ethanolic and methanol extracts showed good antibacterial activity against the selected pathogens. Activity was attributed to the presence of bioactive compounds such as flavonoids, alkaloids, tannins and phenolic compounds. (see constituents above) (38)
• Antioxidant / Flavanoid Content / Aerial Parts: Study evaluated the antioxidant potential of Mirabilis jalapa using various models and estimation of flavanoid content. Results showed significant inhibition of superoxide anion and nitric oxide radicals even at low concentration. Total flavanoid content of the extract was 4.41 ± 0.02 mg/g. (39)
• New Rotenoids from Roots / Reverse Transcriptase Inhibition: Study isolated four new rotenoids from the roots of Mirabilis jalapa, namely: mirabijalone A-D (1-4), together with 9-O-methyl-4-hydroxyboeravinone 8 (5), boeravinone C (6) and F (7), and 1,2,3,4‐tetrahydro‐1‐methylisoquinoline-7,8‐diol (8). Compound 8 showed 48% inhibition against HIV-1 reverse transcriptase at 210 µg/ml. (40)
• Antiovulatory / Abortifacient: Study evaluated the antiovulatory and abortifacient potential of ethanol extract of Mirabilis jalapa in female albino wistar rats. (41)
• Mosquito Larvicidal / Leaves: Study investigated the larvicidal efficacy of M. jalapa leaves extract against malaria, dengue, and filariasis vector mosquitoes. Among the extracts tested, the leaf methanol extract exhibited the highest larvicidal activity against An. stephensi, Ae. aeqypti and Cx. quinquefasciatus with LC50 and LC90 of 57.55, 64.58, 84.58 ppm and 104.20, 120.28, and 159.25 ppm, respectively. Mortality rate was positively correlated with concentration exposure. (42)
• Wound Healing Activity: Study evaluated the in vivo cutaneous wound healing activity of hydromethanolic extract of M. jalapa radix in excision and dead space wound models. Results showed wound healing activity evidenced by significant increase (p<0.05) in wound contraction, increase in hydroxyproline content, decrease in epithelisation period and CFU (colony forming unit) count. (44)

Availability
- Wild-crafted.
- Powders and other formulations in the cybermarket.