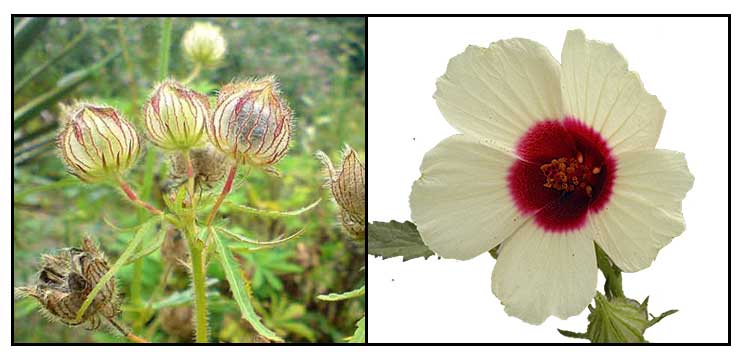 Botany
A las doce is an herb with smooth and prickly stems. Lower leaves are entire and heart-shaped, the upper ones are deeply palmately-lobed. Sepals are bristly, lanceolate and connate below the middle, with a gland at the back of each. Corolla is large, spreading, yellow with a crimson center. Capsules are rounded and bristly. Seeds are nearly smooth.
Local name "alas doce" derives from the flower characteristic to open in the early hours of morning and close by noon of the same day.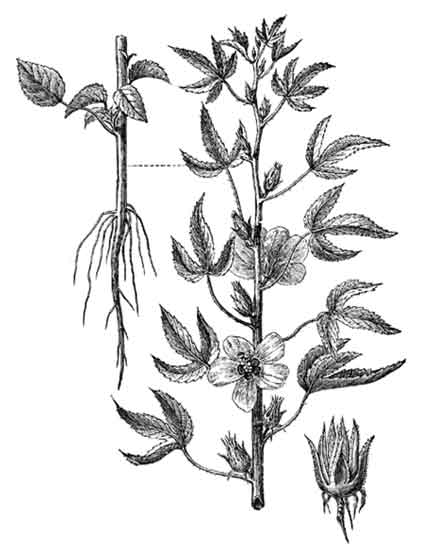 Distribution
- Planted for ornamental purposes but is scarcely naturalized.
- Found in the Bontoc and Pangasinan Provinces and in Manila.
- Old World native.
- Pantropic.
Constituents
- Seeds yield 23.5% fixed oil.
- Whole plant has abundant polysaccharides, 9.7%; starch, dextrin, pectin, tannin, phosphatide, protein.
- GC-MS analysis of leaves, bark, flowers and seeds yielded 22 different phytocompounds in the hexane extracts. Most abundant volatile compounds were E-phytol (32.4%), linolenic acid (47.3%), trisiloxane-1,1,1,5,5,5-hexamethyl- 3,3-bis[(trimethylsilyl)oxy] (16.4%), and linoleic acid (46.4%) in leaves, bark, flowers, and seeds, respectively. Liquid chromatography identified kaemperitin, caffeic acid, myricetin glycoside, and p-hydroxybenzoic acid as major compounds in leaves, bark, flowers, and seeds, respectively.

Properties
- Considered antibilious, aphrodisiac, purgative.
- Seeds considered purgative.
- Seed oil considered aphrodisiac.
- Studies have suggested hematinic, antioxidant, fungitoxic, anti-inflammatory, hepatoprotective, immunomodulatory, antidiabetic, antihyperlipidemic properties.
Parts used
Leaves and flowers.
Uses
Edibility
- Young leaves and shoots are cooked and eaten as vegetable.
- Leaves used as pot-herb; added to soups.
- Seeds are roasted or ground into a flour. Also, seeds yield an edible oil.
- Root is edible, although a bit fibrous and mucilaginous.
- Raw bark chewed by children for its sweetness.
Folkloric
- Leaves used as purgative.
- In Gambia, infusion of leaves used for coughs.
- Flowers used for biliousness and constipation.
- Seeds oil used externally for pains and bruises; and internally as an aphrodisiac.
- In India and Africa, used for blood and throat disorders, bilious conditions, fever and puerperium.
- In Kenya, pounded roots applied to spider bites; leaves used for stomach disorders.
- In West Africa, powdered leaves applied to sores and boils; leaf infusion used for treating cough.
- In African folk medicine, used for anemia and liver diseases.
- Powdered leaves applied to Guinea worms in Africa. (19)
- Seeds added to diet to promote weight gain.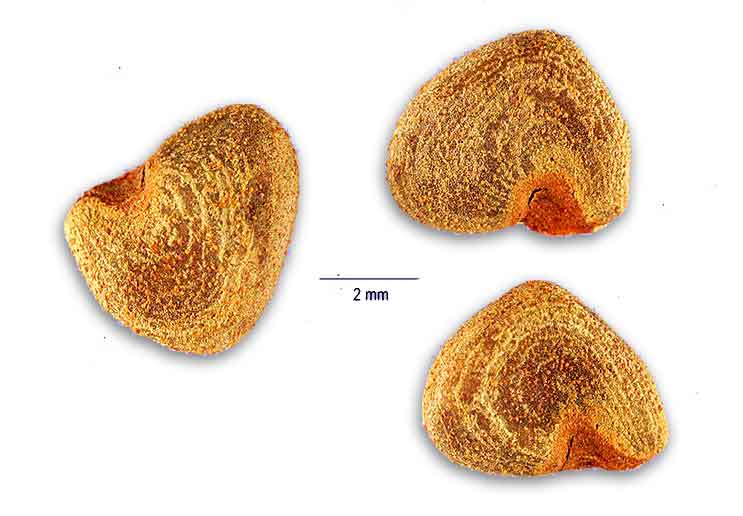 Others
- Fiber / Rope: Cultivated for its fiber. Stem yields a fiber, a good jute substitute although a bit coarse. Fiber strands used for making rope, cordage, sacking, nets.
- Paper: Pulp from stems used for making paper.
- Dye: Soot from stems used as black pigment in dyes.
- Oil: Seed yields an edible oil which can be used for cooking. Oil also used for burning, as lubricant, as ingredient in making soap, pains and varnishes.
- Fodder: Young whole plants used as cattle fodder.

Studies
• Haematinic Activity / Leaves: Study on hemolytic anemic rats induced by phenylhydrazine showed the leaf extract of H. cannabinus induced a significant (p<0.05) increase in RBC count, Hb concentration and pack cell volume. Results suggest H cannabinus leaves may have hematinic properties. (1)
• Phytochemicals / Fungitoxic Activity: Essential leaf oil characterized 58 components, among them: (E)-phytol, (Z)-phytol, n-nonanal, benzene acetaldehyde, (E)-2-hexenal and 5-methylfurfural as major constituents. Oil had antifungal activity against Colletrotrichum fragariae, C. gloeosporioides and C. accutatum. (2)
• Antioxidant Activity: Study results suggest that the leaves of H cannabinus possess erythrocyte protective activity against drug induced (carbon-tetrachloride or paracetamol) oxidative stress. (3)
• Immunomodulatory: Study showed crude extract of H cannabinus fresh leaves significant suppressed TNF-α production and mRNA expression of IL-3 and IL-12, with induction of expression of a potent cytoprotective molecule. Results suggest that H cannabinus may be able to modulate macrophage-mediated responses. (4)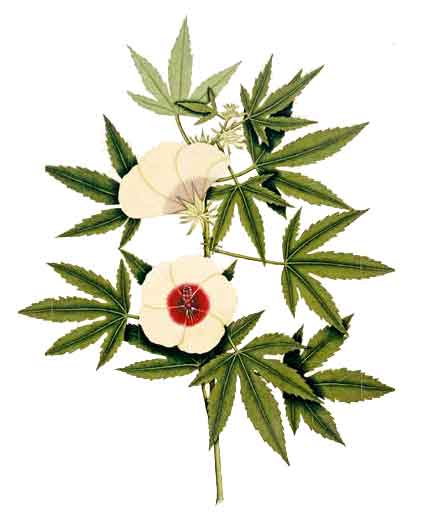 • Hepatoprotective: Aqueous leaf extract showed significant hepatoprotective activity against carbon tetrachloride and paracetamol induced damage evidenced by absence of necrosis in liver cells of pretreated rats. Inhibition of lipid peroxidation is suggested as a possible mechanism. (5)
• Antidiabetic: Study of methanol extract of H. cannabinus in streptozotocin-induced diabetic rats showed significant lowering of blood glucose. Phytochemicals yielded phytosterols, flavonoids, and glycosides. (6)
• Antihyperlipidemic: Study of a 50% hydroalcoholic extract of HC leaves showed a strong dose-dependent antihyperglycemic effect with significant decreases in TC, TG, LDL-C, VLVL-C and TBARS. Also, the extract markedly prevented liver microvesicular steatosis in hyperlipidemic rats. (7)
• Mucilage / Excipient: Mucilage from the seeds of the plant was shown to have good suspending action in 2% concentration. As a suspending agent, it was comparable to standard marketed formulation, 1.e., Calcimax. Results suggest a potential as pharmaceutical excipient. (8)
• Antioxidative / Erythrocyte Protective Activity: Study evaluated the antioxidative activity of an aqueous leaf extracts in rats with carbon tetrachloride and paracetamol-induced erythrocyte damage. Results showed the leaves of H. cannabinus possess an erythrocyte protective activity against drug-induced oxidative stress. (11)
• Toxicity Study / Leaves: Study evaluated dried aqueous extract of leaves for toxicity in mice and Wistar albino rats. Results showed the extract was well tolerated by experimental animals and may also possess hypolipidemic and hypoglycemic properties. (12)
• Antioxidative / Control of Oxidative Stress, Bone Related Disorders and Free Radical DNA Damage / Flowers: Study evaluated flowers of H. cannabinus for free radical scavenging properties in vitro, DNA protective from oxidative dame and inhibition of gelatinolytic activity. Study exhibited strong antioxidant potential on DPPH radical scavenging assay. Study showed flower extracts can be used as a potent functional food to control stress, free radical induced DNA damage, and bone related disorders like osteoarthritis. (13)
• Anti-Obesity Effect / Leaves: Study evaluated ethanolic extracts of leaves in an in vivo study on high cholesterol diet induced obesity in female albino rats. Results showed significant antiobesity effect, with reduction of body cholesterol and histopathological study showing reduced fat accumulation in the liver tissue of rats. (14)
• Green Inhibitor of Corrosion: Study investigated the inhibitory effect of HC extract on corrosion of mild steel in aqueous 0.5 M H2SO4. Results confirmed adsorption of inhibitor molecules on mild steel surface, with concentration dependent inhibition efficiency and decrease with rise in temperature. (15)
• Cytotoxicity / Human Cancer Cell Lines / Seed and Oil: Study evaluated the cytotoxic properties of kenaf seed extract and seed oil on human cervical cancer, breast cancer, colon cancer and lung cancer cell lines. Both seed extract and seed oil showed effective cytotoxic activities against all cell lines. The seed extract showed lower IC50 than seed oil in all the cancer cell lines. Results suggest KSE and KSO can be potential sources of natural anti-cancer agents. (17)
• Phytochemicals / Antioxidant: Study evaluated the various parts of the kenaf plant for phytochemical compounds and antioxidant activities. Water extracts of flowers, leaves, and seeds exhibited the greatest DPPH radical scavenging and SOD activity. Water was the optimal solvent, extracting the greatest quantity of functional compounds with highest antioxidant activity. (see constituents above) (18)
• Comparative Anti-Inflammatory Activity / Leaves:Study evaluated the comparative anti-inflammatory activity of aqueous and methanolic extracts of leaves of H. cannabinus using carrageenan-induced rat paw edema measuring liver and blood parameters i.e., SGOT, SGPT, LPO, reduced GSH and SOD. Both extracts showed significant (p<0.05 inhibition of rat paw edema in a dose-dependent manner. The methanol extract showed more significant inflammatory activity. Indomethacin was used as standard. (19)
• Phenolic Content / Antioxidant Activity / Seeds: Study evaluated a sequential solvent extract of seed extracts for phenolic compounds and antioxidant activity. A water extract yielded the highest total phenolic content (18.78 mg GAE/g extract), total flavonoid content (2.49 mg RE/g extract), and antioxidant activities (p<0.05). Antioxidant potential was evaluated using DPPH radical scavenging, ß-carotene bleaching, metal chelating activity, ferric thiocyanate and thiobarbituric acid reactive substances assays. (20)
• Anthelmintic / Leaves: Study evaluated the anthelmintic activity of H. cannabinus leaf extract using adult earthworm, Pheretima posthuma. A methanol extract of crude drug at concentrations of 10, 20, 30 and 40 mg/ml were tested using measures of paralysis time and death time. Albendazole was used as standard. Results showed the concentrated methanolic extract of leaves showed better anthelmintic activity in comparison with the standard. (21)

Availability
- Wild-crafted.
- Cultivated.