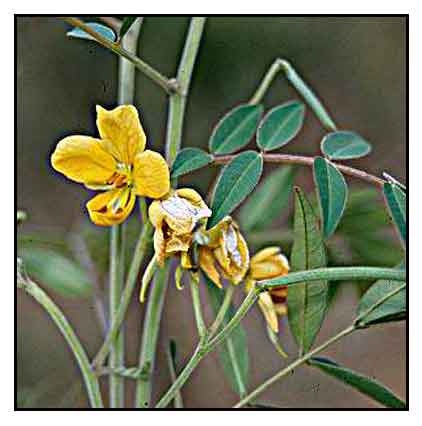 Botany
Andadasi is closely allied to Cassia occidentalis (Balatong-aso), from which it differs by its more shrubby habit, its more numerous, smaller, narrower leaflets, and its short, broader and more turgid pods, which are not usually torulose when mature.
Distribution
- Occasional weed in settled areas at low and medium altitudes from northern to central Luzon.
- Pantropic species of American origin.
- Also occurs in India and most tropical countries.
Constituents
- Owes its medicinal activity to the presence of chrysophanic acid, sometimes called rhein.
- Also reported to contain emodin.
- Study of seeds isolated a new hydroanthracene derivative named presengulone [9-(6'-methoxy-3'-methyl-3',8',9'-trihydroxy-1'-oxo-1',2',3',4'-tetrahydro-a nthracene-7'-yl)-5,10-dihydroxy-2- methoxy-7-methyl-1,4-anthraquinone], together with physcion, physcion bianthrone, xanthorin, floribundone-1, isosengulone, sengulone, and anhydrophlegmacin-9,10-quinones A2 and B2. (11)
- Study reported two new anthraquinones from the root bark - 1,8-dihydroxy-3,6,-dimethoxy-2-methyl-7-vinylanthraquinone and 1,3-dihydroxy-5,7,8-trimethoxy-2-methylanthraquinone. (2)
- Studies have yielded triterpenoids, crysophanol, dianthraquinone, anthraquinone.
- Phytochemical screening of aerial parts yielded carbohydrates, amino acids, fixed oils, fats, glycosides, and sterols. (20)
- Preliminary screening of matured seed coat yielded secondary metabolites, viz., saponin, alkaloids, and cardiac glycosides. (see study below) (22)
- Phytochemical screening of bark yielded steroids, glycosides, tannins, gums and mucilage, fats and oils. (see study below) (23)
- Study on seeds have yielded ascorbic acid, dehydroascorbic acid and ß-sitosterol. (24)
- Phytochemical evaluation of leaves, seeds, and roots yielded anthraquinone glycosides, flavonoids, tannins, saponins, mucilage; leaves yielded anthraquinone glycosides, flavonoids, tannins, and mucilage; seeds also yielded saponins. (24)
- Study of leaves yielded isolated seven compounds: butanedioic acid (1), 1, 2, 4-butanetriol triacetate (2), 7-hexadecene (3), E-15-heptadecenal (4), 1, 2-benzenedicarboxylic acid (5), 3-eicosene (6), and 10-heneicosene (7). Methanol extracts yielded carbohydrates, anthraquinone glycosides, alkaloids, flavonoids, steroids and triterpenoids, tannins and phenolics. (25) 
- Phytochemical screening of air-dried leaves yielded tannin, phlobatannins, terpenoids, cardiac glycosides, alkaloids, and flavonoids. (28)
- GC-MS analysis of leaves for essential oil yielded 29 constituents representing 94.14% of total oil composition. Major constituents were benzyl alcohol (9.08%), isoeugenol (4.94%), germacrene D (4.82%), isocreosol (5.69%), phenylethyl alcohol (5.03%), azulene (4.65%), linolenic acid (1.56%). (see study below) (29)
Properties
-Seeds considered febrifuge.
- Diuretic, anthelmintic.
- Studies suggest analgesic, antipyretic, anticonvulsant, antiasthmatic, antioxidant, antidiabetic, herbicidal, larvicidal, thrombolytic, hepatoprotective, diuretic, laxative, and fungicidal properties.

Parts used
Roots, bark, seeds, and leaves.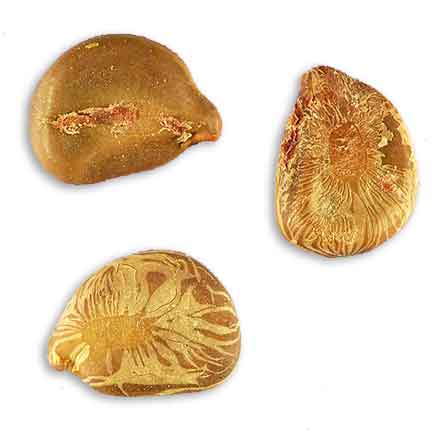 Uses
Folkloric
- Juice of leaves made into plaster with sandal wood or mixed with lime juice, used for ringworm.
- Also used for dhobi itch.
- Externally, used for washing syphilitic sores.
- Juice dropped into ears invaded by insects.
- Internally, used as expectorant for coughs.
- Root taken internally with black pepper for snake bites.
- Infusion or decoction of leaves, with black pepper, used for asthma and hiccups
- Root used for snake bites.
- Infusion of fresh leaves injected for gonorrhea in its subacute stage.
- Internally, used as anthelmintic.
- Infusion of leaves used as antirheumatic and for inflammatory fevers.
- Infusion of leaves, mixed with sugar, used for jaundice.
- Decoction of the whole plant is used for diminishing urine and as expectorant in acute bronchitis.
- Bruised leaves and bark of root, powdered and mixed with honey, applied externally to ringworm and ulcers.
- Infusion of bark or powdered seeds, with honey, given for diabetes.
- Seeds used for fever.
- Ointment from bruised seeds, leaves and sulphur, ground into a paste, mixed with honey, used as an application for ringworm, pityriasis and psoriasis.
- In India, used for common colds, asthma, allergic rhinitis, and other respiratory affections. Also used for osteoarthritis.
- In India, used for ascites, liver dyscracias, piles, jaundice, fever, and palpitations. (24)
- In Bangladesh, root juice used for fevers and as diuretic; paste from leaves used for ringworm and sores.
- The Kandhas of Kandhamal district of Orissa use the paste of roots of Achyranthes aspera and Cassia sophera to treat scabies. (31)

Studies
• Radical Scavenging Activity / Phenolic Content: Study showed the phenolic content to be highest in the ethanol fraction. The free radical scavenging activity was higher than the control synthetic antioxidant. Results suggest the plant can serve as a source of natural antioxidants and preservative agents with potential applications in the food industries. (1)
• Anti-Asthmatic: Study showed the C sophera extract significantly protected the bronchoconstriction in guinea pigs against histamine-induced bronchospasm. Animals pretreated with the parent extract and fraction showed significant (p<0.005 inhibition in reducing paw edema in passive paw anaphylaxis. (4)
• Seed Oil Constituents: Study of seed oil yielded 43 compounds. The major constituents were palmitic acid (22.82 %), linoleic acid (8.32 %), elaidic acid (19.16 %), stearic acid (9.86 %) among others. (6)
• Hepatoprotective: Study of ethanol extract of C. sophera in paracetamol-induced hepatotoxicity in rats showed remarkable hepatoprotective activity. (7)
• In Vitro Thrombolysis / Cytotoxicity Study: An in vitro thrombolytic model evaluated the clot lysis effect of six Bangladesh herbal extracts including Senna sophera L. Senna sophera showed 31.61 ±2.97% clot lysis. In brine shrimp cytotoxic assay, it showed 233.37 ±7.74 µg/ml, with reference to vincristine sulfate (LC50 0.76 ±0.04). (9)
• Hepatoprotective / Carbon Tetrachloride / Leaves: Study evaluated the hepatoprotective activity of ethanolic extracts of C. sophera leaves against CCl4-induced hepatic damage in adult wistar rats. Results showed potent hepatoprotective action which may be due to the presence of flavonoids in the extracts. (10)
• Bioactivity Against Storage Pests: Study reports on the inhibitory and toxic effects of extracts of powdered leaves of Cassia sophera against Sitophilus oryzae and Callosobruchus maculatus infestation of stored rice and cowpea. (13)
• Antipyretic: Study evaluated fresh juice and ethanolic extract of leaves of Senna sophera for antipyretic activity with adult Wistar albino rats. (14)
• Antibacterial / Leaves: Study evaluated an alcoholic leaf extract of C. sophera for antibacterial potential against various uropathogenic bacteria. Results showed good antibacterial activity with maximum activity against E. coli, K. pneumonia, and P. aeruginosa, with moderate activity against S. saprophyticus, P. mirabilis and C. freundii. (15)
• Analgesic/ Anticonvulsant / Seeds: Preliminary screening of seed extract of Cassia sophera L. var. purpurea Roxb. exhibited analgesic, anticonvulsant effects and potentiated pentobarbitone sleeping time. (17)
• Antinociceptive / Antipyretic / Leaves: Study of a crude hydroalcoholic extract of CS leaves showed significant analgesic activity using acetic acid induced writhing and central analgesic activity by heat-induced pain in mice and significant dose-dependent antipyretic activity using Brewer's yeast induced pyrexia in rodents. (18)
• Diuretic / Laxative: Study evaluated the diuretic and laxative activity acute toxicity of various extracts of Cassia sophera in laboratory rats. A methanol extract showed significant diuretic effect with notable increase in rates of water and sodium excretion. An ethanolic extract showed significant laxative effect in a dose dependent manner. Study also showed C. sophera to be safe and failed to exhibit toxicity in the rodent model. (19)
• Anti-Inflammatory / Aerial Parts: Study evaluated an alcoholic extract of aerial parts for anti-inflammatory activity. LD50 for alcoholic and aqueous extracts showed no mortality up to maximum of 2g/kg dose. Both extracts significantly reduced paw edema volume in carrageenan and formalin induced (acute) paw edema model in rats. (see constituents above) (20)
• Antioxidant / Anti-Inflammatory / Analgesic: Study evaluated various fractions of CS for antioxidant (DPPH, reducing power, hydroxyl radical scavenging), anti-inflammatory (carrageenan induced edema), analgesic (acetic acid induced writhing) activities. An ethanol fraction showed concentration dependent reducing power. All fractions showed significant (p<0.05) dose dependent anti-inflammatory activity with the ethanol fraction showing the highest reduction of paw edema and also the activity against acetic acid induced writhing. Results suggest substance like flavonoids which modulate oxidative stress may contribute to the activities. (21)
• Larvicidal / Seed Coat: Study evaluated the larvicidal activity of crude and ethyl acetate extracts of matured seed coat of C. sophera against Culex quinquefasciatus. All graded concentrations from 0.6% to 1.0% showed significant (p<0.05) larval mortality correlating with extracts concentration. (see constituents above) (22)
• Anti-Diabetic / Bark: Study evaluated the anti-diabetic activity of C. sophera bark in STZ-induced diabetic rat model. Results showed an extract dose of 400 mg/kg with effective antidiabetic activity. (23)
• Anti-Diabetic / Increased Insulin Secretion / Seeds: Study evaluated the antidiabetic effect of C. sophera seed extracts in STZ-induced diabetic Wistar rats. Results showed significant reduction in elevated glycosylated haemoglobin and increased insulin level. Further study showed the extract stimulated insulin secretion from isolated islets. Effect was dose dependent and the increased insulin secretion was independent of K-ATP channels of the ß-cells. (26)
• Enzyme Inhibitory Effect / Antioxidant: Study evaluated the antioxidant capabilities and inhibitory effect of C. sophera against key enzymes in human pathologies viz. diabetes (α-glucosidase) and neurodegenerative disorders (acetylcholinesterase). Methanol leaf and root extracts showed inhibitory activity against α-glucosidase significantly higher than reference drug acarbose. The antioxidant capacities and anticholinesterase inhibitory activities were less potent than controls. (27)
• Antibacterial / Essential Oil / Leaves: Study evaluated the essential oil and various organic extracts from Cassia sophera leaves against isolated bacteria. Study of dried leaves for essential oil yielded 29 constituents. Study showed antimicrobial activity against tested strains. The antibacterial activity may be attributed to oxygenated monoterpenes and sesquiterpenes in the essential oil of leaves. (see constituents above) (29)
• Antihyperglycemic / Leaves: Study evaluated different extracts of leaves in rats with alloxan-induced diabetes. The methanol extract showed maximum blood glucose lowering effect (58.63%), followed by EA (47.12%) and chloroform (37.12%) extracts. Effect was compared with Glibenclamide which reduced blood glucose by 63.69%. (30)
• Thrombolytic / Clot Lysis Effect: Study evaluated six Bangladesh aqueous plant extracts for clot lysis effect using streptokinase as control and cytotoxicity using brine shrimp lethality bioassay with vincristine as positive control. Senna sophera showed significant clot lysis activity at 31.61±2.97%. None of the extracts showed cytotoxicity compared to control. (32)
ª Antimicrobial: In study for antimicrobial activity, S. sophera leaf extra in petroleum ether showed sensitivity against C. albicans (MIC 0.3524 mg/ml), ethanol extracts against E. faecalis (MIC 0.2738 mg/ml) and chloroform extracts against C. albicans (MIC 0.4239 mg/ml). Stem extracts in pet ether showed more sensitivity against E. faecalis (MIC 0.254 mg/ml), ethanol extracts against E. faecalis (MIC 0.2987 mg/ml), and chloroform extracts against E. faecalis (MIC 0.5899 mg/ml). Study provides insight in traditional treatment of wounds or burns associated with fungal and bacterial infections. (33)
• Anthelmintic / Cytotoxic Activity / Leaves: Study evaluated the cytotoxic and anthelmintic activity of three Bangladesh medicinal plants. In cytotocicity study using brine shrimp lethality assay, all three extracts showed moderate toxic effect. Leaf extracts showed significant anthelmintic activity. (34)
• Cytotoxic / Antiangiogenic / Leaves: Study evaluated of leaf extracts of Cassia tora and C. sophera in reducing cytotoxicy and angiogenesis using human cancer cell lines and chick embryo. respectively. For in vitro studies, colon and hepatocarcinoma cell lines were used. For in vivo studies, chicken egg chorioallantoic membrane (CAM) assay was used. All extracts of both plants were toxic to tested cell lines with increasing concentrations and time. The ethyl acetate extracts of both plants exhibited greater anti-angiogenesis activity than other extracts. (35)
• Antihyperglycemic / Antihyperlipidemic / Antioxidative / Leaves: Study of methanol leaf extract isolated hexahydroxy diphenic acid (compound A) and kaempferol (compound B). Administration of the extract in diabetic rats caused significant reduction in blood sugar and body weight gain. Continuous administration for 21 days normalized lipid levels. Antioxidant effect was attributed to decreased lipid peroxidation. (36)

Availability
Wild-crafted.