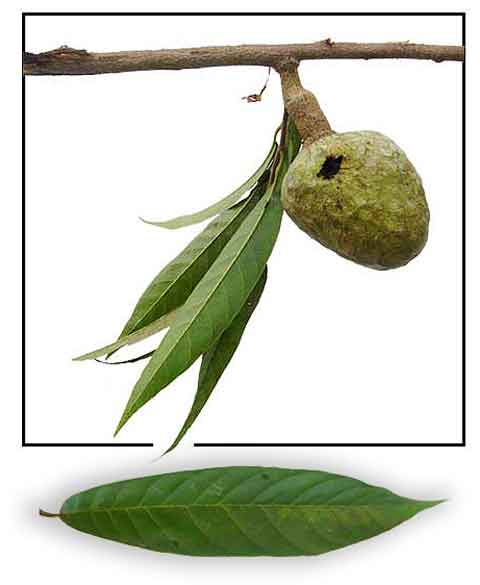 Botany
Anonas is a tree growing to a height of 10 meters or less. Leaves are shiny, oblong to oblong-lanceolate, up to 20 centimeters long, 2 to 5 centimeters wide, pointed at the tips, with petioles 1 to 1.5 centimeters long. Flowers are greenish-yellow, fragrant, 2 to 2.5 centimeters long, occurring in two or three together on lateral peduncles. Outer petals appear as in atis; the inner one is very small, narrowly oblong, or wanting. Fruit is large, heart-shaped, brownish-yellow, about 8 centimeters or more in diameter, with pentagonal areoles outside. Skin is thin, covering a cream-colored, fair-flavored, juicy, and sweet pulp.
Distribution
- Cultivated throughout the Philippines.
- Introduced from tropical America by the Spaniards.
- Now pantropic in cultivation.
Constituents
- Study of the bark obtained a crystalline alkaloid from the bark, C17H17NO3, named anonaine (0.03%).
- Another bark study identified the same alkaloid as belonging to the aporphine type, establishing it as 5-6 dioxymethylene-aporphine.
- The bark and seeds are high in tannic acid.
- Fruits yield 6.2% dextrose and 4.22% levulose.

Properties
- The fresh leaves are antihelminthic internally and suppurant and insecticidal externally.
- The bark is astringent and tonic.

Parts used and preparation
Leaves and fruit.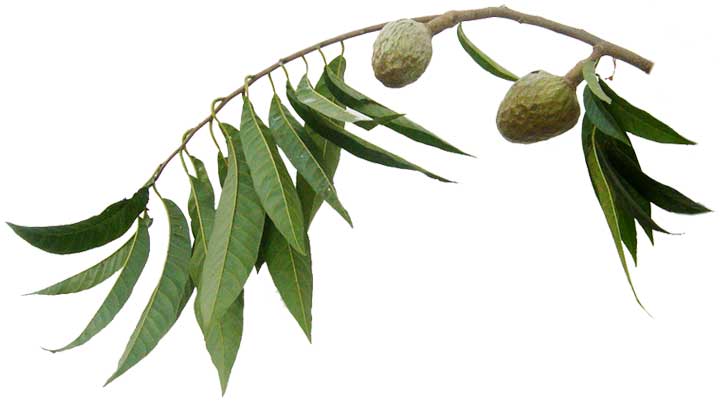 Uses
Edibility
Fruit is edible but is not so prized in the Philippines as atis or guayabano.
Folkloric
- In the Philippines, leaves used as topicals and applied to the stomach of children suffering from indigestion: The leaves are warmed in open fire and applied to the stomach while still warm, kept in place by an abdominal binder, and renewed every 2 hours. Also used for babies.
- The powdered bark used for dysentery and diarrhea.
- Fresh leaves used as anthelmintic; externally used as suppurant.
- Fruit is antihelmintic; the dried unripe fruit is astringent and used for diarrhea and as vermifuge.
- The unripe fruit is dried, pulverized and used for diarrhea and dysentery.
- The roots used for epilepsy.
- Crushed leaves or paste of the fruit used as poultice for boils, abscesses and ulcers.
- Decoction of the bark is astringent and taken as tonic.
- Bark in powdered form used for diarrhea and dysentery.
- In severe diarrheal cases, a potent decoction is made from the leaves, bark and green fruits, boiled together for five minutes in a liter of water.
- Fragments of root bark are packed around the gums to relieve toothache.
- Root decoction as febrifuge.
- In Bangladesh, used for treatment of epilepsy, toothaches, tumors, fever, and dysentery.
- In the West Indies, fruit is used as anthelmintic; the unripe and dried fruit used as astringent and vermifuge, and for diarrhea and dysentery.
- In Guiana, Antiles, and Reunion, sugared pulp used to make a refreshing drink; also used for diarrhea.
- The Amerindians use the roots to treat epilepsy.
- Malays and Chinese use it as tonic.
Others
- Ritual: Fruit used in the New Year tradition of "bilog-bilog" for good luck - a bowlful collection of fruits (anonas, mansanas, ubas, pakwan, pinya, bayabas, etc) with other sundry items like cotton, salt, and coins.
- Dye: Leaves used in tanning, yields a blue or black dye.
- Fiber: Young twigs yield a superior fiber.

Studies
• Phytochemicals / Acetogenins: Study isolated two annonaceous acetogenins from the seeds of Anona reticulata: squamone and isoannonareticin. (2)
• Anthelmintic: Study showed the ethanol extract of Annona reticulata exhibited anthelmintic activity, taking less time to cause paralysis of the earthworms, Pheretima posthuma. Activity was attributed to a compound present in fraction of the ethanol extract. (3)
• Anthelmintic: Extracts from the bark of A reticulata showed potent anthelmintic activity. (6)
• Annonacin / Cytotoxicity / Anti-Cancer: Study of annonacin isolated from the seeds of A reticulata showed it caused significant cell death in various cancer lines and suggests a potentially promising anticancer compound. (4)
• Antioxidant Study: In a study of antioxidant potential of leaves of three different species of Annona, A reticulata showed better activity in quenching DPPH and superoxide radical than A squamosa and A muricata. (5)
• Antibacterial: Study of antibacterial activity of different extracts of leaf of A. squamosa and A. reticulata showed the methanol extract to have the highest inhibition against B. subtilis, Staph epidermis, Staph aureus and Vibrio alginolyticus. (8)
• Antiproliferative: Study showed the ethanol extract of A. reticulata roots to have significant antiproliferative activity against A-549, K-562, HeLa and MDA-MB human cancer cell lines attributed to the collective presence of acetogenins, alkaloids and the lower inhibitory effect on Vero cell line. Results suggest a chemopreventive potential. (9)
• Kaur-16-en-19-oic Acid / Analgesic / Anti-Inflammatory: Kaur-16-en-19-oic acid, isolated from the bark of A. reticulata, exhibited significant analgesic and antiinflammatory activity. (10)
• Insecticidal / Leaf Powder: Study of the insecticidal properties of A. reticulata and M. azedarach leaf powder against maize weevil, S. zeamais, showed that the presence of the plant materials in the diet significantly reduced the number of progeny, prolonged the developmental period and reduced the developmental index. (11)
• Insecticidal / Seeds: Study showed the seeds to have insecticidal activity. Phytochemical screening was positive for alkaloids, steroids, phenolic compound, cyanogenic compound, lipid.
• Reticulacenone / Acetogenin: Study yielded an acetogenin, reticulacinone, together with rolliniastatin-2 and molvizarin from a hexane extract of the stem bark of A. reticulata. (13)
• Antimicrobial / Leaves: A methanol leaf extract showed to possess antibacterial and antifungal activity and also remarkable antioxidant effect. (14)
• Starch Content / Fruits: Pulp of Annona reticulata fruits yields about 19% starch. The purified starch has paste characteristics comparable to corn starch. (15)
• Leaf Constituents / NO inhibition / Anti-Inflammatory: Study of leaves yielded annonaretin, a new triterpenoid, together with nine compounds. Most of the purified compounds exhibited significant inhibition of NO. Results suggest a potential for use of the leaves as a herbal medicine in the treatment of inflammatory diseases and the development of anti-inflammatory agents. (16)
• Anthelmintic / Leaves: Crude extracts of leaves was evaluated for in vitro anthelmintic activity on Indian adult earthworms Eisinia fetida. Results showed dose-dependent inhibition of spontaneous motility. A methanolic extract showed anthelmintic activity comparable to reference drug Albendazole. (17)
• Analgesic / CNS Depressant / Bark: Various bark extracts were evaluated for evaluated for analgesic and CNS depressant activities in animal models. All extracts showed significant central analgesic activity and statistically significant mild to moderate CNS depressant activity. (18)
• Anti-Hyperglycemic Effect / Leaves: Study evaluated a hydroalcoholic extract of leaves for hypoglycemic activity against STZ-induced hyperglycemic rats. Results showed significant improvement in fasting blood glucose and oral glucose tolerance test with improvement in biochemical and physical parameters. (19)
• Anticancer / Human Melanoma / Roots: Study evaluated ethanol and aqueous extracts of roots for in vivo anticancer activity against melanoma cells in mice and in vitro activity on MDA-MB-435 human melanoma cells. The ethanol extract significant reduced tumor growth and exhibited a prominent inhibitory effect against melanoma cell lines. The inhibitory effect may be attributed to the presence of acetogenins and alkaloids. (20)

Availability
Wild-crafted and cultivated.