Botany
Anuang is a perennial creeping hedge, more or less glabrous, arising from long-creeping rootstocks. Stems are usually solitary, 10 to 40 centimeters high, and 3-angled. Leaves are shorter than the stem, up to 15 centimeters in length or longer, 3 to 4 millimeters wide; with the bracts similar. Spikes are ovoid, simple, white, 8 to 13 centimeters long. Spikelets are very numerous, 3 to 3.5 millimeters long, the flowering glume distinctly winged along the keel. Inflorescence is a globose terminal head, 5 to 10 millimeters in diameter. Fruit is a nut , up to 1.5 millimeters long, oblong to suborbicular, with a lens-shaped achene.
Distribution
- In waste places, open grasslands, etc., at low and medium altitudes throughout the Philippines.
- A major weed in improved pastures.
- Pantropic.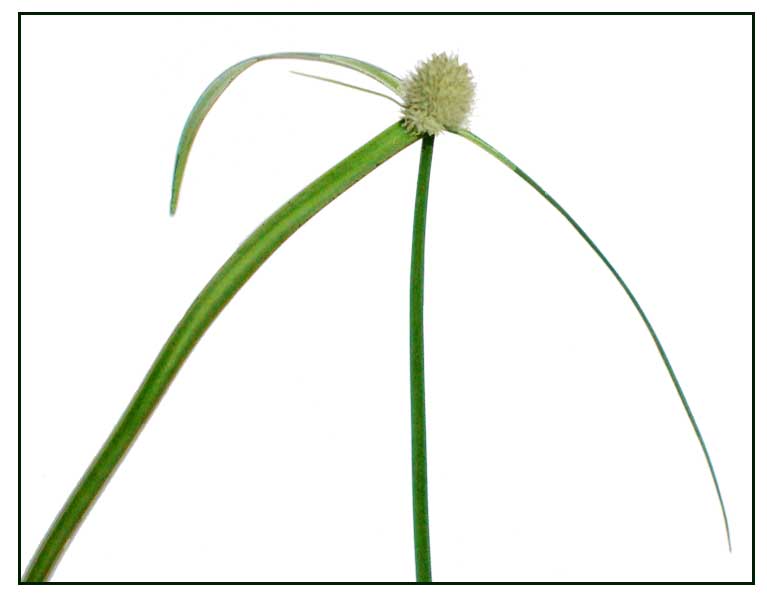 Constituents
- Leaves yielded alkaloids, glycosides, saponins, and tannins.
- Total phenolic content was: alcoholic extract, 38.89 mg GAE/100 g; water extract, 40.13 mg/ GAE/100g.. Total flavonoid compounds were: alcohol extract, 4.15 mg QE/100 g; water extract, 4.75 mg QE/100g. (12)
- Phytochemical screening of whole plant extracts revealed strong presence of carbohydrates, steroids, saponins, flavonoids, alkaloids, anthocyanin, quinines steroids and coumarins, phenols, cardiac glycosides, acids, terpenoids, and triterpenoids. (see study below) (21)
Properties
- Oil distilled from the roots is dark yellowish-green, with a pleasant odor and pungent taste.
- Considered diuretic, sudorific, refrigerant, demulcent and tonic.
- Studies have shown antioxidant, antidiabetic. analgesic, anthelmintic properties.
Parts used
Oil, roots, rhizome.

Uses
Folkloric
- Decoction of fresh roots used as sudorific in malaria with chills.
- Decoction of rhizome used as diuretic; mixed with oil, used externally for various forms of dermatoses.
- Decoction of root used as refrigerant, demulcent and tonic; used to relieve thirst in diabetes.
- Oil distilled from the root used to relieve itching
- In northern Surigao del Sur, infusion of stem and leaves used for headaches, muscle pains and fever. (11)
- Oil used internally for torpor of the liver.
- Shares other properties and uses like Cyperus rotundus.
- In Tamil Nadu, India, decoction of rhizome used for fever and cough. (10)
- In India, plant leaves used as anti-venom. Paste of rhizomes mixed with milk used internally for worm infection. Rhizomes used as diuretic, stomachic, antidiarrheal. (20) Decoction of roots in 20 ml of water taken daily orally for 2-4 weeks. (22)

Studies
• Analgesic / Hypoglycemic: Methanol extract study in mice showed K. monocephala to lower blood glucose level when administered 15 min after a glucose load. The extract also exhibited analgesic activity, significantly reducing the number of writhes in mice administered intraperitoneally with acetic acid to induce abdominal constriction. (6)
• Antidiabetic / Rhizome: Different extracts of K. monocephala rhizomes were studied in streptozotocin-induced diabetic rats. An aqueous extract showed significant antidiabetic property. The antidiabetic effect was attributed to its main phytoconstituents--flavonoids and tannins. (5)
• a-Glucosidase Inhibitory Activity: Study screened 80% aqueous ethanolic extracts of selected plants used as remedies for diabetes for potential a-glucosidase inhibitory activity. Except for A. bilimbi, all the plants, which included Kyllinga monocephala, exhibited significant enzyme inhibitory activity. (7)
• Antioxidant / Antidiabetic / Root: Study of root extracts significantly and dose dependently reduced blood glucose, and also decreased levels of cholesterol and triglyceride. Extract also showed antioxidant activity in the DPPH and NO assays. (8)
• Anthelmintic / Root: Study evaluated a root extract for anthelmintic efficacy in an animal model. Results showed significant dose dependent anthelmintic activity. Standard drugs were piperazine citrate and albendazole. Results suggest potential for treatment of various types of worm infections in human beings, too. (9)
• Antioxidant / Antibacterial: Study evaluated the antioxidant and antibacterial activity of methanol extract of K. nemoralis. KN exhibited high antioxidant activity on DPPH (IC50=90µg/ml) assay, compared with standards. The methanol extract also exhibited significant antimicrobial activity against gram-positive human pathogenic bacteria. (14)
• Hepatoprotective / Rhizomes: Study evaluated the hepatoprotective ability of ethanolic and petroleum ether extracts of rhizomes of Kyllinga nemoralis against carbon tetrachloride (CCl4)/olive oil-induced hepatotoxicity in male Wistar rats. Both extracts showed significant hepatoprotection compared to standard silymarin. (15)
• Diuretic / Acute Oral Toxicity / Rhizomes: Study evaluated the diuretic activity of ethanol and petroleum ether extract of rhizomes of Kyllinga nemoralis. Results showed diuretic activity close to standard drug furosemide. The ethanolic extract showed better results than the petroleum ether extract. Acute oral toxicity evaluation showed no signs of toxicity and behavioral changes. The LD50 showed >2000 mg/kg. (16)
• Antidiabetic / Roots: Study investigated the antidiabetic activity of roots of Cyperus kyllingia. Crude roots extract and methanolic extract of roots showed significant antidiabetic activity. (Plants of C. kyllinga were collected and confirmed for botanical identity as Kyllinga nemoralis) (17)
• Anthelmintic: Study of methanolic extract of Kyllinga monocephala showed significant and dose-dependent anthelmintic activity against adult Indian earthworm Pheretima posthuma. (18)
• Analgesic / Hypoglycemic: Study evaluated the analgesic and hypoglycemic activities of Bixa orellana, Kyllinga monocephala and Luffa acutangula. K. monocephala lowered blood glucose when administered 15 minutes after a glucose load. The methanol extract of K. monocephala significantly reduced the number of writhes in mice with abdominal constriction induced by intraperitoneal acetic acid, while those of B. orellana and L. acutangula did not. (19)
• Larvicidal on Mosquito Vectors: Study of various extracts of K nemoralis showed larvicidal efficacy against early fourth instar larvae of Aedes aegypti, Anopheles stephensi, and Culex quinquefasciatus. The extracts exhibited insecticidal activity against all three mosquito larvae. (see constituents above)   (21)

Availability
Wild-crafted.