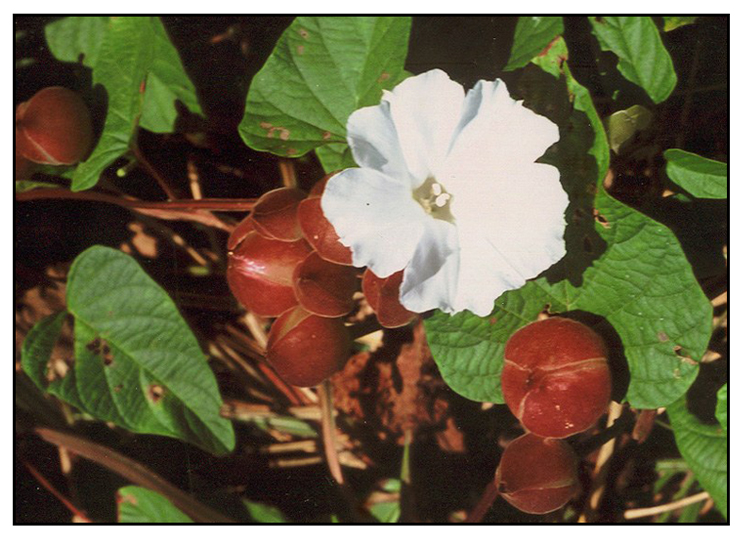 Botany
Bangbañgau is an herbaceous, somewhat hairy vine reaching a length of 5 meters or more. Stems are often purplish, prominently 2- to 4-angled, and narrowly winged. Leaves are entire, ovate, 5 to 15 centimeters long, narrowing to a pointed tip, broad and somewhat heart-shaped or straight at the base. Inflorescences have few straight flowers and are borne in the axils of the leaves. Sepals are green, and are ovate to oblong-ovate, the outer two are 2 to 3 centimeters long, larger than the inner three, hairy and somewhat fleshy and about 4 centimeters long, with the limb 4 centimeters wide. Capsule is rounded, about 1 to 1.5 centimeter in diameter, usually containing 4 black, smooth seeds.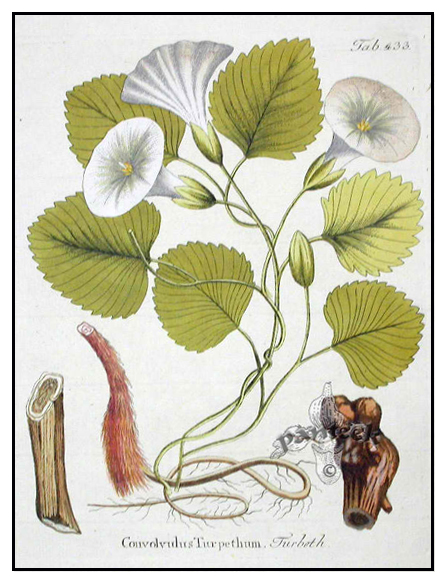 Distribution
- Found in the Batan Islands; in Ilocos Norte, Bontoc, Lepanto, La Union, Rizal, Laguna, and Batangas Provinces in Luzon; in Balabac, Culion, Palawan, Cebu, Ticao, and Mindanao, in waste places and thickets at low and medium altitudes.
- Pantropic.
- Widely grown throughout India; occasionally cultivated as an ornamental.
Constituents
• Roots contain turpethin resin, 4 to 10 percent, that yields a glucoside, turpethin, analogous to jalapin.
• Study isolated a glucoside, turpethin made up of l-tur-penthein and f-turpenthein.
• Root, bark, and seeds contain cardio-active glycosides - neriodorin, neriodorein, and karabin.
• Plant yields ß-sitosterol, a- and ß-turpethin, coumarin, scopoletin, lupeol, betiulin.
• Phytofhemical screening of roots and leaves yielded steroids, alkaloids, reducing sugars, tannins, gums, flavonoids, and saponins. (see study below) (17)

Properties
• Root considered a purgative.
• Root has been used as anti-inflammatory, immuno-modulatory, purgative, hepato-protective.
• Studies have suggested antibacterial, antioxidant, hepatoprotective, anticancer, antidiabetic, antidiarrheal, antipyretic, analgesic, bronchodilatory, antiulcer properties.
Parts utilized
Rhizomes, roots, bark, leaves.

Usespyretic
Folkloric
• In the Philippines, the root, pulverized or in an alcoholic tincture, used as a drastic purgative.
• Dried and powdered root-bark considered cathartic and laxative, resembling jalap in its action.
• With ginger, used for rheumatic and paralytic affections.
• In many countries, used as folk medicine to treat constipation, jaundice, rheumatism, chronic gout, piles and tumors.
• In India, the fresh bark of the root is rubbed with milk and used as purgative; used for jaundice.
• In Ayurveda, root is used as chief ingredient for treatment of gastric ulcer and gastrointestinal maladies.
• Widely used in traditional Ayurveda and Siddha systems of medicine for treatment of diabetes mellitus. (9)
• Paste of the root is applied to hemorrhoids, chancres and ulcerations.
• Oil from the root bark used for dermatologic scaly diseases.
• Fresh juice of leaves used as eye drops to induce lacrimation in ophthalmic.
• In Nepal, root-bark used as laxative and antacid.

Studies
• Antioxidant / Anticancer: Study showed the methanolic extract of Operculina turpethum stems on induced breast cancer in female rats showed decreased lipid peroxidation activity and increased antioxidant level in drug treated animals and significant decrease in tumor weight. Results suggest MEOT shows antioxidant activity and a protective role against induced breast cancer. (1)
• Hepatoprotective / Anticlastogenic: Study examined the hepatoprotective effects of O turpethum extract against NDMA-induced hepatotoxicity and clastogenicity in rats. Results showed that OTE has hepatoprotective and anti-clastogenic effects against N-nitrosodimethylamine-induced hepatic fibrosis and suggests OTE may be used as a hepatoprotetive agent against various hepatic diseases including toxic liver injury. (2)
• Hepatoprotective: Study of ethanol extract on paracetamol-induced liver damage showed a significant hepatoprotective activity with lowering of SGOT, SGPT, alkaline phosphatase and bilirubin, supplemented by histopath evidence on liver sections. (3)
• Anti-Ulcer / Anti-Inflammatory / Anti-Diarrhea / Roots: Study of root powder of Operculina turpethum and its formulations showed a reduction of gastric hyperacidity, reduced edema volume in formalin induced inflammation and significantly reducing charcoal movement in charcoal meal test in rat models. (4)
• Antimicrobial: A petroleum ether and ethanol extract of leaves showed potential antimicrobial properties against several human pathogenic bacteria. (6)
• Anti-Ulcer / Stem-Bark: Study evaluated a stem bark extract for ulcer preventive and ulcer protective activities in aspirin and pylorus ligated model in experimental rats. Results showed enhanced ulcer preventive and protective effects when compared to standard drug ranitidine. (7)
• Anti-Diabetic / Stem-Bark: Study evaluated the antidiabetic potential of methanolic extracts of O. turpethum stem and root in STZ-induced diabetic rat models. Results showed significant reduction in fasting blood glucose levels in normal and treated diabetic animals. (9)
• Chronopharmacological Treatment of Ulcers: Study evaluated the concept of chronopharmacology and influence of different seasons on gastric secretions by Operculina turpethum in pylorus ligated rats. Results showed acid secretion for different "Ritus" (6 seasons of the year) varied significantly, and similarly gastro protection of O. turpethum and lansoprazole varied over different seasons. Results suggest benefit with variation in doses in different seasons. (10)
• Antimicrobial: Petroleum ether and ethanol extracts of leaves showed potential antimicrobial properties against several human pathogenic bacteria. (11)
• Antibacterial / Cytotoxic: A chloroform extract of stem yielded three compounds: H-1 ($-sitosteryl-$-D glucoside), H-2 (22, 23-dihydro-"-spinosteryl glucoside) & CH-2 (salicylic acid) . Crude extracts and compound CH-2 showed significant antibacterial activity but were less potent than standard drug kanamycin. In brine shrimp cytotoxicity testing, the ethyl acetate extract showed more cytotoxicity than the chloroform extract. (12)
• Antinociceptive / Antipyretic / Roots: Study of an ethanolic root extract of O. turpethum showed analgesic, anti-inflammatory and antipyretic activities which may be mediated by central and peripheral mechanisms. (13)
• Antidiarrheal / Antispasmodic / Bronchodilatory: Study evaluated the antidiarrheal, antispasmodic and bronchodilator effects of a 70% aqueous-ethanolic extract of O. turpethum black variety. Results showed dose-dependent anti-diarrheal activity in castor-oil induced diarrhea in mice. There was dose-dependent inhibition of spontaneous and high K+ induced contractions. In isolated guinea-pig tracheal preparations, OTB caused inhibiton of carbachol and high K+ induced constriction. An EA fractions showed more potentcy than parent crude extract and hexane fraction. (15)
• Laxative Effect / Dried Leaves: Study of dried leaf extracts showed potent laxative effects. Chloroform and methanol extract of O. turpethum produced significant (p<0.05) dose- and time-dependent increase in percentage of wet feces with significant (p,0.05) dose-dependent increase in intestinal motility. (16)
• Antibacterial / Roots and Leaves: Study evaluated the antibacterial activity of various root and leaf extracts against various pathogenic bacterial. Results showed antibacterial activity with significant MICs. (17)
• Analgesic / Antoixidant / Leaves: Study in miceevaluated methanolic extract ofs leaves for analgesic activity by acetic acid-induced abdominal writhing and tail flick methods and antioxidant activity by DPPH free radical scavenging assay methods. Results showed analgesic and antioxidant properties. (18)

Availability
Wild-crafted.