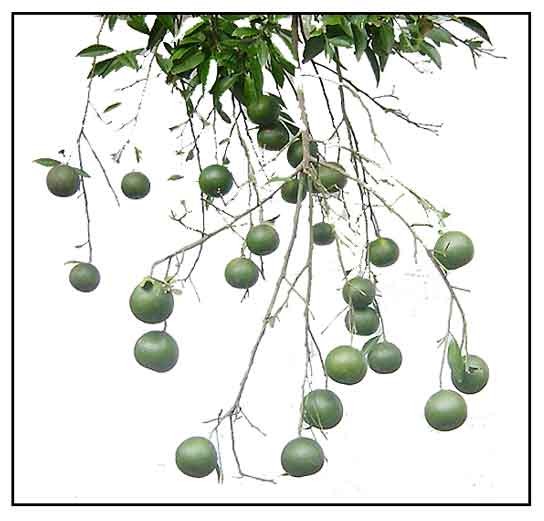 Botany
Dalanghita is a small tree. Leaves are smooth, oblong to broadly lanceolate, 4 to 10 centimeters long, with narrowly winged short petioles of about 1 centimeter long. Flowers are white, short-pedicelled and mostly solitary.. Fruits are hesperidums, with a loose skin and leathery pericarp, with a sweet pulp that is only fairly juicy. Green fruit turns to yellow, greenish yellow or orange. Of many varieties, the large ones attain a size of about 10 centimeters in diameter and about 9 centimeters thick. Pulp is sweet and only fairly juicy.
Distribution
- Widely scattered in cultivation in the Philippines.
- Large scale cultivation in the Batangas Province in Luzon.
- Probably a native of southern China.
- Now found in all warm countries.
Constituents
- Rind: Volatile oil, 14-19.33%-limonene, 92% and methylanthranillic acid, methyl ester.
- Juice: Citric acid, 0.35% - 1.2%; vitamins A, B, and C; hesperidin.
- Volatile oil of fruit peels yielded mainly monoterpenes (99.1%) constituting l-limonene (92.4%), g-terpene (2.6%), and ß-phellandrene (1.8%).
- Peel extracts yielded reducing sugars, terpenoids, alkaloids, cardiac glycosides, flavonoids, and tannins. (12)
Properties
- Rind preparation tastes bitter, with mild nature.
- The fibers of the rind tastes bitter-sweet, neutral natured.

Parts used and preparation
· Fruit, rind and seeds.
· Rind preparation: gather the rind of any ripe citrus fruit and sun-dry, either whole or cut into thin slices.
· Seed preparation: place the seed in a container, add an amount of water equal to one fiftieth of the total weight of the seeds, store for a short time and put into a dry kettle. Heat with a weak fire until the materials turn light yellow and smell fragrant. Sundry the material. Crush before using.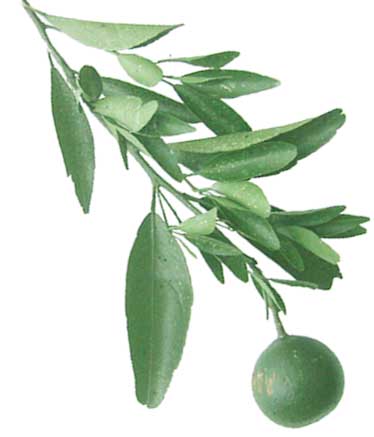 Uses
Nutritional
· Fruit is a good source of vitamin C.
· Rind used for flavoring.
Folkloric
- The seed preparation has pain relieving effect.
- In Malaya, a decoction of the roots is used in dysentery.
- Powdered leaves with leaves of Areca catechu may be drunk for stomach ache.
- An infusion of the fresh juice is used as a cleanser or stimulant of wound surfaces.
- A lotion of the boiled leaves is used hot on painful places and swelling in Malaya.
- Seed preparation tastes bitter with pain relieving effect.
· For nausea and fainting, rind squeezed near nostril for irritant inhalation.
· Decoction of roots used for cough and fever.
· For coughs, boil a concentrated decoction of the rind and drink.
· For anorexia and vomiting: add fresh rhizome of ginger to a concentrated decoction of the rind and drink.
· Decoction of dried flowers used for diarrhea.
· Decoction of rind or peel used to regulate menses.
· Leg bath of boiled leaves used for rheumatism, and painful and swollen legs.
· Oil from rind used for stomach problems; and as liniment for gout, rheumatism and other painful swellings.
Note: The folkloric applications are similar for all Citrus species.

Studies
· Phytochemical: The volatile compounds in three selected Asian citrus fruits (C. nobilis, C. sinensis, C reticulata) were characterized. A total of 51 compounds were detected in C. nobilis, 41 in Dalandan: terpenes, carbonyls, alcohols, esters and hydrocarbons, with limonene as the main compound.
· Radioprotective / Naringin Citrus Flavonone: Naringin, a prominent bioflavonoids in grapefruit and other citrus fruits, is present in C. nobilis. Study on the free radical scavenging of naringin revealed a dose-dependent scavenging and demonstrates it can protect mouse bone marrow cells against radiation-induced chromosomal damage. (2)
· Nobiletin / Sebum Reduction / Acne: Nobiletin, a flavonoid present in the peel of many citrus fruits, especially prevalent in C nobilis, in a mixture with ethanol and glycerol, applied to the ears of hamsters, once daily for 14 days, showed a decrease in the amount of triacylglycerol on the skin surface, reduced the size of and amount of oil produced by the sebaceous glands. Triacylglycerol is the main constituent of mammalian fat and a major component of sebum. Results suggest a potential in the treatment of acne. (3)
· Essential Oil / Hypoglycemic / Hypolipidemic: Essential oil of C. reticula was investigated for anti-diabetic activity in alloxan-induced hyperglycemic male wistar rats. Results showed the essential oil exhibited significant hypoglycemic and hypolipidemic effect in hyperglycemic rats. (6)
· Anthelmintic / Anti-Schistosoma: Study of C. reticulata and Mirazid on Schistosoma mansoni infection on mice livers showed improvement of liver enzymes and a noticeable reduction of worm burden and ova count.
· Volatile Oil / Antibacterial: Volatile oil showed antibacterial and antifungal activities against pathogenic microbial strains: E. coli. S. aureus, Aspergillus flavus, A. niger, A. fumigatus and Candida albicans under in vitro condition. (7)
· Lipid and Bone Density Benefits: An alternative therapy to estrogen deficiency is the use of phytoestrogen. C. reticulata's peel contain flavanone and polimethoxyflavone believed to provide an estrogenic effect. Study of CR peel extract showed beneficial modulation of bone density and blood cholesterol profile in ovariectomized rats in an animal model of postmenopausal osteoporosis. (8)
· Antioxidant: Mandarin peel, a waste product of juice production yielded flavonoids, of which hesperidin was the most dominant. Extract study showed prominent free radical scavenging towards DPPH. Results suggest mandarin peel powers can be used as substitute for synthetic antioxidants, providing health benefits and increasing food shelf-life. (9)
· Fumigant / Essential Oils: Study showed a potential for C. reticulata oil as a control agent against stored-product insect pest, red flour beetle, Tribolium castaneum. (10)
· Mosquito Repellency / Essential Oil / Rinds / Aedes aegypti: Results suggest essential oil from Citrus nobilis rinds could be a component of mosquito repellent products, and present an alternative to DEET and Picaridin. (11)
· Essential Oil Gel from Rind: Study evaluated the essential oil from rind for effectiveness as antibacterial to E. coli and S. aureus. Results showed the effective inhibitory concentration of essential oil was 0.5% for E. coli, and 0.1%, 0.3% and 0.5% for S. aureus. (13)
· Volatile Components of Flower, Leaf and Peel: Study evaluated the volatile flavor components of flower, leaf, and peel of C. nobilis Lour. var deliciosa. Flower yielded 39 components; leaf, 39, and peel, 25, including aldehydes, alcohols, esters, ketones, monoterpenes and sesquiterpenes. The major flavor components were linalool, limonene, sabinene, α-pinene, ß-myrcene, terpinene-4-OI, (E)-ß-ocimene and y-terpinene. Aldehyde content is one of the most important indicators of quality, and was found highest in the flower oil. (14)
Also see: Dalandan
Availability
Widely cultivated.
Commercial fruiting.