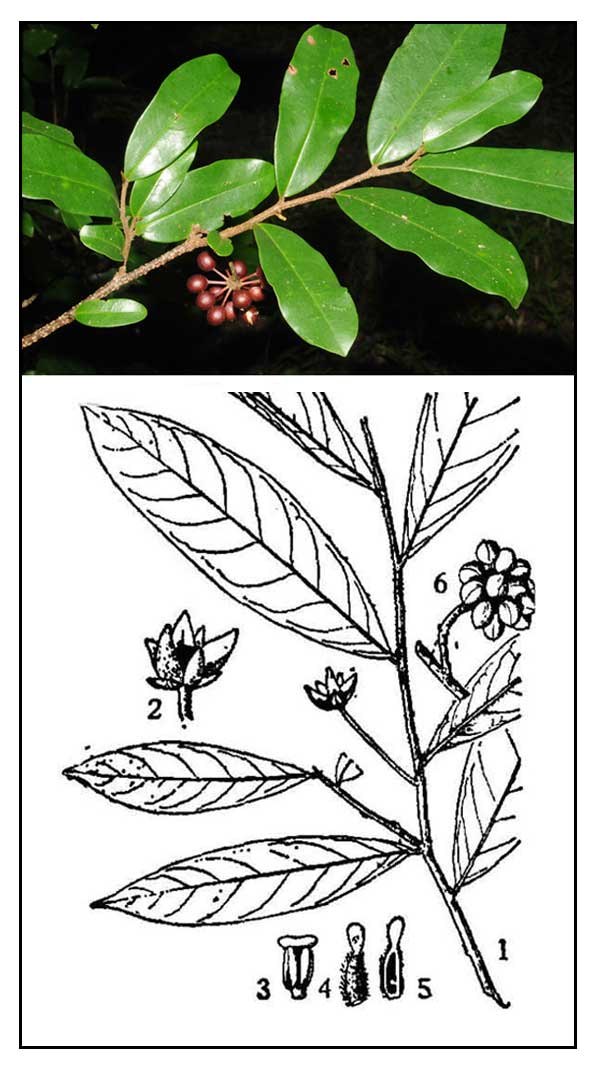 Botany
Duhat-matsing is a shrub or small tree growing to a height of 2 to 4 meters. Leaves are oblong to narrowly oblong-obovate, 5 to 11 centimeters long. Flowers are solitary, pale-yellow, about 1 centimeter long or less, on slender pedicels 1 to 2 centimeters long. Sepals and petals are slightly hairy. Fruits are numerous, ovoid or globose, 4 to 5 millimeters long, purple, fleshy and edible.
Distribution
- In the Philippines, common in thickets at low and medium altitudes in Luzon (Cagayan to Laguna) and Mindanao.
- Also occurs in India, China, Malaysia, Myanmar, Sri Lanka, Bangladesh, Thailand and Vietnam.
Constituents
• Study yielded an azaanthracene alkaloid, kalasinamide, from the stems of P. suberosa., together with the known N-trans-feruloyltyramine and N-trans-coumaroyltyramine.
• Study isolated two new 2-substituted furans from the stems of P. suberosa. (2)
• Leaves contain alpha- and beta-amyrin, lupeol, beta-sitosterol, stigmasterol and campesterol. Stems and leaves contain triterpene, suberosol, which have shown anti-HIV replication activity. Stem bark yields alkaloids, oxostephanine and lanuginosine, which has shown antibacterial activity.
• Proximate analysis of fruit yielded (%) moisture 64.76 ± 391, carbohydrate 4.25 ± 0.43, total sugar 4.3 ± 0.34, protein 1.96 ± 0.35%, ascorbic acid 15.72 ± 1.11, reducing sugar 0.57 ± 0.17, non-reducing sugar 3.77 ± 0.63, phenol 0.9 ± 0.08, acid content 0.19 ± 0.01, carotenoid 128.49 ± 8.9. (15)
• Micronutrient analysis of fruit yielded (mg/100 g) iron 4.19, sodium 25.09, potassium 845.76, calcium 62.72, copper 1.33, manganese 5.35, and zinc 2.25. (15)
Properties
• Anti-HIV replication activity and antibacterial activity.
• Adaptogenic.
• Bark considered febrifuge, astringent, analgesic, and laxative.
• Seed considered diuretic, soporific, and sedative.
Parts utilized
Fresh roots, bark.

Uses
Edibility
- Ripe fruits are edible.
Folkloric
- Decoction of fresh roots used as abortifacient.
- In Bangladesh, bark used as febrifuge analgesic, and laxative.
- In the tropics, latex used as crude filling for tooth cavities. (8)
- In Andhra Pradesh, India, decoction of grounded root bark mixed with fruits of Piper longum used for puerperal fever. (12)

Studies
• Furans / Antiviral Activity: 2-substituted furans from Polyalthia suberosa: Two new 2-substituted furans, 1-(2-furyl)pentacosa16,18-diyne and 23-(2-furyl)tricosa-5,7-diynoic acid, were isolated from the stems of P. suberosa. These compounds, with kalasinamide, N-trans-feruloyltyramine and N-trans-coumaroyltyramine showed anti-HIV activities. (2)
• Anti-HIV Activity: Anti-AIDS Agents, 9. Suberosol, a New C31 Lanostane-Type Triterpene and Anti-HIV Principle from Polyalthia suberosa: In the course of searching for anti-HIV agents, a new triterpene, suberosol, was isolated and studied for anti-HIV activity. Results showed anti-HIV replication activity in H9 lymphocytes cell in vitro. (Publ.1993) (3)
• Cytotoxic: Study isolated four new styryl-lactones, crassalactones A-D together with seven known compounds from an extract of leaves and twigs of PC. Cytotoxic evaluation against mammalian cancer lines were done on all the new isolates. (4)
• Natural Excipient / Mucilage from Leaves: Study showed the extracted mucilage from the leaves of Polyalthia suberosa is non-toxic, with a potential as a suspending agent, binding agent and pharmaceutical adjuvant. (6)
• Toxicity Study / Leaf Mucilage: Study evaluated the toxicity of leaf mucilage in Wistar male albino rats using doses of 500, 1000, 2000, 3000, and 4000 mg/kg No mortality, toxic manifestations and behavioral changes were observed. (6).
• Antibacterial / Analgesic / Antidiarrheal / Cytotoxic / Leaves: A methanol extract of leaves showed moderate antibacterial activity against Vibrio cholerae, Shigella sonei, Staphylococcus aureus, Staphylococcus epidermis, and Streptococcus saprophyticus. It produces significant inhibition in acetic induced writhing in mice comparable to diclofenac. It showed an antidiarrheal effect on castor oil-induced diarrhea in mice. Also, it exhibited high level of cytotoxicity in brine shrimp lethality bioassay. (8)
• Nutrient Analysis: Fruits yield a protein content of 1.9% . Micronutrient analysis yielded per mg/100g: iron 4.19, sodium 25.09, potassium 845.76, calcium 62.72, copper 1.33, manganese 5.35, zinc 2.25. (9)
• Mucilage / Non-Toxic / Leaves: Study results extracted mucilage from leaves of Polyalthia suberosa (PMS) is non toxic, has the potential as a suspending agent, as binding agent and as pharmaceutical adjuvant. (11)
• Antioxidant / Analgesic / Antidiarrheal / Bark and Fruits: Study screened hydromethanol extracts of leaves, bark and fruits of Polyalthia suberosa for antioxidant, analgesic, and antidiarrheal activity. Bark extracts showed maximum reducing activity, higher than standard reference ascorbic acid. All parts showed analgesic activity with significant (p<0.05-0.01) inhibition of writhing reaction in a dose-dependent manner. In castor oil-induced diarrhea, there was statistically significant (p<0.05) inhibition of frequency of diarrhea, the bark showing 69.52% inhibition wile the fruits showed 63.81% inhibition at 400 mg/kg dose level. Overall, bark and fruit extracts showed strong antioxidant potential with excellent analgesic and antidiarrheal activity. (13)
• Analgesic / CNS Depressant / Bark and Leaves: Study of crude hydromethanolic extracts of bark and leaves showed remarkable cytotoxic, CNS depressant (open field and hole cross tests) and analgesic (acetic acid-induced writhing test for visceral pain and tail immersion tests for central activity) potential. The extract inhibited both mechanisms of pain suggesting potential as a narcotic analgesic. Alkaloids, flavonoids, tannin, saponin, carbohydrates and steroids present may be responsible for the observed effects. (14)
• Analgesic / Anti-Inflammatory / Leaves: Study evaluated the analgesic and anti-inflammatory activities of diethyl ether and n-hexane extract of leaves of P suberosa. Formalin induced paw licking, acetic acid induced writhing, and tail immersion tests were used to assess analgesic activity. while xylene-induced ear edema was used to assess anti-inflammatory activity. Results showed significant (p<0.05) analgesic and anti-inflammatory activity in mice. (16)
• Neuroprotective / Antioxidative / NTF Against Aß1-42 Induced Neuronal Cell Death: Study evaluated the effect of N-trans-feuloyltyramine (NTF) purified from Polyalthia subserosa against ß-amyloid peptide-induced neurotoxicity in rat cultured cortical neurons. NTF is an alkaloid known to protect against oxidative stress and cell death. Pretreatment of rat primary cortical cell cultures with NTF significantly attenuated 10µM Aß1-41-induced neuronal death in a dose-dependent manner. Apoptotic cell death was evidenced morphologically by the presence if activated caspase-3 and Bax, levels of which could be reduced by NTF pre-treatment. Activity could be due to its antioxidative property. (18)
• Antidiabetic / Leaves: Study evaluated an ethanolic leaf extract of P. subserosa (EEPS) for antidiabetic activity in normoglycemic plus glucose fed hyperglycemia rats method and subacute treatment methods in alloxan induced diabetic rats. Glibenclamide was used as standard reference. Results showed significant (p<0.01) hypoglycemic effect in NG-OGTT model. In the acute treatment method, both doses of 200 and 400 mg/kg showed significant (p<0.01) hypoglycemic effect In the subacute treatment groups, high dose of 400 mg/kg reduced blood glucose significantly (p<0.01). (19)
• Laxative / Leaves: Study evaluated a methanolic extract of leaves for laxative activity on loperamide-induced constipation in mice and gastrointestinal motility test Results showed laxative effect in bot test doses of 200 and 400 mg/kg in loperamide induced constipation. The extract also significantly (p<0.05) affected intestinal transit time. (20)
Availability
Wild-crafted.