Botany
Kalai is a tall forest tree growing to a height of 40 meters with a diameter of 70 centimeters. Leaves are ovate-oblong, 10 to 15 centimeters long, 2 to 3 centimeters wide, with a pointed base and tip. Inflorescence is lateral on short hairy stalks. Flowers are small, yellow and odorless. Sepals are short, with petals about 6 millimeters long. Fruit is brown, usually single, large, hard and woody, ellipsoid or subglobose, 6 to 9 centimeters long.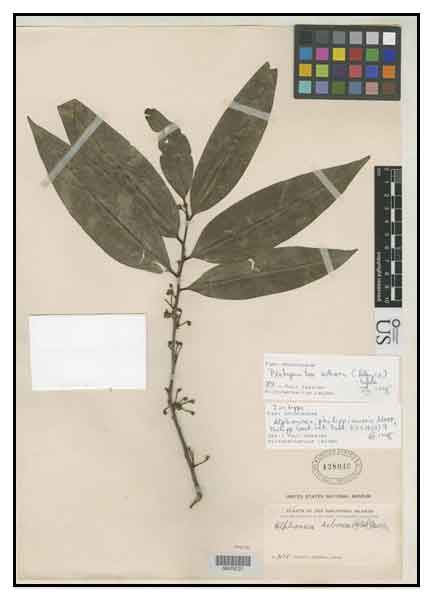 Distribution
In forests at low and medium altitudes.
Properties
- Considered febrifuge, emmenagogue and anti-dysenteric.
- Studies have suggested antimicrobial and cytotoxic properties.

Parts utilized
Fruit, leaves and bark.
Uses
Edibility / Nutrition
Ripe fruit is edible; eaten raw.
Folkloric
- Boiled fruit used for fevers.
- Decoction of fruit used for amenorrhea.
- Decoction of bark with dried leaves of garlic used for urticaria.
- Decoction of fruit used as antidysenteric.
- Decoction of bark used for diabetes.
Others
Ornamental cultivation.
Wood: Used for making baseball bats and bowling pins.
Studies
• Antimicrobial: Study evaluated 848 extracts from 108 species of Philippine plants from 44 families using eight solvents. Sixty-two or 58% showed inhibitory activity to Bacillus subtilis, Micrococcus aureus, E. coli, and Mycobacterium tuberculosis. Alphonsea arborea was one of nine plants that showed exceptionally high values of antimicrobial activity. (2)
• Cytotoxicity Against Human Cancer Cell Lines: Study evaluated crude extracts of three Philippine medicinal plants, Wrightia pubescens, Aphanamixsis polystachya, and Platymira arborea against selected human cancer cell lines using MTT assay. Cytotoxic activities were found in the ethyl acetate fractions of P. arborea and W. pubescens and hexane fraction of A. polystachya. All active fractions were highly cytotoxic to HCT116 and A549. (4)

Availability
Wild-crafted.