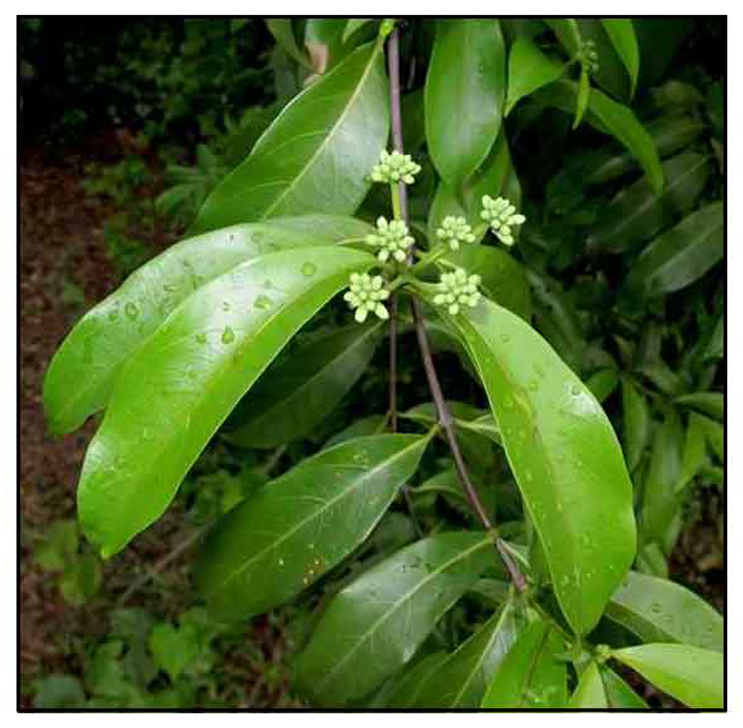 Botany
Nino is a large, diffused shrub, climbing by long, hairy, slender branches. Leaves are elliptic, 8.5 to 13 centimeters long, 3.5 to 5 centimeters wide, smooth on the upper surface, hairy beneath, and pointed at both ends. Inflorescences occur in stalkless terminal umbels about 1.5 centimeter in diameter. Corolla is almost notched, with a bearded throat; the corolla-tube is short, being less than 5 millimeters long. Fruit is compound, 2 to 2.5 centimeters in diameter, and irregularly lobed.
Distribution
- In Cagayan, Zambales, and Sorsogon Provinces in Luzon; and in Mindoro and Culion, In thickets and forests at low altitudes
- Also occurs in India to southern China and Malaya.
Constituents
- Roots yield a yellow dye.
- Root-bark contains a glucoside, morindine, and the coloring matter, morindone.
- Various leaf extracts yielded flavonoids, phenolic compounds, alkaloids, steroids, tannins, and carbohydrates. (see study below) (4)
Properties
- Roots considered purgative.
- Studies have shown antibacterial, mast-cell stabilizing, anti-anaphylactic effect.

Parts used
Roots, leaves.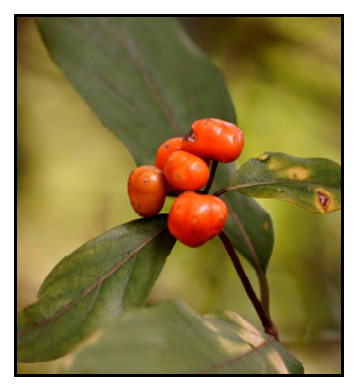 Uses
Edibility
In India, fruit is eaten while green in curries, or when ripe, uncooked.
Folkloric
- Boiled roots applied for dropsy.
- In America, roots used as violent purgative.
- Leaves, in conjunction with certain aromatics, used as decoction for diarrhea and dysentery.
- Decoction of leaves and roots used as vermifuge for children.
- In Western Ghats region of Kerala used for treatment of diabetes, high blood pressure, muscle aches, and pains. (4)
- In traditional Indian medicine, decoction of roots and leaves used for treating intestinal pains, diarrhea, dysentery, indigestion, syphilis, and gonorrhea. (4)
- In Vietnamese folk medicine, used for furuncles, dysentery and skin diseases. Aerial parts used for fever, cough, stomachaches, rheumatism, and acute hepatitis. (4)
Others
- Rope: Stems serve as rough ropes in Ceylon.
Studies
• Antibacterial / Leaves: Study investigated the antibacterial activity of various leaf extracts of Morinda umbellata against ten different bacterial species, viz., Bacillus megaterium, B. subtilis, E. coli, K. pneumonia, M. luteus, P. aeruginosa, S. typhi, S. flexneri, S. aureus and S. epidermis. Solvents of ethanol and methanol extracts showed antibacterial activity against maximum number of bacterial species tested. (2)
• Mast Cell Stabilizing / Anti-Anaphylactic Effect / Leaves: Study evaluated different solvent extracts of M. umbellata leaves for mast cell stabilizing and anti-anaphylactic effect. Leaf methanolic, n-hexane and chloroform extracts exhibited significant protection against egg albumin induced peritoneal and mesenteric mast cell degranulation. In active paw anaphylaxis, animals treated with ethanolic and n-hexane extracts exhibited significant reduction in ovalbumin induced paw edema. Phenolic compounds and flavonoids in leaves may have contributed to the inhibitory effect on antigen induced mast cell degranulation and active paw anaphylaxis in Wistar rats. (see constituents above) (4)

Availability
Wild-crafted.