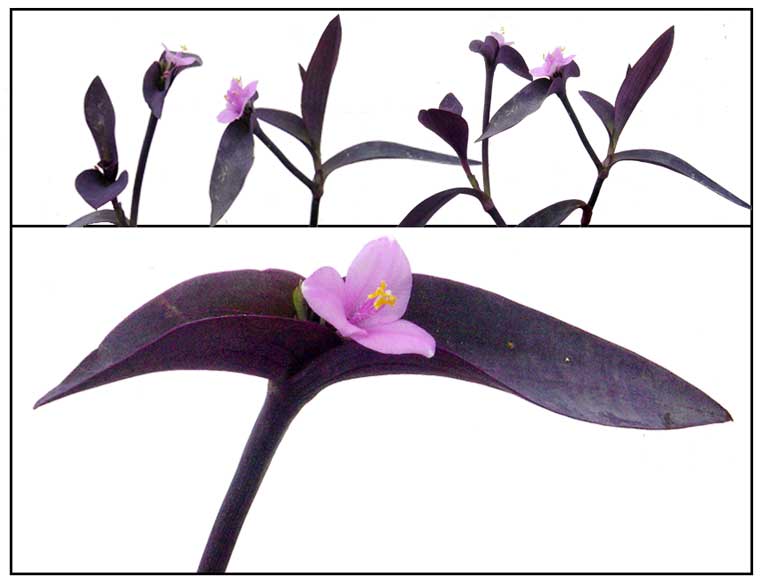 Botany
Purple heart is a low-growing succulent evergreen perennial herb. Fleshy stems are erect at first, later crawling on the ground. Leaves are elongated and pointed, glaucous green to violet-purple. Flowers are small, three-petaled, white, pink or purple, opening in the morning.
Distribution
- Ornamental plant in gardens and borders.
- Used as ground cover or hanging plant.
- Propagated by cuttings.
Constituents
- Yields a highly acylated anthocyanin. Anthocyanins from tradescantia, a plant related to Zebrina, was reported to have excellent stability when compared to commercial grape extract and blackberry extract.
- A leaf extract yielded a total flavonoid content of 10.6 ± 4 mg GAE (Gallic Acid Equivalent)/100 mg and an estimated total tannin content of 13.6 ± 2.1 mg TAE (Tannic Acid Equivalent)/100mg. Free radical scavenging capacity of the leaf extract was 103.1 ± 36.9 mg AAE (Ascorbic Acid Equivalent)/100g. (see study below) (20)
Properties
- Rare mild skin irritation from handling the plant. Tradescantia species generally regarded as nontoxic. (7)
- Studies have shown phytoremediative, air-purifying, antioxidant, antibacterial, anti-inflammatory, apoptotic properties.
Uses
Folkloric
- Plant used by the Ayta communities from Porac, Pampanga, for sore eyes. (18)
- Taiwanese compilation reports it to improve circulation and as anti-inflammatory and antitoxic. (6)
Others
• VOC Removal: As a house plant, considered effective at improving air quality by filtering out VOCs (volatile organic compounds) – pollutants and respiratory irritants– through phytoremediation. One study rated it superior for its ability in removing 4 out of 5 VOCs. (See below)
• Biowall: One of the component plants in the biowall that purifies and cleans the air. (3)

Studies
• Anthocyanins Pigments / Food Colorant: T pallida contained two major anthocyanins. The pigments may have potential as food colorants. (2)
• Phytoremediation / Indoor Air-Purifying Plant: VOQs (volatile organic compounds including benzene, xylene, hexane, heptane, octane, decane, trichlorethylene (TCE) and methylene chloride) have been known to cause or aggravate various illnesses when people are exposed to them in indoor spaces. Studies have shown the ability of some plants to remove VOCs, a process called "phytoremediation." Of 28 species tested with 5 volatile indoor pollutants - benzene and toluene (plastics, cleaning solutions, environmental tobacco smoke), octane (paints, adhesive materials), TCE (tap water, cleaning agents, insecticides), and alpha-pinene (synthetic pains and odorants) - Hemigraphis alternata, Hedera helix, Hoya carnosa, Asparagus densiflorus had the highest removal rates for all the VOCs introduced. Tradescantia pallida (purple heart) was given a superior rating for its ability to remove four of the five VOCs. (4) (5)
• Environmental Pollution Biomonitoring: Study showed the viability of using Tradescantia pallida in environmental pollution biomonitoring. (8) All metals were detected in the dry biomass of the plants which suggests potential of the species as a bioindicator of environmental pollution. (16)
• Sensitivity to Genotoxicity Induced by Ozone: Study evaluated the sensitivity of T. pallida to genotoxicity induced by ozone by MCN (micronucleus) bioassay, to verify whether the intensity of genotoxic responses in inflorescences and the conditions that conditions that affect its modulation. (9)
• Chromium Accumulator / Antioxidant: Tradescantia pallida was screened to be a potent chromium accumulator. Lipid peroxidation, catalase, peroxidase and ascorbate peroxidase enzyme activities played an important role in overcoming Cr-induced oxidative stress on the plant. (10)
• Lipid Peroxidation / Bioindicator to Air Pollutants: Study showed Tradescantia pallida serves both as bioindicator of genotoxic substances and oxidizing contaminants. It is also capable of accumulating trace elements in their leaf tissue. (11)
• Antibacterial / Antioxidant / Leaves: Study sought to quantify the antioxidant and antibacterial activity of five Commelinaceae methanolic leaf extracts. T. pallida yielded TPC of 153.1 ±21.8 mg GAE/100g, TTC (total tannin content) 13.6 ± 2.1 mg TAE/100g, TFC 10.6 ± 4.0 mg RE/100g, FRS (free radical scavenging) 103.0 ± 36.9, and FRP (ferric reducing power) 0.9 — 0.1 mg/GAE/gm. T. pallida showed significant activity against two Gram-negative bacteria (MIC 5 mg/mL) despite having the lowest antioxidant content and activity. (14)
• Chitin-Binding Lectin / Antifungal and Antiviral / Apoptosis-Inducing / Rhizome: Study isolated a 48 kDa, chitin-binding lectin with antifungal, antiviral, and apoptosis-inducing activities from the rhizome of Setcreasea purpurea. The lectin exhibited strong hemagglutinating activity towards rabbit erythrocytes. It showed anti-fungal activity against Rhizoctonia solani, Sclerotinia sclerotiorum, Penicillium italicum and Helminthosporiun maydis. It also showed inhibitory effect on HIV-1 (IIIB) and HIV-2 (ROD). The SPL was highly cytotoxic to CNE-1 cells and induced apoptosis in a dose dependent manner. (15)
• Cytotoxic, Analgesic and Antioxidant Activities: Study evaluated the phytochemical and pharmacological activities of Murdannia nudiflora and Tradescantia pallida. Phytochemical screening yielded carbohydrate, alkaloids, tannins, saponins, and flavonoids. Cytotoxic analysis of TP by in vitro brine shrimp lethality assay showed a LC50 of 833.85 µg/ml, quite low compared to vincristine sulphate. Antioxidant study by DPPH radical scavenging ranged from 95.238% to 84.127%, compared to ascorbic acid ranges from 96.825% to 87.302%. Evaluation of analgesic activity using in vivo acetic acid induced writhing method showed mean inhibition of writhing was statistically significant (p<0.001) at 59.57% at 100 mg/kbw. (17) An analgesic study of P. pallida revealed significant inhibition of writhing upon induction of pin by acetic acid (p<0.05).
• Antioxidant / Analgesic / Antibacterial: Plant concentration for LC50 was 833.85 µg/ml. Free radical scavenging capacity (mg/100g of ascorbic acid) was 97.15 ± 0.96. In antioxidant potential, T. pallida showed an IC50 of 5.48x10 µg/ml with ascorbic acid at 4.209x10 µg/ml. Analgesic potential of crude extract using acetic acid induced writhing was statistically significant (p<0.05), inhibiting writhing by 54.55% at 200 mg/kbw. A leaf extract showed various degree of zones of inhibition (5-10 mm) against gram-positive and gram-negative microorganisms, with a 10 mm ZOI against Staphylococcus epidermis. (20)
• Zinc Nanoparticles / Luminescence Property / Cytotoxicity Against Cervical Cancer Line: Study reports on the easy synthesis of zinc oxide nanoparticles (ZnO NPs) using T. pallida. The NPs exhibited good photoluminescence with correlation to ZnO crystals. MTT assay showed significant toxicity against HeLa cervical cancer cell line. (21)
• Extraction of Eco-Friendly Natural Dye: Study evaluated methanolic extracts of Tradescantia pallida purpurea and C. coccineum as sources of natural dyes for textile dyeing. Total phenolic content and total flavanoid content for T. pallida showed values equal to 33 mg GAE/g extract and 4.88 mg QE/g extract. Polyphenolic compound are the most important functional components of the plants. The extracts were also rich in flavonoids, known for their coloring power when applied to textile material. T. pallida provides a pH dependent color: red at pH3 and yellow at pH8. (22)
• Antioxidant / a-glucosidase inhibitory / Antibacterial: the ethyl acetate fraction of crude methanol extract of T. pallida showed remarkable antioxidant activity, a-glucosidase inhibitory activity and antimicrobial activity. (23)
• Biomonitoring of Vehicle Exhaustion and Benzene Derivatives: Study evaluated the increased frequency of micronuclei (MN) in T. pallida exposed to potentially toxic environments. Results showed an increased frequency of MN in pollen grains of T. pallida in environment with severe vehicular exhaust and manipulation of benzene derivations. The increase frequency of micronuclei correlated with local exposure time. (24)
• Mutagenesis as Biomarker of Effects of Water Polluted Urban Effluent: Study evaluated the toxicity of effluent released in to the Tiete River, Sao Paoli State using the micronucleus test with T. pallida. Results showed statistically significant difference (p<0.05) between groups, indicating genotoxicity of the effluent. (25)
• Low-Dose Radiation Warning / Biosensor Plant: The stamen-hair system of Tradescantia for flower color has proven to be one of the most suitable materials to study for mutations induced by low doses of ionizing radiations and chemical mutagens. The highest number of stamens with pink cells was recorded from flowers irradiated with the highest dose of 6.37Gy with 0.07Gy/h of dose rate. Tradescantia pallida can be regarded as a biosensor plant or a biological warning signal for exposure to low dose radiation which exhibited noticeable quantity of cell alteration in a short time following radiation exposure. The method can be recommended for radiation monitoring, environmental acclimatization, and the prevention of radiological accidents. (26)
Counterpoint
• Can plants control indoor air pollution? Recent reports in the media and promotions by the decorative houseplant industry characterize plants as "nature's clean air machine", claiming that National Aeronautics and Space Administration (NASA) research shows plants remove indoor air pollutants. While it is true that plants remove carbon dioxide from the air, and the ability of plants to remove certain other pollutants from water is the basis for some pollution control methods, the ability of plants to control indoor air pollution is less well established. Most research to date used small chambers without any air exchange which makes extrapolation to real world environments extremely uncertain. The only available study of the use of plants to control indoor air pollutants in an actual building could not determine any benefit from the use of plants. As a practical means of pollution control, the plant removal mechanisms appear to be inconsequential compared to common ventilation and air exchange rates. In other words, the ability of plants to actually improve indoor air quality is limited in comparison with provision of adequate ventilation.
     While decorative foliage plants may be aesthetically pleasing, it should be noted that over damp planter soil conditions may actually promote growth of unhealthy microorganisms. (4) (5)
Availability
Wild-crafted