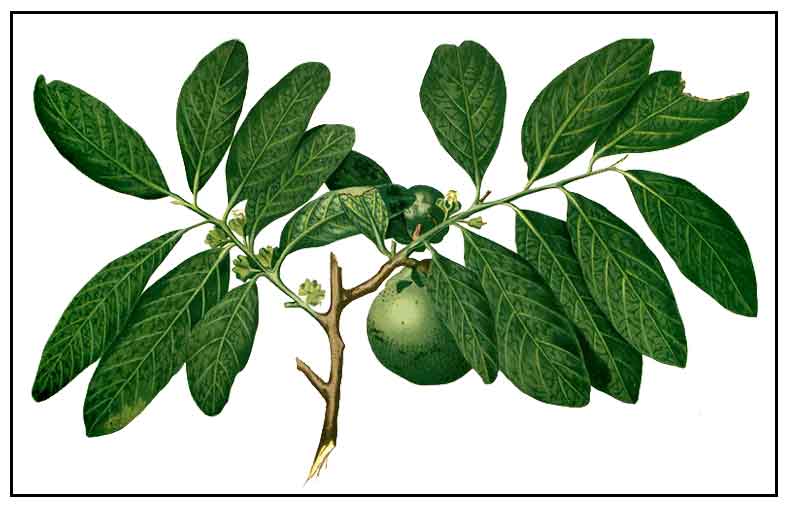 Botany
Sapote is a tall, smooth tree, 7 to 15 meters high. Leaves are leathery, shiny, thick, oblong to elliptic-oblong, 10 to 20 centimeters long, and borne on rather short stalks. Flowers are dioecious, occurring singly in the axils of leaves and measuring from 1 to 1.5 centimeters long. Calyx is greenish, with broad truncate lobes. Corolla is tubular, lobed and white. Fruit is large, smooth, green, rounded, 9 to 12 centimeters in diameter, more or less depressed at its apex, enveloped at its base by a persistent calyx. Flesh of the fruit is yellowish, turning nearly black at maturity. Seeds are usually four, and about 2 centimeters long.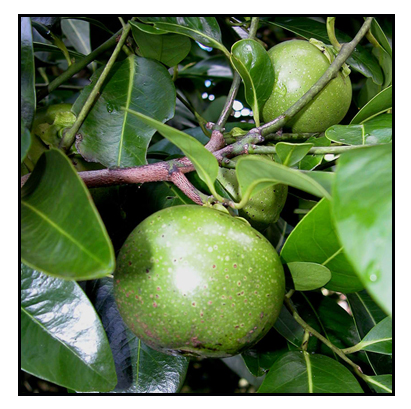 Distribution
- Occasionally planted in and about towns as an ornamental foliage and for its large edible fruit.
- Nowhere spontaneous, but found in Isabela, Nueva Ecija, Bataan, and Rizal Provinces in Luzon, and on other islands.
- Introduced from Mexico during the early colonial period.
Constituents
- Yields alkaloids, cardenolids.
- Phytochemical screening of stem extracts yielded flavonoids, tannins, triterpenes and carbohydrates. (see study below) (5)
- Studies have isolated lupeol, betulin, betulinic acid, Ursolic acid, a-amyrin, bauerenol, ß-sitiosterol, stigmasterol, ebenone plumbagin, hexacosanol, 6-hydroxy-4, 5, -dimethoxy-2-naphthaldehyde, 4, 5, 6-trimethoxy-2- naphthalene, 6-hydroxy-4, 5 -dimethoxy-2-naphthoic acid. (7)
Properties
- Considered astringent, attenuant, lithontriptic.
- Studies have suggested antioxidant, antibacterial properties.

Parts used
Fruit, bark, leaves.

Uses
Edibility
- In the Philippines, fruit is eaten in milk, cooked in pies (with lemon to counteract its mawkishness), or made into ice-cream.
- Gummy astringent fruit eaten in times of scarcity.
Folkloric
- In the Philippines, pounded bark and leaves are used as blistering plaster.
- In Yucatan, decoction of leaves used for fevers.
- Used as remedy for leprosy, ringworm and for itching.
- In Tamil Nadu, stem bark used for cough, asthma, and diabetes.
- In Bangladesh, bark used for cuts and wounds to stop bleeding. Bark (1/2 kg) mixed with 1/2 kg of Erythrina variegata is boiled in 2 kg of water and reduced to a volume of 1 kg, and decoction taken 3-4 tsp thrice daily for 15 to 21 days for abdominal pain and diarrhea. (8)
Others
- In the West Indies, unripe fruit is pounded and thrown into the water to narcotize the fish.
- Wood: Known for its black wood since ancient times. Considered the best commercial black ebony. Used for making musical instruments, ornamental carvings, tool handles, and turnery. (4)
Studies
• Antioxidant / Fruit: Study characterized the phytochemicals and antioxidants of the fruit of black sapote (Diospyro digna Jacq.) Study yielded phenolics, carotenoids and tocopherols. Total phenolic content was 347.8 mg BAE/100g fresh weight. Important phenolics were sinapic acid and myricetin. Antioxidant capacity by DPPH and FRAP assays showed antioxidant capacity comparable to other important fruits. (1)
• Antimicrobial / C-Glucoside / Aerial Parts: Study isolated a new C-alkylglucoside, diospyrodin from the leaves and stems of D. nigra. It showed antimicrobial activity against Gram-positive and Gram-negative bacteria. (3)
• Antioxidant / Stems: Study evaluated the antioxidant activity from various stem extracts of D. abenum using DPPH assay. A 70% methanol extract showed the best free radical scavenging activity. (see constituents above) (5)
• Antibacterial / Antioxidant: Study evaluated various extracts for antibacterial activity and DPPH radical scavenging activity. A methanol extract showed activity against all 5 bacterial test strains, viz. B. subtilis, S. aureus, P. aeruginosa, S. typhimurium, and E. enterogenes. The methanol extract also showed the highest total phenolic content and DPPH free radical scavenging activity. (6)

Availability
Wild-crafted.