Botany
Soya is a stout and suberect annual plant growing to a height of less than a meter. Stems are densely clothed with fine feruginous hairs. Leaves are long-petioled, with 3 leaflets, oval, 5 to 10 centimeters long. Racemes have few flowers which are congested. Calyx is densely hairy, about 7 millimeters long, with long teeth. Corolla is reddish, and a little exserted. Pods are linear-oblong, 2 to 3 in each axil of leaf, 4 to 5 centimeters long, recurved and densely hairy, containing 2 to 4 oblong to subglobose seeds.
Distribution
- Introduced.
- Domesticated in southeastern Asia more than 3,000 years ago for its pods and seeds.
- Cultivated in some parts of the Philippines.
Agri info
• One of the world's most useful plant; and considered by some as the world's most important legume crop.
• Total commercial production of soybeans in 2010 was 261.6 million metric tons worldwide, harvested from 102.4 million hectares (2% of the world's agricultural land), with the U.S. producing just over one third of the world total. (13)
Constituents
• Contains a fixed oil, 14-22&; protein, 50%; carbohydrates, 16.2%; diastase, urease, lipase, allantoinase, peroxidase, pentosan, sojasterol, sitosterin, and phasin.
• The two primary isoflavones are daidzein and genistein; others are puerarin, genistin and daidzin.
• Soybean proteins have two major components: beta-conglycinin (vicilin class) and glycinin (legumin class), accounting for 390-40% of total seed proteins.
Properties
• Considered astringent, carminative, and quieting.
• Dried sprout considered laxative, resolvent, and constructive.
• Root considered astringent.
Parts used
Leaves, flowers, oil.
Uses
Edibility / Nutritional
- Typically consumed as a protein drink, soy flour, soy protein, extract, fiber, cereal or milk beverage.
- Staple article of food in China and Japan.
- "Tokua" as food and" toyo" as flavoring are made from the beans.
- Tokua is remarkable for its content of protein and fat and low proportion of carbohydrates when compared to beans.
- Soy milk is considered a substitute for human milk, and used in making ice-cream and flan.
- Soybean is a good source of vitamins A and B; the sprouts have good vitamin C content.
- Soybeans and soy foods are considered the best dietary sources of isoflavones.
Folkloric
• Bruised leaves applied to snake bites.
• Flowers used for blindness and corneal opacities.
• Green bean hulls chewed to a pulp are applied to smallpox ulcers, corneal ulcers and excoriations in children from urine.
• Black beans are considered to provide vigor and strength, and considered a counter poison against most vegetable poisons, ie., Aconite and Croton tiglii.
• Dried sprouts believed to be beneficial for hair growth and curative for ascites and rheumatism.
• Dried sprouts, without the hulls, are considered laxative, resolvent, and constructive.
• Oil used for ulcers and skin diseases, and for removing bandoline from the hair.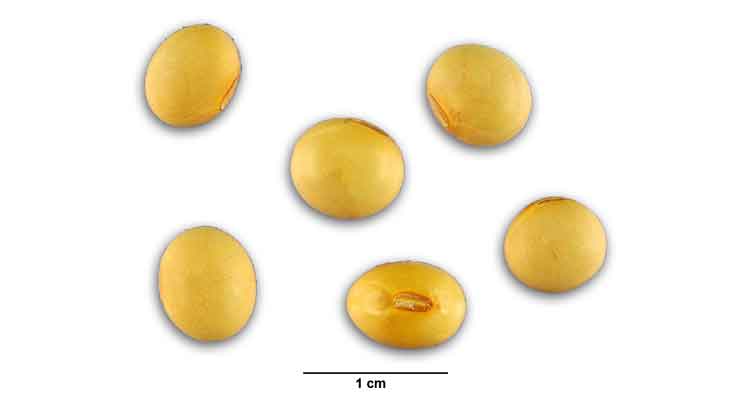 Studies
• Cholesterol lowering: Soy protein in the diet can help decrease total and LDL cholesterol with no significant effect on HDL.
• Anti-diarrheal: Soy formula for infants and young children decreased bowel movements and days of diarrhea.
• Menopause: May be beneficial in reducing menopausal symptoms, such as hot flushes. A study in Spain of 190 postmenopausal women on isoflavone-rich soy preparation (PHYTO SOYA) showed significant improvement in menopausal symptoms associated with lack of estrogen.
• Anti-Cancer: Some studies are conflicting as to whether supplements can increase or decrease the risk of breast cancer. The isoflavone genistein in animal cancer studies have shown anticancer effects: anti-angiogenesis, tyrosine-kinase inhibition, or apoptosis. However, genistein has been reported to increase growth of pancreatic tumor cells in the lab.
• Diabetes: Functional components associated with ameliorating T2DM: beta-sitosterol (antilipemic), genisterin and daidzein (lipase inhibitory), glycitein and soyasaponin A3, A4, A5, A6 and soyasaponin V (lipoxygenase inhibitory), soyasaponin A1 and A2 and stigmasterol (antilipemic).
• Antihyperglycemic: Extracts from the seeds of G max were evaluated for antihyperglycemic activity. Results conclude that the aqueous extract, but not the petroleum ether and alcoholic extracts, showed antihyperglycemic activity. (6)
• Anti-Arthritic: A study of G max for antiarthritic activity showed reversal of paw volume, biochemical, hematological and histological parameters. Further investigation is suggested to identify the compounds responsible for the antiarthritic activity. (7)
• Isoflavone / Antioxidant: Study showed soy extracts activate NO synthesis in endothelial cells and protect against cell damage. The soy isoflavones potentially act as a NO promoter and as an antioxidant. (8)
• Antinociceptive / Anti-Inflammatory: Study showed ethanolic extracts of G max and R nulubilis seeds tested possessed antinociceptive and antiinflammatory activities. (9)
• Potent Phytoestrogen Glycinol: Study of a novel isoflavone, glycinol, showed potent estrogenic activity and may represent an important component of the health effects of soy-based foods. (10)
• Antibacterial / Anticancer: Study evaluated various extracts of four trifoliate plants: Glycine max (control), Cajanus cajans, Phaseolus vulgaris and Tecoma stans for bioactivities. The chloroform extract showed the best antibacterial activity; the methanol extracts, the best anticancer activity. (12)
• Chemomodulatory / Anticancer: Study evaluated the chemopreventive potential of Glycine max against DMBA-induced skin and MCA-induced cervical pappilomagenesis in Swiss albino mice. Results showed G. max provided chemoprevention by modulating the detoxifying and antioxidative enzymes. (15)
Safety
• Allergies: Like milk, eggs, peanuts, fish and wheat, may act as a food allergen. Symptoms are can be varied, from runny nose to hypotension.
• Side Effects: Soy protein may cause gastrointestinal intolerance – bloating, nausea, constipation. Infants fed with soy protein formula may develop vomiting, diarrhea, intestinal bleeding, colitis, atopic eczema and thyroid abnormalities.
• Estrogen Effects: Because of concerns on estrogen-like effects, its use is discouraged in patients with hormone-sensitive cancers (breast, ovarian, uterine).

Availability
Commercial cultivation.
Extracts and miscellany of soy food products and supplements in the cybermarket.