Snippets
- Pomelo (Citrus maxima) and grapefruit (Citrus ) are both citrus fruits, but separate species. Grapefruit is a hybrid from the crossing of pomelo (C. maxima) and sweet orange (Citrus sinensis), the fruits differing in shape, color, size, and taste.
- The occasional vernacular reference to is as "Chinese grapefruit" adds to the confusion.
- Pomelo is the biggest of all the citrus fruits.
- Grapefruits are smaller and round, and hung in bunches like grapes; ergo, the grapefruit reference.   (48)
Botany
Suha is a small tree, 6 to 13 meters in height, with long, sharp, solitary spines. Leaflets are entire or nearly so, sparingly hairy beneath and on the margins, ovate-oblong to elliptic, and 8 to 12 centimeters long. Petioles are obovate and broadly winged. Flowers are white, fragrant, and crowded in short, axillary racemes. Fruit is large, obovoid to spherical, up to 20 centimeters in diameter. Rind is very thick and spongy, easily removed from the segments of the fruit. Pulp is pale yellow, pink or red, sweet or acrid, with large, distinct vesicles.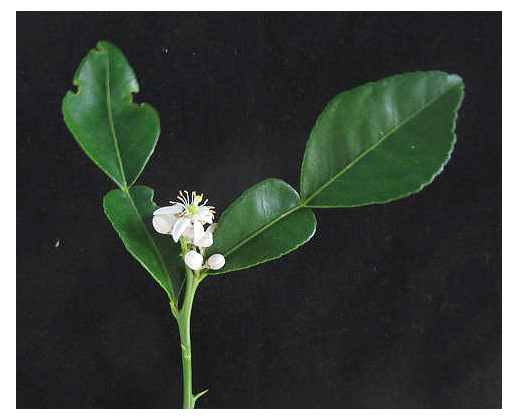 See:
Dalanghita
Distribution
- Found throughout the Philippines, in settled areas, usually planted.
- Probably not a native of the Archipelago.
- Found throughout all warm countries.
- Native of the Old World.
Constituents
• Leaves - volatile oil, 1.7% - dipentene, 25%; linalool, 15%; citral, 3.5%; a-pinene, 0.5-1.5%; d-limone, 90-92%.
Pericarp yields saccharose, reducing sugar; organic acid.
• Juice yields insulin like substance; lycopene; vitamin C; peroxidase; sugar, 14.3%; acid, 1.1%; fat, 0.33%; cellulose, 1.3%; nitrogenous substances, 1.6%
• Rind yields a crystalline glycosidal bitter principle, naringin (previously reported as hesperidin), 0.2-1.6% ; , 10%; pectin, 10%; peroxidase. Also yields a volatile oil, "pompelmus" oil, containing d-pinene, 0.5-1.5%; d-limonene, 90-92%; linalool, 1-2%; citrate, 3-5%; geraniol, 1.2%; linalyl and geranylacetate; citral 25%; free alkaloid, 8.61%; and ester, 4.38%.
• Phytochemical studies of various Citrus spp. yielded naringin, hesperidin, diosmin and naringenin.
• Phytochemical study of the peel of the grapefruit isolated five compounds: friedelin, b-sitosterol, limonin, cordialin B, and a previously unreported compound, 7(3',7',11',14'-tetramethy)pentadec-2',6',10'-trienyloxycoumarin.
• GCMS analysis of buds and flowers for fragrant components yielded a strong floral-, jasmine- and orange-like aroma from ß-myrcene, limonene, ocimene, linalool, and caryophyllene as major compounds. Ocimene and linalool were higher in the blossom than the bud, 7.37 and 15.93%, respectively, while limonene was highest in the bud at 4.57%. (11)
• Methanol extract of peel yielded carbohydrates, glycosides, tannin, proteins, phenol, gum and mucilages. (see study below) (36)
• Proximate composition of juice and peel extract (%/100g) yielded moisture 79.57 ± 0.06 and 13.20 ± 0..19, ash 0.73 ± 0.06 and 2.49 ± 0.19, fat 0.83 ± 0.19 and 9.74 ± 1.01, protein 1.76 ± 0.19 and 0.42 ± 0.02, crude fiber 0.32 ± 0.03 and 2.58 ± 0.41, and total CHO 16.79 ± 0.23 and 71.57 ± 0.83, respectively. (39)
• Study of C. maxima for main flavonoids and their characterization yielded naringin and their aglycone naringenin. (39)
• Phytochemical composition of juice and peel extract (mg/100g) yielded alkaloid 23.61 ± 2.68 and 3498.37 ± 917.51, flavonoid 377.98 ± 20.81 and 1511.74 ± 35.27, saponin 1.84 ± 0.18 and 24.51 ± 0.48, phenolics 180.86 ± 17.03 and 1799.04 ± 19.95, respectively. Antinutrient composition for juice and peel (mg/100g) yielded phytic acid 86.00 ± 5.88 and 444.11 ± 13.52, tannin 36.99 ± 17.93 and 230.04 ± 18.78, and oxalate 63.00 ± 3.12 and 100.80 ± 8.25, respectively. (39)
• Vitamin and mineral composition analysis showed a vitamin content to be significantly (p<0.05) higher in peel extract than juice, except for vitamin C which was higher in the juice. Calcium was the most abundant mineral in the peel and juice, followed by phosphorus and sodium. Magnesium content in the juice and peel (mg/100g) yielded 1.88 ± 0.05 and 5.39 ± 0.09, respectively; for potassium, 1.30 ± 0.06 and 8.75 ± 0.50, respectively. (39)
• GC-MS study of leaf and fruit rind for essential oil yielded 42 and 34 compounds, respectively, with major component of citronellol (28.26%) in the leaves and D-limonene (89.04%) in the rind. Yield of oil was more in the rind (0.12%) compared to leaf (0.07%). (41)
• Nutritional value per 100 g of edible portion yielded calories 25-58, moisture 84.82-94.1 g, protein 0.5-0.74 g, fat 0.2-0.56 g, carbohydrates 6.3-12.4 g, fiber 0.3-0.82 g, ash 0.5-0.86 g, calcium 21.3- mg, phosphorus 20-27 mg, iron 0.3-0.5 mg, vitamin A 20 IU, thiamine 0.04-0.07 mg, riboflavin 0.02 mg, niacin 0.3 mg, ascorbic acid 30-43 mg. (52)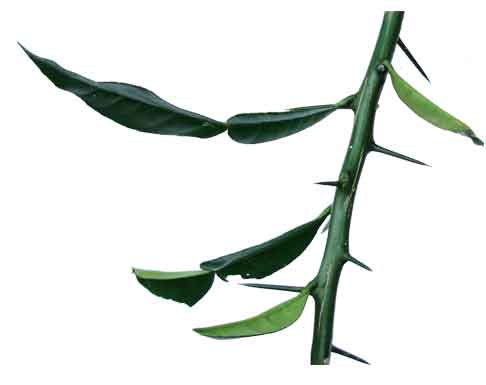 Parts used
Leaves, flowers, fruit, rind.

Uses
Edibility / Nutritional
- Food: Fresh fruit and preserved rind.
- Fresh fruit is a good source of vitamin B, iron and calcium.
Folkloric
- Nausea and fainting: Squeeze rind near nostrils for patient to inhale.
- In the Philippines, leaves are used for aromatic baths.
- Infusion or decoction of flowers, leaves and pericarp used as sedative for nervous affections; also for coughs and ulcers.
- Peel or rind, dried or in decoction, used for dyspepsia.
- Boiled seeds in a gallon of water can be used for sitz-baths.
- In Malaya, lotion of boiled leaves used for painful swellings.
In the Himalayas, fruit juice recommended for ulcers; used in diabetes; and mixed with black pepper and a little rock salt, used for malaria. Fruit juice with its pulp, with honey, is given to improve urinary flow.
Others
- Wood: Potential source of firewood. Heavy, hard and tough wood suitable for making tool handles.   (25)
- Essential oil: Fruits and leaves yield essential oil that serve as perfumery and toiletry ingredients. (25)
- Fodder: Pulp molasses and residues from juice extraction use as cattle feed. (25)
- Apiculture: Tree is a valued honey plant. (25)

Studies
• Interaction of with Cytochrome P450 Enzymes: Study of the relationships of plant constituents and CYP450 enzymes, such as grapefruit with CYP2A6. (1)
• Antimicrobial: Grapefruit seed extract (C paradisii) was found effective against P aeruginosa. The active ingredient was naringenin.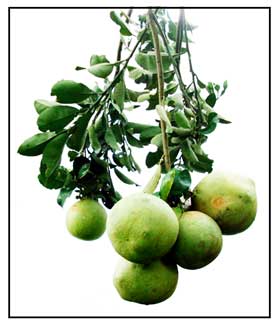 • Anthelmintic: Alcoholic extract of the rind of Citrus decumana showed good in vitro anthelmintic activity against human Ascaris lumbricoides. (4)
• Antioxidant / Anti-inflammatory / Analgesic: Study of peel extract in four solvent systems showed significant dose-dependent antioxidant activity, a significant decrease in paw volume and pain. Results suggest the peel extract may be a useful as a natural antioxidant in the treatment of inflammation and pain. (5)
• Antioxidant / Free Radical Scavenging: Fresh red pomelo juice is an excellent source of antioxidant compounds and showed great efficiency in scavenging different forms of free radicals including DPPH, superoxide anion, and hydrogen peroxide radicals. (8) Study of Citrus maxima for hydrogen peroxide radical scavenging activity, DPPH activity, total antioxidant activity showed elevated levels of antioxidant activity attributed to the presence of phytochemicals such as steroids, phenol, tannins, flavonoids, alkaloids, glycosides, saponins, cardiac glycosides, carbohydrates in aqueous, methanol, and petroleum ether extracts. (43)
• Cyclosporin / Pharmacodynamic Effects / : Co-administration of Citrus grandis peels significantly decreased the systemic exposure of cyclosporin and resulted in higher macrophage and Th1 type activities than in mice treated with cyclosporin alone. (9)
• Anti-Inflammatory / Nobiletin: Study yielded a nobilietin, shown to contribute to pharmacological activities such as anti-cancer, anti-inflammatory and antioxidant effects. Results showed dangyuja leaves can inhibit LPS-induced production of inflammatory markers by blocking NF-kB and MAPKs signaling in RAW264.7 cells. (10)
• Flower Fragrance / Components: Study of active components attributed to the fragrance of the C. grandis flowers showed the buds and blossoms of the flower possessing a strong floral-, jasmine- and orange-like aroma contain B-myrcene, limonene, ocimene, linalool and caryophyllene as the major compounds. (see constituents above) (11)
• Antidepressant / Leaves: Study evaluated the antidepressant effect of an aqueous extract of leaves of Citrus maxima Merr. in mice. Results showed significant reduction of immobility time in both TST and FST. It showed psychostimulant effect of locomotor activity testing. The antidepressant effect may be mediated by an increased in norepinephrine level in the synapses. (14)
• Antidiabetic / Lipid Profile Effects / Fruit: Study evaluating C. maxima fruit juice showed beneficial effects on glucose tolerance and lipid profile in STZ-induced type-II diabetic rats. (15) Ethanolic extract of Citrus maxima fruit peel exhibited significant antidiabetic potential by decreasing blood glucose levels and maintaining body weight and serum lipid concentrations to normal. (32)
• Antibacterial / P. aeruginosa / E. coli: A comparative study was done on antibacterial activity of ethanolic extracts of V. negundo, F. vesca, T. arjuna, and C. maxima. Citrus maxima showed maximum zone of inhibition for Pseudomonas aeruginosa. (16)
• Inhibition of Acetylcholinesterase Activity / Radical Scavenging: Study evaluated the effects of some citrus fruit juices (C. maxima, C. paradisii, C. limoni, C. reticulata) on acetylcholinesterase activity in vitro. The juices exhibited dose-dependent radical scavenging and dose-dependent inhibition of acetylcholinesterase activity. Results suggest citrus juices make good dietary supplements for the management of Alzheimer's disease. (18)
• Cardioprotective / Doxorubicin (DOX)-induced Cytotoxicity: Study investigated the protective effect of pummelo (C. maxima) fruit juice in rat cardiac H9c2 cells against doxorubicin (DOX)-induced cytotoxicity. Results showed CM fruit juice can be promoted as a functional fruit to protect cells from oxidative cell death, enhance phase II GSTP enzyme activity, and decrease senescence phenotype population induced by cardiotoxic agent such as DOX. (19)
• Endothelial Health Benefits / Potential for Cardiovascular Risk Reduction / Fruit: Study investigated the effects of pomelo fruit extract on human umbilical vein endothelial cell (HUVECs) migration and aging. HUVECs treated with fruit extract improved cell migration and hindered the onset of phenotypical aging. Further animal and human studies are warranted before it can be promoted as a functional fruit for cardiovascular risk reduction. (21)
• Antitumor Activity / Leaves: Study evaluated a methanol extract of C. maxima leaves for antitumor activity against Ehrlich's Ascites Carcinoma cell in Swiss albino mice. Results show dose-dependent significant decrease in tumor parameters, i.e., tumor volume and viable tumor cell count and increase in body weight, hematological parameters and life span. (22)
• Hepatoprotective / Carbon Tetrachloride Toxicity / Peel Powder: Study evaluated the hepatoprotective activity of Citrus maxima peel power in a carbon tetrachloride rat model of hepatotoxicity. Dietary supplementation of CM peel powder exhibited significant reduction of liver enzymes in CCl4-treated rats, together with significant reduction of oxidative stress markers (MDA, NO, and APOP level) and restoration of catalase activity. (23)
• Toxicity Study / Seeds: Acute toxicity study at dose of 2000 mg/kbw of C. maxima leaves given orally appeared to be non-toxic. Subacute toxicity study showed no marked changes in hematological, biochemical, and histopathological parameters. (26)
• CNS Activities / Leaf: Study evaluated ethanolic extract of Citrus maxima in experimental animal models for central nervous system activities, i.e., depressant, anxiolytic, convulsant, hypnotic and muscle relaxant. Results showed reduced rearing, central motor and ambulation activities in the locomotor test. There was decreased locomotion in elevated-plus-maze and actophotometer test. The extract protected mice against PTZ and strychnine induced convulsions in a dose dependent manner and decreased duration of tonic hind limb extension, increased hypnotics time and decreased motor coordination of experimental animals. (27)
• Prevention of AGE-Mediated Diabetic Complications / Antiglycation Effect: Study evaluated the antiglycation effect of pomelo extract against fructose-mediated protein oxidation and glycation. The pomelo extract significantly inhibited the overall formation of advanced glycation end products (AGEs) in a dose dependent manner and markedly decreased the levels of fructosamine and CML. HPLC yielded naringin (11.90 ± 021 mg/g dried extract) and naringenin (9.20 ± 0.19 mg/g DE). (28)
• Prevention of High-Fat Diet-Induced Metabolic Disorders / Peels: Study evaluated the anti-metabolic effects of peels of different pomelo varieties on obese C57BL/6 mice induced by high-fat diet. Results showed pomelo peel extracts could prevent high-fat diet induced metabolic disorders through activation of the PPARa and GLUT4 signaling. Study suggests a potential source of drug for metabolic disorders. (29)
• Ovicidal, Larvicidal, and Adulticidal / Anti-Dengue Vector / Peels: Study evaluated the ovicidal, larvicidal, and adulticidal toxicity of hexane extract of C. grandis peels against dengue vector, A. aegypti. Results showed highest lethal concentration against 3rd and 4th instar larvae with LC50 and LCC80 of 1.11 mg/L and 3.32 mg/L, respectively. The test mosquito mortality was 100% after 24h. Results suggest great potential for a sustainable and environmentally safe plant for control of dengue vector, A. aegypti. (33)
• Hypocholesterolemic / ACE-Inhibitory Activity: Study investigated the effect of juices of grapefruit (Citrus paradisii) and shaddock (Citrus maxima) for effect on angiotensin-1-converting enzyme (ACE) activity in vitro and hypocholesterolemic effect in rats fed a high-cholesterol diet. Grapefruit juice showed higher total phenol and flavonoid contents than shaddock juice, while both inhibited ACE activity in a dose-dependent manner. The juices also caused significant reduction in TC, triglyceride, and LDL with an increase in HDL levels. (34)
• Effect in Experimentally Induced Wounds in Diabetic Rats / Peels: Study evaluated the healing effect of oral pomelo peel extracts on induced excision skin wound in diabetic rats. Results showed significant reduction in blood glucose, significant wound size reduction, high content of granulation hydroxyproline, and total protein content of healed wound. Study suggests good therapeutic potential in the treatment of complicated wounds in diabetes. (35)
• Analgesic / CNS Depressant / Anti-Inflammatory / Peels: Study investigated the analgesic, CNS depressant, and anti-inflammatory activities of crude methanolic extract of C. maxima fruit peels. At 500 mg/kg dose, extract showed analgesic activity (73.34%) against acetic acid induced writhing in mice compared to reference drug Diclofenac at 87.13% at 10 mg/kg dose. In formalin induced hind paw licking and biting, the extract exhibited 54.11% protection. Anti-inflammatory effect in carrageenan induced paw edema model was comparable to ibuprofen. The extract also showed significant dose dependent CNS depressant activity by hole cross test and open field test. (see constituents above) (36)
• Antimicrobial / Seed and Pulp: Study evaluated the antimicrobial activity of ethanolic extract of pomelo (C. maxima) seeds and pulp compared to grapefruit (C. paradisii) against B. subtilis, S. aureus, E. coli, and C. albicans. Pomelo seeds and pulp showed more antimicrobial efficacy against B. subtilis, S. aureus, and E. coli compared to grapefruit. It showed no activity against Candida albicans. (38)
• Antibacterial / Leaves: Study evaluated ethanolic extracts of leaves of C. maxima on Staphylococcus aureus, Bacillus subtilis, Escherichia hermanii and Pseudomonas aeruginosa. Maximum zone of inhibition was shown by S. aureus. MIC values for S. aureus and B. subtilis (20 µg/ml) were lower than E. hermanii (30 µg/ml) and P. aeruginosa (40 µg/ml). (40) Study C. maxima extract of leaves showed significant antibacterial activity against Escherichia coli and Pseudomonas aeruginosa. (24)
• Fragrant Compounds / Flowers: Soxhlet extraction and SPME were used to extract active fragrant components from C. grandis flowers. Results showed the flower buds and blossoms, which emit strong floral-, jasmine- and orange-like aroma, yield ß-myrcene, limonene, ocimene, linalool, and caryophyllene as major compounds. Hydrodistillation showed ocimene and linalool were higher in the blossoms than in the buds. In Soxhlet extraction, buds yielded limonene (27.25%), ocimene (5.55%), and linalool (2.97%). (42)
• Antihyperglycemic / Antioxidant / Acute Toxicity Study / Leaves: Study evaluated the antihyperglycemic activity of a methanol leaf extract of C. maxima in STZ-induced diabetic rats. The extract significantly (p<0.001) and dose dependently normalized blood glucose levels, serum biochemical parameters, decreased lipid peroxidation, and recovered GSH compared to STZ control. The activity was attributed to C. maxima leaf antioxidant property. Acute toxicity study in Swiss albino mice showed the extract to be safe up to 2000 mg/kbw. (44)
• Antidiabetic Potential / Fruit Peel: Study evaluated the effect of ethanolic extract of fruit peels of C. maxima and ethanolic extract of dried whole plant of Anville garcinii on STZ-induced diabetic rats and glucose tolerance test. Results showed significant antidiabetic potential as evidenced by decreased blood glucose levels, improving body weight, along with serum lipid lowering activity. (45)
• Effect on Hematological Parameters and Lifespan in EAC Tumor Bearing Mice / Anticancer Effect: Study evaluated the effect of various extracts of Citrus maxima on hamatological parameters in animal models. All extracts showed significant prolongation of lifespan, reduction in tumor volume, and improvement in hematological parameters. (46)
• Antidiabetic / Stem Bark: In-vivo hypoglycemic activity of fruits and fruit peels have already been documented in literature. This study evaluated the antidiabetic activity of an ethanolic extract of stem bark of Citrus maxima using Alloxan and Streptozotocin induced diabetes in Wistar rats. Results showed dose dependent antidiabetic activity compared to reference drug Glibeclamide. Antidiabetic activity of C. maxima at 400 mg/lg was more effective than 200 mf/kg. (47)
• Anti-Alzheimer Activity / Fruit Peel: Study evaluated the effect of ethanol fruit peels extract if C. maxima in scopolamine-induced Alzheimer's disease in mice using Morris maze and Y-maze methods. Results showed anti-Alzheimer activity as suggested by dose dependent and significant improvement in memory of young mice and reversal of memory deficits induced by scopolamine. Furthermore, there was a significant decrease in brain acetylcholinesterase level, thereby increasing neurotransmitter acetylcholine level. (49)
• Larvicidal / Culex quinquefasciatus / Fruit Peels: Study evaluated crude extract and various solvents of fruit peel of C. maxima for larvicidal activity against Culex quinquefasciatus mosquito. Crude fruit peel extract showed strong lethal activity against all instars larvae of Cx. quinquefasciatus, with the 1st instar larvae showing most susceptibility. No mortality was observed on control treatments. (50)
• Antiproliferative / Fruit: GC-MS analysis of supercritical CO2 extract from fruits of Citrus hassaku (phalsak), Citrus iyo (Yeagam) and Citrus grandis (dangyuja) from Korea yielded 70, 70, and 76 compounds respectively. Limonene prevailed in C. grandis. a-Terpineol, (E,E)-2,4-decadienal, hexadecanoic acid, pentacosane, stigmasterol, and y-sitosterol were prominent in all species. Antiproliferative activity was revealed through MTT assay against human glioblastoma, gastric cancer cells, HeLa cervix adenocarcinoma cells and gastric adenocarcinoma cells. All tested fruit extracts exhibited antiproliferative effects toward cancer cells, with varying sensitivity of different cell lines. (51)
• Toxicity of White Flesh of Fruit against Aedes aegypti Larvae and Effect on Non-Target Organisms: Study evaluated the bioefficacy of white flesh of C. grandis fruit peel extracts, essential oil and isolated compounds against late third stage instar Aedes aegypti larvae. Results showed C. grandis fruit peel as potential to be used as alternative larvicides against Ae. aegypti larvae. In an earlier study, GC-MS analysis of a hexane fraction that cause highest mortality in test larvae population revealed the presence of hexadecanoic acid, a major bioactive in the fraction. (53)
• Antioxidant / Antibacterial / Cold-Pressed and Distilled Essential Oils: Study evaluated the chemical composition and functional activities of cold-pressed and water distilled peel essential oils of C. paradisii and C. grandis. Limonene was the primary ingredient of essential oils of C. grandis (cold 32.63%, distilled 55.74%). C. grandis oils were rich in oxygenated or nitrogenated compounds. Cold-pressed C. grandis oil exhibited lowest activity in antioxidative assays. C. grandis oil exhibited better antimicrobial activities than C. paradisii, especially against Escherichia coli and Salmonella enterica subsp. (54)
• Cytotoxic Acridone Alkaloids / Stem Bark: Study isolated a new acridone alkaloid, 5-hydroxynoracronycine alcohol (4), along with six known acridone alkaloids, glycocitrine-1 (1), 5-hydroxynoracronycine (2), citrusinine-1 (3), grandisine -1 (5), natsucitrine-II (6), and citracridone-III (7). Compounds 1-4 and 7 were cytotoxic to two tumor cell lines. (55)

Availability
- Commercial cultivation.