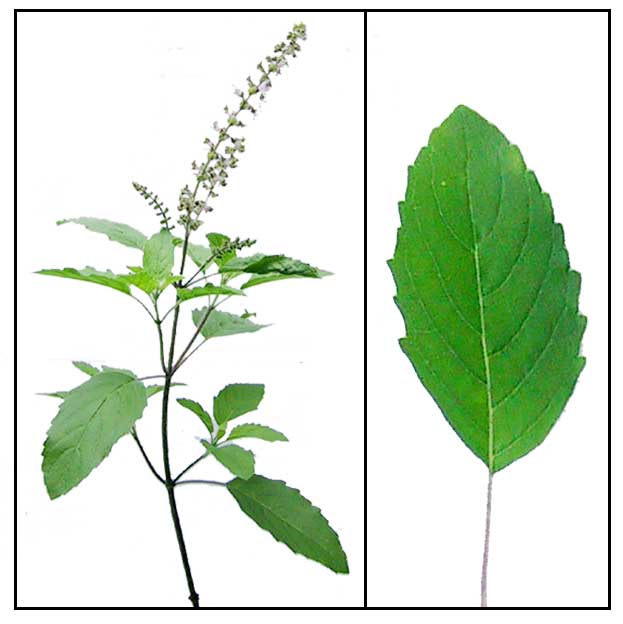 Botanical snippet
- Ocimum sanctum L., Tulsi, has been used for thousands of years in Ayurveda, often referred to as an "Elixir of Life." Tulsi is also referred to as the "Queen of herbs," the legendary "incomparable one" of India, one of the holiest and most cherished of healing herbs. (49)
Botany
Sulasi is an erect and herbaceous branched plant, 1 meter high or less. Stems and younger parts are covered with spreading hairs. Leaves are oblong-ovate and 2 to 4.5 centimeters long, with pointed or blunt tips, and somewhat toothed margins. Flowers are pink or purplish, about 7 millimeters long, borne on racemes 5 to 14 centimeters long. Calyx at the time of flowering is about 3 millimeters long and somewhat larger in fruit; the two lower teeth are long-awned, the upper one broadly-oblong, and the lateral ones very broad. Corolla is very small, scarcely longer than the calyx. Nutlets are somewhat rounded or broadly oblong, slightly compressed and nearly smooth.
Distribution
- Found throughout the Philippines, in the same habitat as O. basilicum.
- Probably a native of the Old World.
Constituents
- Leaves yield a volatile oil (0.6%), to a large extent consisting of methyl homo anisic acid, plus cineol and linalool.
- Eugenol (1-hydroxy-2-methoxy-4-allybenzene), the active constituent, considered to be largely responsible for its therapeutic potential.
- Nutrient analysis per 100 g yielded: energy 30 Kcal, protein 4.2 g, fat 0.5 g, carbohydrate 2.3 g, calcium 25 mg, phosphorus 287 mg, iron 15.1 mg, vitamin C 25 mg.
- Study of essential oils yielded main compounds identified as linalool 19%, camphor, ß-elemene,
α-bergamotene, and bornyl-acetate, estragole, eugenol, and 1,8-cineole. (see study below) (36)
- Nutrient analysis of leaves showed high levels of ascorbic acid and total carbohydrat4es i.e., 65.41 mg/100g and 39.58%, with total phenol content of 1.88 mg/g. Mineral analysis showed N 3.30%, P 1.10%, K 6.62%, S 1.55%. and Na 0.74%. Dry weight basis yielded 20.64% total protein and 3.60% total fat. (see study below) (46)
Properties
- Considered to possess anti fertility, anticancer, antidiabetic, antifungal, antimicrobial, galactagogue, hepatoprotective, cardioprotective, antiemetic, antispasmodic, analgesic actions.
- Leaves are expectorant and stomachic.
- Studies have shown antibacterial, antifungal, antioxidant, antidiabetic, anti-tussive, anti-cataract, anti-inflammatory, radioprotective, anti anxiety, CNS depressant, neuroprotective, cardioprotective, anticancer, anti fertility, wound healing, anticancer, abortifacient, antitubercular, nootropic, wound healing, anthelmintic, immunomodulatory, anticonvulsive properties.
Parts utilized
Rhizomes, leaves, seeds, roots.

Uses
Edibility
In Malaya, leaves are eaten sparingly as salad., but not used for flavoring foods.
- Leaves used for making tea. (see study below) (64)
Folkloric
- In the Philippines, decoction of leaves used for aromatic baths.
- Decoction of roots and leaves used for gonorrhea; externally used for rheumatic pains and paralysis.
- Seed decoction used as demulcent.
- Dried plant in decoction used for croup, diarrhea, catarrh, bronchitis and diarrhea.
- Decoction of roots used as diaphoretic for malarial fevers.
- Leaf juice considered expectorant; used by Hindi physicians in catarrh and bronchitis.
- Leaf juice used for earache.
- Infusion of leaves used in malaria, and as stomachic in gastric affections in children and in hepatic affections.
- Fresh juice induces vomiting and expels worms.
- Mixed with honey, ginger and onion juice, used as expectorant for bronchitis and coughs.
- In Malaya, juice used externally in an imbrocation for rheumatism.
- In Java, used to increase milk secretion.
- In India, leaf juice traditionally used for cough, bronchitis, asthma, malaria, dysentery, stress situations, worm infestations, superficial fungal infections, and as diuretic.
Others
- Religion: It is the most sacred plant in Hindu religion.
- Insect repellent: In India and South Africa, plant is used as a mosquito repellent.
- Dye:Seeds yield mucilage. (see study below) (66)
Studies
• Radioprotective: The radioprotective effects of two flavonoids, orientin and vicenin from the leaves of OS were studied by evaluating chromosome aberration in bone marrow cells of irradiated mice. Results suggest ocimum flavonoids may be promising for human radiation protection. (1)
• Antidiabetic /Hypoglycemic: In a study, one of 24 of 30 medicinal plants, OS showed significant blood glucose lowering activity. (2)
• Antidiabetic / Increased Insulin Secretion: Study evaluated ethanol extract and fractions of leaves for insulin secretion and mechanisms of action. Results showed concentration-dependent stimulation of insulin secretion from perfused rat pancreas, isolated rat islets and a clonal rat ß-cell line.
• Anti-Cataract: Study of aqueous extract of O. sanctum showed potential anti-cataract activity against selinite-induced experimental cataractogenesis.
• Anti-Anxiety / Leaves: Ethanolic extract study showed leaves possess anti-anxiety effects probably through a central nervous system pathway that may involve the GABA-ergic system. Another study on noise-induced changes in rats were normalized with pretreatment with OS extract indicating its stress-alleviating effect.
• Anti-Tussive: Study shows an antitussive effect probably by central action mediated through both opioid and GABA-ergic system. There was also an increase in intracellular Ca2++ in clonal cells. Results suggest constituents in the leaf extract with stimulatory effects on physiologic pathways of insulin secretion. (3)
• Antibacterial: Study of ethanol extracts showed antibacterial activity, greater in Gram positive bacteria than gram-negative, esp against B subtilis and S aureus; comparatively less than Origanum majorana. Another study on OS essential oil showed marked antibacterial efficiency against all bacteria tested, maximum against S aureus and marked antibacterial efficacy against P mirabilis, P aeruginosa, Klebsiella sp. and E coli.
• Antibacterial / Leaves: Study of various extracts of leaves showed antibacterial activity. Results showed O. sanctum may be a better alternative as a preservative in Food Industries because it was equally effective against gram positive and gram negative bacteria. (6)
• CNS-Protective / Haloperidol Induced Catalepsy: A study showed the ethanol leaf extract of O sanctum to have a protective effect against haloperidol-induced catalepsy and indicates that OS may be used to prevent drug-induced extrapyramidal effects. (7)
• Antioxidant: A study showed the leaves of OS to possess both superoxide and hydroxyl free radical scavenging effect and attributes the antioxidant property to be responsible for its hypoglycemic effect. (8)
• Myocardial Salvaging Effect: A study showed Ocimum sanctum has cardioprotective effects against ISP-induced myocardial necrosis probably through improved ventricular function, augmentation of endogenous antioxidants and suppression of oxidative stress. (9)
• Anti-cancer activity: Administration of aqueous and ethanolic extracts of Ocimum sanctum to mice with sarcomatous tumor resulted in a significant reduction in tumor volume and increase in lifespan. (10) Review amalgamates various scientific studies on the anti-cancerous activity of O. sanctum in various cancers, viz., lung, skin, oral, cervical, gastric, breast, and prostate. (39)
• Anti-Fertility / Abortifacient: Leaves of O sanctum are said to be abortifacient in women. The benzene and petroleum ether extracts of leaves have been reported to produce 80% to 60% antifertility activity in female rats. In male rats, benzene extract of leaves has been reported to reduce spermatogenesis by retarding sertoli cell activity.
• Anti-Ulcer Activity: Study showed the extract of OS possess antiulcerogenic properties with reduction of the ulcer index, free and total acidity in rats. Seven days of treatment increased mucous secretion.  (11) Study investigated the antiulcer effects of O. sanctum against swimming stress induced ulcers in albino rats. Results showed significant antiulcerogenic activity attributed to OS antagonism of H2 receptors, antisecretory mechanism, or by antioxidant property. (38)
• Antidiabetic Activity Stimulatory Effect on Insulin Secretion / Leaves: Study evaluated the effects of ethanol extract and five partition fractions of O. sanctum leaves on insulin secretion and mechanism of action. Results showed stimulation of insulin secretion from perfused rat pancreas, isolated rat islets, and clonal rat ß-cell line in a concentration dependent manner. Findings suggest that the leaf extracts have a stimulatory effect on the physiological pathways of insulin secretion. (12)
• Wound Healing: Study showed the ethanolic extract of leaves of Ocimum sanctum promotes wound healing significantly and able to overcome the wound healing suppressing action of dexamethasone.
• Hepatoprotective Activity / Antitubercular Drug-Induced Toxicity: A study showed the leaf extract of OS to have a hepatoprotective effect on hepatotoxicty induced by antitubercular drugs. The exact mechanism has not been defined, but OS antioxidant activity seems to be the most important mode of its hepatoprotective effect. (14)
• Eugenol / Aerial Parts: Ocimum sanctum is a cheaper source for the commercial extraction of eugenol. The aerial parts (leaves, flowers and stems) contain essential oils with good percentage of eugenol. The use of O sanctum in the treatment of gastric ulcer has been attributed to the antiulcerogenic action of eugenol and essential oil from leaves. (15)
• Anti-Amnesic / Nootropic Activity: Study showed whole plant extract to significantly decrease transfer latency and increased step down latency.
• Anti-Noise / Stress Alleviating: Study of ethanolic extract on noise stress induced changes in albino rats – leukopenia, increased corticosterone levels and enhanced neutrophil functions as indicated by increase in Candida phagocytosis and NBT reduction, showed normalization of the altered values by pretreatment with O S extract.
• Analgesic: Study of an alcoholic extract of leaves of O. sanctum on glacial acetic-acid writhing and radiant heat-induced tail flick test showed analgesic activity.
• Cardioprotective on Combination Treatment: Study of the combined treatment of Ginkgo biloba phytosomes (GBP) and Ocimum sanctum extract (OS) in isoproterenol-induced myocardial necrosis in rats demonstrated significant cardiac protection, decreased lipid peroxidation, restoration of antioxidant activities. (16)
• Anti-Haloperidol Induced Catalepsy: Neuroleptic drugs used in the treatment of schizophrenia are known to cause extrapyramidal side effects. Study showed Ocimum sanctum has a protective effect against haloperidol-induced catalepsy. Results suggest its potential use in the prevention of drug-induced extrapyramidal side effects. (18)
• Antihelmintic: Essential oil of Ocimum sanctum and its dominant component, eugenol, tested inn vitro, exhibited potent anthelmintic activity in the Caenorhabditis elegans model.
• Immunoregulatory: Study in albino rats of a methanol extract and aqueous suspension of leaves for its immunoregulatory profile to antigenic challenge to Salmonella typhosa and sheep erythrocyte agglutination tests showed immunostimulation of humoral immunologic response shown by an increase in antibody titer as well as a cellular immunologic response. The immunostimulant capability was attributed to the plants adaptogenic action. (20)
• Immunomodulatory: Study of aqueous extract of O. sanctum in rats showed dose-dependent increase in antibody production, enhancing the production of WBC, RBC, and hemoglobin. (21) Extract of fresh leaves of O. sanctum exhibited an alteration in humoral immunoresponse in experimental model on albino rats. Mechanisms may be due to antibody production, liberation of agents that cause hypersensitivity reactions, and action on target organs. The immune response was attributed to enhancement of both cellular and humoral immunity by boosting cell-mediated immune responsiveness and GABAergic pathways. (56)
• Thrombolytic Potential: Study evaluated four aqueous herbal extracts viz., O. sanctum, C. longa, A. indica and A. occidentale. Results showed significant clot lysis compared with vehicle control. O. sanctum showed moderate clot lysis activity (30.01±6/168%) where the standard streptokinase showed 86.2% clot lysis effect. Although all the herbal extracts exhibited in vitro thrombolytic properties, in vivo clot dissolving properties and active components are yet to be discovered. (23)
• Repellent / Anti-Termite: Various crude extracts of flowers, leaf, root and stems were studied against the termite species, H. indicola. All extracts showed moderate toxic effects. Maximum repellency was seen in the methanol root extracts while water extracts showed minimum repellency. (25)
• Sperm Count and Reproductive Hormone Effects: Study evaluated fresh leaves of O. sanctum for its effect on reproductive function in male albino rabbits. Results showed a significant decrease in sperm count with marked increase in serum testosterone and significant reductions in FSH and LH. Results suggest a potential use as a male contraceptive agent. (27)
• Anti-Stress: A randomized, double-blind, placebo controlled study evaluated the efficacy of OciBest, an extract of Ocimum tenuiflorum in symptomatic control of general stress. Results showed OciBest (whole plant extract) to be 1.6 times or 39% more effective in the management of stress symptoms compared to placebo and was well tolerated by all patients over a six-week period study. (28) Study evaluated the anxiolytic effects of O. sanctum in stress-induced anxiety. Results showed significant anti-stress activity but the magnitude and efficacy is less than the standard anxiolytic agent, i.e. alprazolam. (34)
• Corrosion Inhibitor: Recent aqueous extracts of Cocos nucifera petiole, Fennel essential oil, Garcinia mangostana pericarp, ethanol extract of V. amygdalina and Ipomoea involcrata have been used as corrosion inhibitors. Study evaluated the inhibitory effects of O. tenuiflorum. Results showed O. tenuiflorum to act as a good inhibitor for corrosion of steel in 1M Hcl. (30)
• Gastroprotective / Leaves: Study of methanol extract of leaves showed dose dependent ulcer protective effect against cold-restraint stress-induced gastric ulcers. Antiulcerogenic property was also studied in pyloric-ligated and aspirin-treated rats. Results suggest the anti-ulcerogenic property against experimental ulcers may be due to its ability to reduce acid secretion and increase mucus secretion. (32)
• Toxicological Study / Leaves: Study of 50% ethanol extract of Ocimum sanctum leaves were evaluated for acute and subacute toxicity. OS extract did not produce any hazardous symptoms or death and CNS or ANS effects in acute toxicity test. Subacute testing did not show any changes in body weight, food and water consumption, hematological and biochemical profiles. (33) Study evaluated an aqueous leaf extract for toxicity in Wistar albino rats at 100, 500, and 1000 mg/kbw. Results showed no major changes in body weight and biochemical markers were well within normal limits. Study showed the aqueous leaf extract is safe and non-toxic at doses tested. (48)
• Posological Considerations per Ayurvedic Pharmaceutical Science: A 2010 study reported that the administration of 2 g of O. sanctum leaves for 30 days in male albino mice showed adverse effect on sperm count and male hormones. Posological report clearly showed that Ayurvedic uses of O. sanctum are in doses significantly lower than the dose at which antifertility effects were observed. Study suggests the issued ban against products containing O. sanctum as an ingredient is not logical and needs to be reviewed. An advisory may be issued in warning against potential antifertility effect when consumed in substantially high doses. (35)
• Anxiolytic and Antidepressant Properties / Essential Oil: Study analyzed the possible anxiolytic and antidepressant properties of inhaled basil essential oil extracted from Ocimum sanctum (Os) and Ocimum basilicum (Ob) in a ß-amyloid (1-42) rat model of Alzheimer's disease using in vivo (elevated plus maze and forced swimming) tests. Results showed the basil essential oils, especially the O. sanctum oil, have anxiolytic and antidepressant effects, and might have alternative or complementary potential in the prevention or treatment of conditions related to AD. (see constituents above) (36)
• Hepatoprotective / Carbon Tetrachloride Toxicity: Study of an aqueous extract of Ocimum sanctum showed hepatoprotective activity in carbon tetrachloride induced toxicity in albino rats. (37)
• Hepatoprotective / Lead Induced Toxicity: Study of O. sanctum in lead induced toxicity in Wistar albino rats showed hepatoprotective effect attributed to its antioxidant activity. (43)
• Antidiabetic Interaction with Glimepiride: Study investigated the interaction between aqueous leaf extract of Ocimum sanctum and Glimepiride, a sulfonylurea derivative used in the treatment of T2DM, in diabetic rats. The antidiabetic effect observed with the combination of the aqueous extract and glimepiride was significant and more when compared to either drug alone. The interaction necessitates dose readjustment of Glimepiride and frequent monitoring of glucose levels. (40)
• Silver Nanoparticles / Antifungal: Study reports on a cost effective and environmentally friendly synthesis of silver nanoparticles from a leaf extract of Ocimum sanctum as reducing agent. The nanoparticles were shown to possess effective antifungal property against C. albicans, C. kefyr, and A. niger. (41)
• Analgesic Effect / Leaves: Study evaluated the analgesic effect of leaf extract of Ocimum sanctum (Tulsi) in adult albino rats using the rat tail method. Results showed significant analgesic activity (p<0.01) in all three test doses, with better efficiency seen at higher concentration. (42)
• Anthelmintic / Leaves: Study evaluated the anthelmintic effect of leaves of Ocimum sanctum in comparison with albendazole. The aqueous extract of O. sanctum was more potent than control (NS) and lesser anthelmintic activity than albendazole. (44)
• Eugenol / Anti-Inflammatory / Essential Oil: Study evaluated the anti-inflammatory activity of eugenol extracted from leaf essential oil in wistar rats using carrageenan induced hind paw edema method. The extracted eugenol and paracetamol exhibited significant (p<0.05%) activity. (45)
• Chemical Composition / Antioxidant / Antimicrobial / Leaves: Study of leaves for antimicrobial activity showed E. coli and E. faecalis were highly susceptible to methanol extract. Oil of leaves yielded comparable amount of antioxidant as ascorbic acid, flavonoid and total phenol as well as linolenic acid, polyunsaturated fatty acid. (see constituents above) (46)
• Immunomodulatory / Anti-Inflammatory / Antioxidant / Aerial Parts: Methanolic extract of aerial parts showed strong antioxidant activity which may be partly due to its reported immunomodulatory and anti-inflammatory effects. Findings suggest the alcoholic extracts may be helpful in treatment of inflammation and rheumatoid arthritis. (47)
• Activity Against Neisseria gonorrhea: Antibacterial screening of three plants, Ocimum sanctum, Drynaria quercifolia, and annona squamosa caused inhibition of Neisseria gonorrhea clinical isolates and World Health Organization strains, more so than MDR N. gonorrhea. (50)
• Anticonvulsive: Study evaluated various extracts of stem, leaf, and stem callus for anticonvulsant activity using MES (maximal electroshock model) using Phenytoin as standard. Results showed the extracts were effective in preventing convulsions induced by transcorneal electroshock. (49)
• Clinical Efficacy and Safety of Tulsi in Humans / Review: This comprehensive literature review reports on the clinical outcome after ingestion of tulsi. A total of 24 studies reported therapeutic effects on metabolic disorders, cardiovascular disease, immunity and neurocognition. The reviewed studies reinforce traditional uses and suggests tulsi is effective for the treatment of lifestyle-related chronic diseases including diabetes, metabolic syndrome, and psychological stress. (51)
• Inhibition of Breast Cancer Progression: Earlier study reported on aqueous extract of leaves and its inhibition of chemotaxis of breast cancer lines towards specific chemo-attractants. This study investigated the inhibitory effect of O. sanctum on breast cancer lines, MDA-MB-435 and MCF 10A DCIS.com cells. Results showed inhibition of tumor growth attributed to reduced cell proliferation and angiogenesis. Study suggested a potential for a breast cancer preventive and therapeutic agent. (52)
• Inhibition of Benzo [A] Pyrene Mediated Cytotoxicity: Environmental pollution is a major problem of daily life. Pollutants consist mainly of organic pollutants and particulate matter. PAH (polycyclic aromatic hydrocarbons) are groups of organic pollutants ubiquitously present and resistant to degradation i.e., mutagen, carcinogen and tetratogen. An example of a PAH is benzo[a]pyrene, with toxicity that results from bioactivation of B[a]P to diolepoxides by monooygenase enzymes. These compounds are inhibited by active compounds extracted from Black tulsi viz., eugenol, carvacrol, elemene, caryophyllene and linalool. In this study, the active compound of tulsi bind to cytochrome P450 enzyme active site and inhibit them from binding B[a]P, in both in-silico studies and in-vitro analysis. (53)
• CNS Depressant / Tranquilizing / Root: Study evaluated the effect of a petroleum ether extract of root on pentobarbitone induced hypnosis in mice. Results showed significant alteration in general behavioral pattern by Water Maze Test and potentiation of pentobarbitone induced hypnosis in mice. Results indicate CNS depressant and tranquilizing activity. (54)
• Attenuation of Hydrogen Peroxide Induced Cytotoxic changes in Human Lens Epithelial Cells / Leaves: Hydrogen peroxide (h2O2) is a major oxidant involved in cataract formation. Study investigated the effect of an aqueous leaf extract of Tulsi against H2O2 induced cytotoxic changes in human lens epithelial cells. Results showed a protective role against H2O2 injury in HLEC by maintaining the normal cellular architecture. The activity may be via reduction of H2O2 through its antioxidant property, supporting the concept that the extracts can penetrate HLEC membrane. (55)
• Antibacterial Synergism: Study evaluated the in vitro antibacterial activity of O. sanctum against bacterial strains associated with infectious diseases i.e., Staphylococcus aureus, Escherichia coli, and Pseudomonas aeruginosa. Various leaf extracts were used in combination with ampicillin. Synergistic antibacterial activity (FICI ≤ 0.5) was observed in combination of aqueous extract of leaves with ampicillin. (57
• Anticancer / Leaves: Study investigated the anticancer activity of O. tenuiflorum. OT showed anticancer activity against MCF-7 (a hormone-dependent breast cancer cell line). Crude extracts showed lower IC50 (<100 µg/ml) against cancer cell lines without effect of HS-27. (58)
• Antifungal / Leaves: Study evaluated an aqueous leaf extract against four common species of fungi viz., A. niger, Rizopous, Cladpsporium and Curvularia lunata isolated from archeological sites. The plant extract at 40% concentration was effective in reducing mycelial growth of A. niger, Rizzopus, and , Cladpsporium sp. while a 30% extract was effective against C. lunata. (59)
• Anti-Inflammatory / Leaves: Study evaluated the anti-inflammatory activity of O. sanctum alone or in combination with indomethacin in carrageenan induced rat paw edema. Reduction of edema by O. sanctum was better than indomethacin. Co-administration with indomethacin marginally improved the anti-inflammatory activity. Activity was attributed inhibition of both cyclooxygenase and lipooxygenase pathways of arachidonic acid metabolism. (60)
• Decreased Tumorigenicity and Metastasis in Human Pancreatic Cancer Cells / Leaves: Study showed extracts of O. sanctum leaves inhibited the proliferation, migration, invasion, and induced apoptosis of pancreatic cancer cells in vitro. There was down-regulation of genes involved in proliferation, migration, and invasion. Results suggest the leaves of O. sanctum can be a potential source of novel anticancer compounds. (61)
• Stress Management / Clinical Study: A randomized, double-blind, placebo-controlled study investigated the efficacy of OciBest. an extract of Ocimum tenuiflorum. in symptomatic control of stress. The severity of stress-related symptoms was self-evaluated by patients who scored on symptoms of forgetfulness, sexual problems, sleep problems, feeling of enthusiasm, which significantly decreased (p<0.05) Results suggest OciBest to be effective and well tolerated by all the patients. (62)
• Antidiabetic Constituents / Leaves: Study of active crude extract *methanol) and its active fractions (ethyl acetate and butanol) showed the presence of polyphenolic active constituents such as 3,4-dimethoxycinnamic acid, caffeic acid, diometin, luteolin, kaempferol, rosmarinic acid, apigenin, and genistein that control the blood glucose in diabetic rats. Isolation of active components may pave the way for development of new agents for the treatment of diabetes and its complications. (63)
• Silver Nanoparticles / Antibacterial / Leaves: Study reports on the bioinspired synthesis of silver nanoparticles with the aid of novel, non toxic, ecofriendly biological material of Ocimum tenuiflorum. leaf extract against three different strains of bacteria i.e. gram negative E. coli, Gram positive Corney bacterium, and spore forming Bacillus subtilis. (64)
• Effect of Drying and Fermentation on Antioxidant Capacity / Tea Leaves: Study evaluated the effect of freeze drying on leaves processed into fermented and unfermented tea. Antioxidant capacity was assessed by FRAP, and DPPH assays. Results showed that drying fresh leaves and processing them into tea leaves significantly increased (p<0.05) the antioxidant capacity, total phenolic content, total flavonoid content and condensed tannin content. However, there were reductions of anthocyanin and condensed tannin contents. Study also showed vacuum drying method produced a product of higher antioxidant quality than freeze drying, and to boot, vacuum drying is cheaper than freeze drying. (65)
• Mucilage from Seeds: Study isolated and evaluated mucilage from seeds of Ocimum tenuiflorum and explored its use as a pharmaceutical excipient. Study reports on a simple, economical, and optimum method of mucilage extraction and reported on physiochemical properties such as pH, charring, swelling ration, bulk and tapped densities, Carr's index, Hausner's ration, viscosity, and angle of repose. (66)
• Aroma Compounds in Essential: Study evaluated 32 accessions of O. tenuiflorum germplasm for essential oil composition. Essential oil content showed wide range of variation from 0.13-0.45% on FWB. GC-MS study of the oil showed phenylpropanoids, mainly eugenol as the major proportion of the essential oil. The major chemical constituents identified were eugenol (1.94-60.20 %), methyl eugenol (0.87-82.98 %), ß-caryophyllene (4.13-44.60 %), ß-elemene (0.76-32.41%). Eugenol has been reported to be largely responsible for the therapeutic potential of tulsi, while methyl eugenol is a high value aroma chemical used for flavoring agent. Results suggest value as an essential oil crop. (67)

Availability
- Wildcrafted.
- Seeds, capsules, tinctures, powder in the cybermarket.