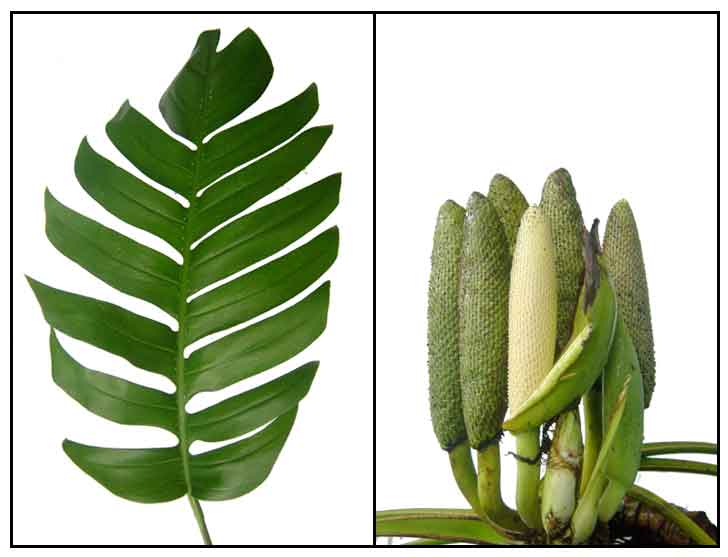 Botany
Tibatib is a stout vine climbing on tree trunks, reaching a height of 5 to 6 meters. Leaves are oblong-ovate, up to 60 centimeters long, pinnately cleft almost to the midrib into 7 to 12 pairs of lanceolate, acuminate, falcate, 1-nerved lobes, 12 to 20 centimeters long, 2 to 5 centimeters wide. Spathes are several, terminal, white or greenish, in flower about 15 centimeters long and deciduous. Spadix is green, dense, cylindric, nearly or as long as the spathe, 2 to 2.5 centimeters thick in flower, thicker in fruit. Fruit is a greenish berry with a few seeds embedded in an orange-red pulp.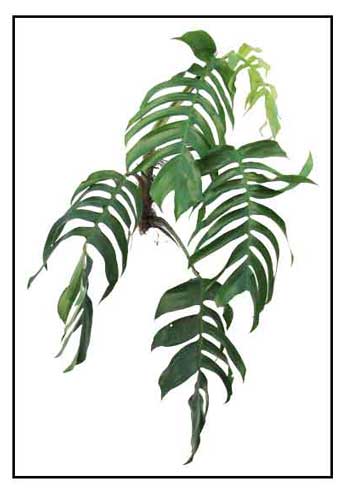 Distribution
- In thickets and forests at low and medium altitudes in Bontoc, Benguet, La Union, Nueva Viscaya, Zambales, Bataan, Rizal, Laguna, Quezon, and Sorsogon provinces in Luzon; Polilio, Palawan, Leyte, Negros and Mindanao.
- Urban ornamental cultivation.
Constituents
- Yields Benzenoid (11-phenyldecanoic acid, 15-phenylpen- tadecanoic acid, 13-phenyltridecanoic acid) and alkaloid (tongine). (6)
- Phytochemical screening of Rhaphidophora pinnata leaves yielded alkaloids, glycosides, saponins, flavonoids, tannins, and triterpenoids/steroid compound. (see study below) (10)
Properties
- Emmenagogue, antidotal, anticancer.
- Leaves considered tonic and antirheumatic.
- Studies have suggested anticancer, anti-inflammatory, antibacterial properties.

Parts utilized
Sap, leaves.

Uses
Folkloric
• Sap used for snake bites.
• Stem used as toothbrush to improve the breath.
• Spadix of plant used as emmenagogue.
• Leaves used for chest pains.
• Root, stem and leaf sheath chewed to alleviate dental ailments, also used for its soothing, sedating effect.
• Used for treatment of diabetes, cancer, and immune system enhancement.
• In Fiji, bark used as treatment of rheumatism, neuralgic headache, back pain, and muscular spasm.
• In Taiwan, used as dental analgesic.
• Mixture of young leaves of E. pinnatum and Imperata cylindrica is crushed in water or coconut juice and solution drunk to treat gonorrhea. Young leaves boiled in water used to treat diabetes and malaria; also used for toothaches. Juice extracted from stem mixed with water and drunk for joint paints, dislocation, and fractures. (6)
• In Chinese medicine, used for rheumatism, dysentery and fractures.
• Decoction of leaves used for treatment of malaria.
• Stem juice mixed with water and drunk for joint problems, fractures, and dislocations.
• Decoction of leaves use as gargle and mouth wash for gum inflammations and tooth abscesses.
• In Malaysia and Singapore, Epipremnum pinnatum has a reputation as anticancer preparation and a remedy for skin diseases.
• In Fiji, stem considered to have contraceptive properties while the liquid expressed from the stem is used to regulate menstruation and promote fertility. (13)
• In India, bark used for wound healing. (16)
Others
• Teeth-blackening: Vine used by some Mindanao tribes, also in Bali, Java and Taiwan, used as a chewing agent for teeth blackening. (3)
• Basketry: Inner part or central cylinder of root used for basketry, lamp shades, etc.
Studies
• Anticancer / Apoptotic and Non-Apoptotic Mechanisms: Study of chloroform extract showed growth inhibition against T-47D breast carcinoma cells. Analysis of cell death mechanisms showed the extract elicited both apoptotic and non-apoptotic programmed cell deaths, possibly contributed to by up-regulation of caspase-3 and c-myc mRNA expression, respectively. (2)
• Inhibition of Pancreatic Lipase: Study evaluated the an extract of E. pinnatum on pancreatic lipase inhibitory activity using Chicken pancreas model. Results showed lipase inhibition activity by 74% using 48 µg/ml of E. pinnatum extract. (7)
• Anticancer / Non-Apoptotic Cell Death: A hexane extract of E. pinnatum produced significant growth inhibition against T-47D breast carcinoma. Analysis of cell death mechanisms indicated the extract elicited a non-apoptotic programmed cell death. The up-regulation of c-myc mRNA expression may have contributed to the growth arrest and type II non-apoptotic programmed cell death in the extract treated T-47D cells. (8)
• Anti-Inflammatory / COX-2 Inhibition: Cox-2 is a mediator of inflammation and is highly expressed in conditions like rheumatoid arthritis, asthma and various autoimmune disorders. Study evaluated various leaf extracts of E. pinnatum on COX-2 gene expression. Results showed a methanol extract exhibited strong COX-2 gene expression inhibition in-vitro. (9)
• Antibacterial / Leaves: Study evaluated ethyl acetate and ethanols extracts of Rhaphidophora pinnata leaves against Streptococcus mutans, Pseudomonas aeruginosa, Salmonella typhi, and Shigella dysenteriae bacteria. The ethanol extract showed satisfactory activity against P. aeruginosa. The EA extract showed satisfactory activity against four types of bacteria. (see constituents above) (10)
• Anti-Inflammatory / Analgesic / Toxicity Study / Aerial Parts: Study evaluated ethanol extracts of aerial parts of R. pertusa and Epipremnum pinnatum for anti-inflammatory activity in Wistar albino rats and analgesic effects in Swiss albino mice. Both showed significant inhibition of carrageenan-induced paw edema in rats and significant inhibition of acetic acid-induced writhing in mice. In toxicity study, no mortality occurred within 24 hours of 3 doses of RP and EP (125, 250, and 500 mg/kg). The LD50 of both extracts was greater than 500 mg/kg p.o. in mice. (12)
• Inhibition of Pancreatic Lipase Activity: Study of E. pinnatum extract using chicken pancreas showed 75% inhibition of pancreatic lipase activity. (14)
• Cox-2 mRNA Inhibition: Study of E. pinnatum displayed promising COX-2 mRNA inhibition at 20 g/ml. Study yielded citroside A, qusanlungionoside C, and phenylmethyl-2-O-(6-O-rhamnosyl)-ß-D-galactopyranoside. One of the glycons, -damascenone, showed promising COX-2 mRNA inhibition (IC50=25.8 M). -Damascenone was not cytotoxic up to 50M. Results suggest -damascenone anti-inflammatory effect is expressed by targeting NF-B. (15)

Availability
- Wildcrafted.
- Ornamental cultivation.