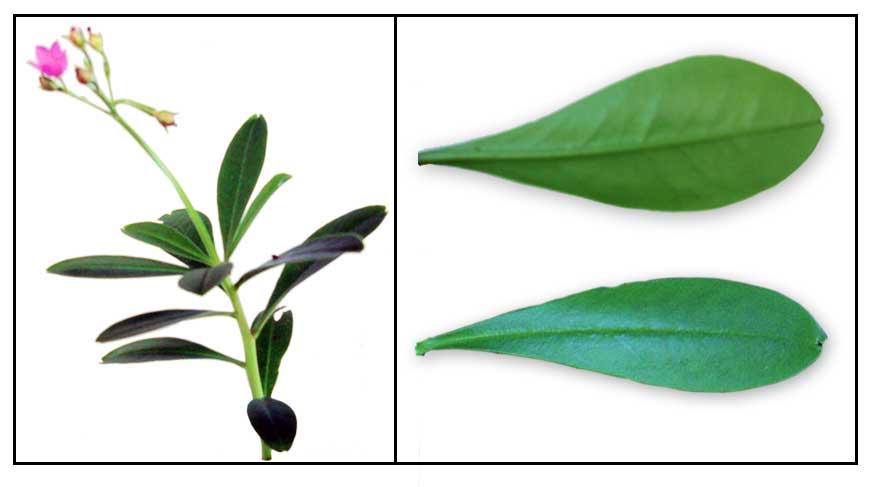 Snippet
English common name might have been taken from the title of a novel by American writer Edgar Rice Burroughs, Tarzan and the Jewels of Opar. (5)   Another makes a reference to the ancient African city from which frankincense and gold were hauled by caravan to Solomon's treasure.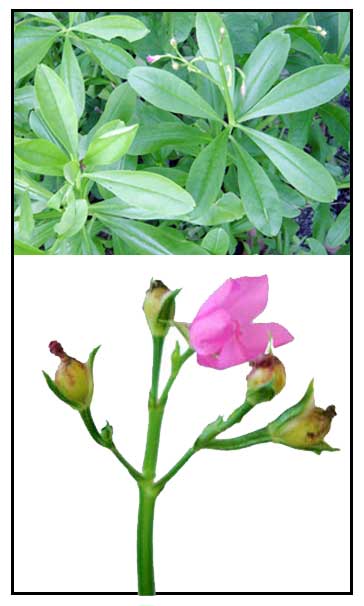 Botany
Talinum is a fleshy, erect herb, growing up to 100 to 120 centimeters tall. Roots are swollen and fleshy. Stems are succulent, slightly woody at the base. Leaves are in whorls, obovate-lanceolate, flat, glossy and bright green. Flowers are in terminal panicles, small and pink colored. Fruit is a globose, glossy, dark red capsule, 3 to 5 millimeters in diameter, many-seeded.

Distribution
- A garden plant or ornamental hedge.
- In some places, has escaped the gardens to become weeds.
- Native to tropical America.
- Now pantropic
Constituents
- Root has saponin, steroid and essential oil.
- Phytochemical screening of hexane and ethyl acetate extracts yielded potassium nitrate (1); a mixture of long chain hydrodrocarbons [hentriacontane (2), dotriacontane (3), tritriacontane (4) and pentatriacontane (5)]; heneicosanoic acid (6); the ester nonacosyl nonacosanoate (7); urea (8); 3-O-β-D- glucosyl-β-sitosterol (9); the mixture of β-sitosterol (10) and stigmasterol (11), and a pentaciclyc triterpene 3-O-acethyl-aleuritolic acid (12). (See study below) (8)
- Methanolic leaf and root extracts yielded various phytosterols: campesterol, ß-sitosterol, stigmasterol, stigmastan-3-ol, stimast-22-en-3-ol and stigmastanol. (See study below) (9)
- Study of root identified a mixed compound of 1-hexacosanol, 1-octacosanol and 1-triacontanol, its acetate, and a mixed compound of campesterol, stigmasterol, and ß-sitosterol together with ß-sitosteryl-ß-D-glucoside. (15)
Properties
- Leaves considered cooling, emollient, antiscorbutic, saponin, alterative, vulnerary, and resolvent.
- Studies have suggested antinociceptive, anti-edematogenic, phytoremediative, anti-fertility, estrogenic, tocolytic, anti-aging, antioxidative properties.

Parts used
Leaves and roots.

Uses
Edibility / Culinary
- Young leaves and stems are used as vegetable.
- Leaves used as salad ingredient.
- Shoots and leaves added to stews and soup.
- Author's mother told of a time during WWII when the leaves were used as food in times of scarcity.
- In some parts of Asia, used as a spice.
Folkloric
- In Asian traditional medicine, use extensively as a reproductive tonic.
- Roots used as substitute for ginseng.
- Used to regulate menses; also, for cough, general debility, diarrhea.
- In China, it is cultivated as a medicinal herb. In traditional Chinese medicine, the herb is used as a substitute for Ginseng.
- In Indonesia, used for liver and kidney problems.
- In Brazil, plant used to treat inflammatory conditions.
- Used to treat bad smelling urine, enuresis, irregular menses, gastrointestinal disorders, general debility. Leaves used topically in the treatment of edemas, skin inflammation, minor scratches, cuts, and scrapes. Decoction of roots used to treat scurvy, arthritis, stomach inflammation, and pneumonia. (8)
- Popular in Thai herbal recipes for enhancing vitality, treating diabetes, inflammatory skin problems, GI troubles, and general weakness. Used to induce lactation and restore uterine functions postpartum. (10)
- Swollen root used as aphrodisiac.

Studies
• Octacosanol : Octacosanol has been isolated from the roots of Talinum paniculatum. Octacosanol is being investigated in humans for use as an antiviral for herpes and for the treatment of inflammatory skin diseases. It may be helpful with Parkinson's disease, amyotrophic lateral sclerosis, heart disease and cholesterol reduction. (1)
• Constituents: From the roots, study yielded a mixed compound of 1-hexacosanol, 1-octacosanol and 1-triacontanol, its acetate, and a mixed compound of campesterol, stigmasterol, and B-sitosteryl-B-D-glucoside. (2)
• Estrogenic Activity / Roots and Leaves: Study explored the estrogenic activity of T. paniculatum root and leaf extracts compared with 17ß-estradiol (E2) in an experimental model of menopause in adult bilaterally ovariectomized (OVX) rats. Results showed T. paniculatum possess estrogenic activity in the OVX rats, which can be helpful in naturally managing reproductive tissues regression during menopause via an herbal option without any toxicity. (7)
• Antinociceptive / Anti-Edematogenic: Study evaluated crude extracts for anti-edematogenic and antinociceptive activities in a formalin-induced paw edema model. Hexane and ethyl acetate extracts showed higher anti-edematogenic and antinociceptive activity. (See constituents above) (8)
• Anti-Fertility / Anti-Implantation / Abortifacient / Roots and Leaves: Study of methanolic root and leaf extracts in female Wistar rats showed significant estrogenic activity, with anti-implantation activity and early abortifacient activity in a dose dependent manner. (9)
• Tocolytic / Effects on Uterine Contractility: Study investigated the effects of T. paniculatum leaf extracts on uterine contractility on adult female virgin rats. Results showed that spontaneous uterine contractile activity were dose-dependently inhibited by the leaf extracts. Results suggest T. paniculatum produces tocolytic effects on both spontaneous and agonist-induced contractions, possibly due to blockade of Ca2+ influx via L-type Ca2_ channel and Ca2+ efflux from internal store. (10)
• Phytoremediation / Iron: Study investigated the effectiveness of T. paniculatum as a phytoremediator for Fe in lateritic soil. Results showed higher amounts of Fe in the leaves grown in 75% and 100% lateritic soil and suggests potential use as phytoremediator and guide with regards its edibility. (11)
• Ginseng Jawa / Effect on Hippocampus Pyramidal Lamina Thickness: Study evaluated the effect of Ginseng Jawa (T. paniculatum) root on the thickness of CA1 pyramidal lamina of the hippocampus. Ginseng Jawa (Talinum paniculatum Gaertn.) with similar component to Panax ginseng, is assumed to have the same effect to the memory processing in the brain especially in the hippocampus neuron. Results showed GJ root administered orally increases the thickness of pyramidal lamina CA1 of the hippocampus. (12)
• Antioxidative / Anti-Aging: Study investigated the antioxidative and anti-aging effects of extracts from Talinum paniculatum. Leaf and stem extracts showed free radical scavenging effects and superoxide radical scavenging effects. Photoprotective potential of LSE was tested in HDF (human dermal fibroblast) exposed to ultraviolet irradiation. Results showed the LSE have anti-aging effects and the plant can be used as a source of new functional materials against oxidative stress-mediated skin damages. (13)
• Effect of Java Ginseng in Fitness of Male White Rat: Study investigated the process of improving fitness and its correlation with Java ginseng dose. The root of the plant is widely used as a substitute for Korean ginseng root. Results showed Java ginseng extract can increase the maximum ability to swim longer and reduce the oxidative stress evidenced by a decrease in malondialdehyde (MDA) levels. (17)
• Extraction of Flavonoids / Antioxidant Activity: Study reports on the microwave assisted extraction of flavonoids from T. paniculatum and its oxidation resistance, reporting on ethanol concentration, material liquid ration, extraction temperature and time, microwave power and time. Flavonoid yield could be 11.42%, more than 0.62% higher than conventional extraction. (18)
• Antibacterial / Antifungal / Leaves: Study evaluated various extracts and fractions of T. paniculatum leaves for antimicrobial and antimycobacterial activity. The LE showed activity against Serratia marcescens and Staphylococcus aureus with MICs of 250 and 500 µg/mL, respectively. A hexane extract showed good activity against Micrococcus luteus and Candida albicans. Although the crude leaf extract showed low MIC against S. aureus, further studies are suggested to investigated the possible synergism between T. paniculatum and antibiotics used to treat resistant strains (MRSA). (19)
• Antibacterial / Leaves:Study evaluated the in vitro antibacterial activity and MICs of various leaf extracts of Talinum paniculatum against E. coli (ATCC 25922) and S. aureus (ATCC 25923). A crude leaf extract exhibited against both E. coli and S. aureus. Study concludes the antibacterial potential of leaves of TP is mediated primarily by its phytoconstituents (alkaloids, phenols, saponins, tannins, steroids, triterpenes and flavonoids) which hinder peptidoglycan synthesis in bacterial cell wall, destroy bacterial membrane, alter surface hydrophobicity, alter cell signaling pathways and modulate quorum sensing.   (20)
• Synergistic Antimicrobial Activity with Antibiotics / Root:Study evaluated the effects of T. paniculatum in combination with tetracycline, erythromycin, and streptomycin against S. aureus and E. coli. The root extract statistically enhanced the activity of all the antibiotics against S. aureus. However, it showed no synergistic activity against E. coli. (21)
• Antioxidant / Polysaccharides / Stem: Study reported on the ultrasonic extraction of polysaccharides from Talinum paniculatum and evaluated the antioxidant activity using DPPH, hydroxyl radical, and superoxide radical assays. The stem polysaccharides exhibited powerful antioxidant. (22)

Availability
- Wild-crafted.
- Seeds in the cybermarket.