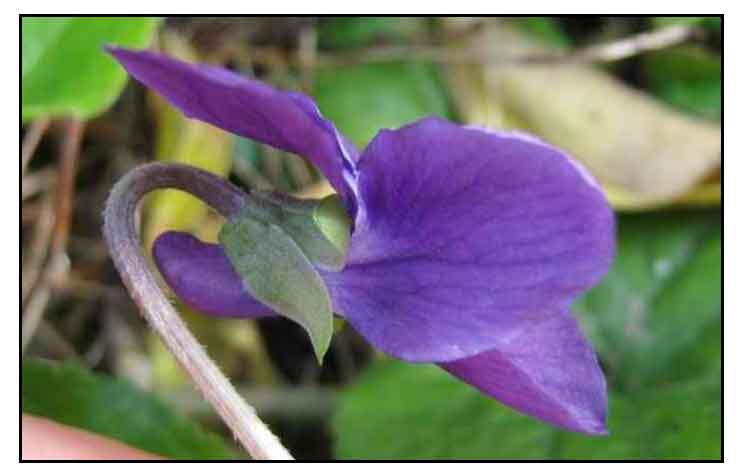 Gen info
Together with another Viola, V. tricolor (heartease), used medicinally since ancient times. Used by the Athenians to "moderate anger." Violet garlands were worn to prevent headaches and dizziness. Heartease was once used in love potions.
Botany
Violeta is a low herb with stout rootstocks. Stems are short or lacking, with slender stolons. Leaves are crowded at the ends of the stems, orbicular to subreniform, 5 to 8 centimeters long, with heart-shaped base, round-tipped, and toothed margins. Flowers are fragrant, 1.5 to 1.8 centimeters. Sepals are green, about 1 cm long. Petals are violet with the throat marked with white spots or lines.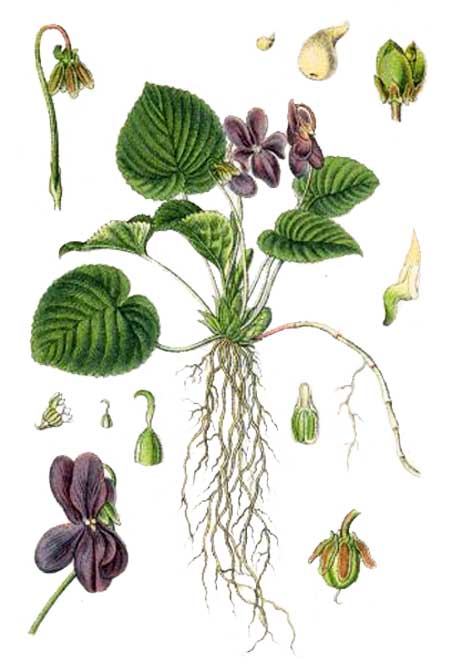 Distribution
- Ornamental cultivation as border plants around houses. Thrives best in Baguio and the Benguet area; not well adapted to lower altitudes.
- Certainly introduced.
Constituents
- Plant yields saponins, salicylates, alkaloids, flavonoids, saponins, tannins, phenolics, coumarins.
- The flowers contain a coloring matter and traces of a volatile oil, three acids (one red, another colorless, and a third salicylic acid), and an emetic principle called violin, probably identical with emetine, violaquercitrin, closely related but not identical with, quercitrin or rutin, and sugar. The violin is supposed to be found in all parts of the plant.
- The flowers contain a glucoside
and methyl salicylic ester.
- The seeds contain salicylic acid.
- Roots yield salicylic acid, viola-emetin, a glucoside.
- Leaves yield two crystalline bodies, one glucosidal and the other alkaloidal in character, and a dark green oil.
- Study of leaf essential oil yielded 25 compounds representing 92.77% of the oil with butyl-2-ethylhexylphthalate (30.10%) and 5,6,7,7a-tetrahydro-4,4,7a-trimethyl-2(4H)- benzofuranone (12.03%) as the two main components. (17)
Properties
- Considered anti-inflammatory, anticancer, demulcent, diuretic, emetic, expectorant, purgative.
- Seeds considered purgative and diuretic.
- Flowers considered diuretic, expectorant, purgative.

Parts used
Leaves, flowers, roots.

Uses
Culinary
- Young leaves and flower buds, raw or cooked.
- Leaves make a good salad.
- Leaves and flowers for tea.
- Leaves are cooked, added to stews and soups.
- Flowers, both decorative and edible, for salads and deserts.
Folkloric
- Decoction of root is a strong emetic; in large doses, the roots and seeds are poisonous.
- Poultice or compress of fresh leaves for inflammation and pruritic skin diseases.
- Fresh leaves have been used internally and externally in the treatment of cancer. Decoction of leaves, 4 to 5 glasses daily; poultice of leaves externally, infusion of leaves, syrup made from petals, or a liquid extract of fresh leaves used for cancer of the throat and tongue. In other countries, used for breast and lung cancer.
- Fresh leaves prepared as compress for local applications.
- Flowers, used dry, valued as diuretic and expectorant, and as purgative in bilious disorders. Also used as antipyretic and diaphoretic.
- In Sind, flowers used as anodyne.
- Decoction of dried flowers for fever.
- Syrup of the violet is used for cough and hoarseness.
- Seeds are purgative and diuretic.
- Plant poultice also used for headaches, coughs, colds, bronchitis, nervousness and general debility.
- In South Africa, leaves chewed as anticancer.
Others
• Essential oil from flowers used in perfumery.
• Pigment extract from flowers used for litmus testing strips.
• Makes excellent ground cover.
Studies
• Cyclotides / Cycloviolacin / Cytotoxic Activity: Study isolated cyclotide cycloviolacin O2 from Viola odorata, Cyclotides belong to the largest family of naturally cyclized proteins with potent cytotoxic activity. Study showed disintegration of cell membranes of exposed human lymphoma cell lines. (3)
• Cyclotides / Novel Cytotoxic Agent: Study isolated three naturally occurring macrocyclic peptides (cyclotides) from two violets - V arvensis and V odorata. All three cyclotides exhibited strong dose-dependent cytotoxic activities. With its chemical and biologic stability, they present a potential pharmacologic tool as antitumor agents. (4)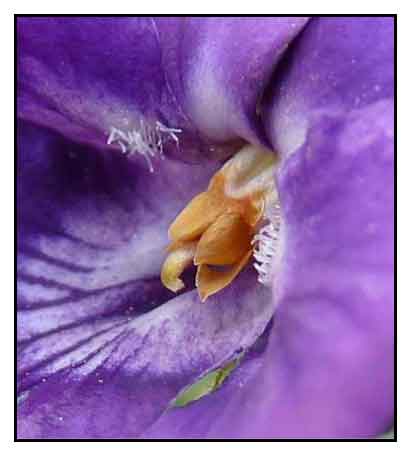 • Cyclotides / Antitumor: Study evaluated the cytotoxic activities of three naturally occurring macrocyclic peptides (cyclotides) – varv A, varv F and cycloviolacin O2 – from two violets, V arvensis and V odorata. With a new mode of action, the cyclotides present a novel pharmacologic tool and potential antitumor agent.
• Antipyretic: Study showed significant oral antipyretic activity in rabbits with the various extracts of plants, including V odorata. More prominent activity was found in the hexane-soluble portion of the plants tested. (5)
• Antibacterial: In a study of aqueous extracts of ten medicinal plants tested for antibacterial potential against strains of human pathogenic bacteria, Viola odorata was found to be the most effective antibacterial. (6)
• Elemental Composition: Flowers contained an odorous principle, blue coloring matter and a glucoside. Salicylic acid, a natural aspirin, was found in the plant. Violine, an alkaloid, was found in roots, leaves, flowers and seeds. Elemental analysis showed C, O, An, M.G., Al, Si, Claw, K, Ca, Fe in different parts of the plant. (7)
• Anticancer / Chemosensitizing / Cycloviolacin O2: Cycloviolacin, a cyclotide from Viola odorata has antitumor effects and causes cell death by membrane permeabilization. The study documents several cyclotides with robust cytotoxicity that may be promising chemosensitizing agents against drug resistant breast cancer. (9)
• Antihypertensive / Antidyslipidemic / Leaves: Extract of leaves caused a dose-dependent decrease in mean arterial blood pressure in anesthetized rats. The vasodilator effect of the extract is presumed mediated through multiple pathways like inhibition of Ca++ influx via membranous Ca++ channels, release from intracellular stores and NO-mediated pathways. Extract also exhibited an antidyslipidemic effect possibly through inhibition of synthesis and absorption of lipids and antioxidant activities. (11)
• Diuretic / Laxative / Toxicity Study / Aerial Parts: Aqueous extract of Viola odorata aerial parts showed significant diuretic activity. Butanolic and aqueous extracts showed good laxative effect in rats. On acute toxicity, no lethal effects were observed within 24 hours at dose level of 2000 mg/kg. (12)
• Antibacterial Activity on Resistant Pseudomonas aeruginosa: Study showed Viola odorata extract exhibited antibacterial activity against resistant Pseudomonas aeruginosa. (13)
• Use in Hypertension and Dyslipidemia: Study evaluated the use of V. odorata in hypertension and dyslipidemia using in vivo and in vitro assays. Leaves extract yielded alkaloids, saponins, tannins, phenolics, coumarins, flavonoids. Results showed a hypotensive effect via a vasodilator effect mediated through multiple pathways like inhibition of Ca++ influx via membranous Ca++ channels, release from intracellular stores and NO-mediated pathways. Plant also showed an antidyslipidemic effect possibly due to inhibition of synthesis and absorption of lipids and antioxidant activities. (14)
• Sedative and Pre-Anesthetic Effects / Comparison to Diazepam: Study evaluated the sedative and pre-anesthetic effects of V. odorata extract compared to diazepam in rats. Results showed Viola odorata exhibited better sedation and pre-anesthetic effects than diazepam, with dose-dependent effects. (15)
• Analgesic / Aerial Parts: Study evaluated the analgesic effect of various extracts of aerial parts. The aqueous and methanolic extracts showed significant dose-dependent analgesic effect in the peripheral and central models of pain (tail immersion and hot plate method). (16)
• Essential Oil / Leaves: Study evaluating leaf essential oil composition yielded 25 compounds, representing 92.77% of the oil. The two main components were butyl-2-ethylhexylphthalate (30.10%) and 5,6,7,7a-tetrahydro-4,4,7a-trimethyl-2(4H)-benzofuranone (12.03%). Antioxidant and antibacterial activities were evaluated. (17)
• Use in Bronchial Asthma, Hypertension, and Diarrhea: Study undertook to validate its folkloric use. Study showed a relaxant effect on spontaneous contractions in isolated rabbit jejunum preparation as shown by decrease in magnitude and frequency of contractions. It caused relaxation of K+-induced contractions similar to verapamil, confirming Ca2+ channel blocking activity. It exerted a relaxant effect on phenylephrine and K+-induced contractions in isolated rabbit aortic preparations providing rationale for its folkloric uses in the treatment of diarrhea, asthma, and hypertension. (20)
• Effect of Flower Syrup on Cough of Asthmatic Children / Clinical Trial: A double-blind, randomized controlled trial evaluated the effects of violet syrup for alleviation of cough in 182 children aged 2 to 12. Results showed the adjuvant used of violet syrup with short-acting ß-agonist can enhance cough suppression in children with intermittent asthma. (22)
• Mosquito Repellency: Study evaluated 41 plant extracts and 11 oil mixtures for activity against yellow fever mosquito, Aedes aegypti, malaria vector, Anopheles stephensi, filariasis and encephalitis vector. Culex quinquefasciatus. Oils of Viola odorata exhibited a protection time of 8 h at maximum and a 100% repellency against all three species, Aedes, Anopheles, and Culex mosquitoes. (23)
• Effect in Chronic Insomnia / Nasal Drops / Violet Oil: A pretest-posttest evaluation of violet oil efficacy in 50 patients with chronic insomnia used two drops of VO consisting of 66 mg in each nostril nightly before sleeping for one month. Results showed improvements in sleep and ISI scores in patients after a month of VO treatment (p<0.05). Study suggests VO can be a safe, well-tolerated and effective herbal preparation for patients with chronic insomnia. (24)
• Antimicrobial Synergism / Polyherbal Formulation: Study evaluated the antibacterial and antifungal activity of a polyherbal formulation of Moringa oleifera, Viola odorata and Allium sativum in specific proportions i.e., PF-1, PF-2, and PF-3, against gram-positive (S. aureus and B subtilis) and gram-negative (S. typhi, E coli) bacteria and fungi (A. niger and C. albicans). The PF-3 formulation showed the significant high zone of inhibition against all the microorganisms. Activity was attributed to the synergistic effect of secondary metabolites in the selected plants. (toxicity study below) (26)
• Acute Toxicity Study of Polyherbal Formulation: Study evaluated the acute oral toxicity of polyherbal formulation in different combinations of Moringa oleifera, Viola odorata, and Allium sativum extract in Wistar albino rats suing OECD guidelines with a test dose limit of 2000 mg/kg. Results reported no behavioral changes, toxic effects or deaths. (31)
• Protective Effect of Viola odorata and V. tricolor on Glucose Deprivation Neurotoxicity: Oxidative stress play a role in the pathophysiology of brain ischemia and neurodegenerative disorders. Study evaluated if V. odorata and V. tricolor can protect neurons against serum/glucose deprivation (SGD)-induced cell death in an in-vitro model of ischemia and neurodegeneration. SGD led to significant decrease in cell viability (p<0.001). Pretreatment with the herbal extracts reduced the SGD-induced cytotoxicity. Both extracts at 25 and 50 µg/ml could reverse the increased ROS production (p<0.05). Protection of the neuronal cells was attributed to antioxidant activities. (27)
• Antimalarial: Study evaluates the antimalarial effect of V. odorata by through pLDH method in vitro. Results showed petroleum ether, chloroform. methanol, and aqueous fractions inhibited heme polymerization up to 62, 77, 100, and 53%, respectively. Results suggest potential for the methanol fractions for further antimalarial studies. (28)
• Tumor Growth Inhibition and Antimetastatic / Breast Cancer Model: Study evaluated the cytotoxic, antioxidant, and anti-metastatic properties of V. odorata hydroalcoholic extract in 4T1 breast cancer model in mice. VOE significantly decreased cell viability and inhibited cell proliferation. The VOE at 250 mg/kbw significantly reduced metastatic rate in liver and lungs compared to other doses. (29)
• Immunological / Cytotoxic / Hepatoprotective / Methothrexate Toxicity: Study evaluated the immunological, cytogenetic, and hepatoprotective effect of V. odorata in methothrexate-induced damage. Results showed VO has the ability to enhance immunity and reduced the frequency of micronucleus formation in bone marrow cells, along with hepatoprotective activity. (30)
• Antitumor / Induction of Apoptosis in Human Glioblastoma Multiforme: Study evaluated the antitumor activity of V. odorata and its mechanisms on primary culture of human gliobastoma multiform (GBM). Results showed decrease in survival time of astrocytes from the BGM in a dose- and time-dependent manner, along with DNA fragmentation. The induced apoptosis activated the mitochondrial death pathway, released cytochrome C, and activated caspase-3. (32)
• Tyrosinase Inhibition:Study evaluated various extracts of V. odorata for inhibitory potential against tyrosinase (TYR( and cholinesterase by microplate assays. Only the ethanol extract inhibited TYR (80.23 ± 0.87 % at 100 µg/mL). None of the extracts inhibited cholinesterases. The extracts were able to scavenging NO radical better than other radicals tested. HPLC analysis of the aqueous extract yielded substantial vitexin (18.81 mg/g), while the ethanol extract yielded rutin and vitexin (1.31 NS 4.65 mg/g, respectively). (33)
• Cyclotide Cycloviolacin O2 / Bactericidal:Study investigated the antibacterial activity of small cyclic plant proteins, i.e., cyclotides. Prototypic cyclotides, including Möbius kalata B1 and bracelet cycloviolacin O2 (cyO2) were isolated by reversed-phase HPLC. CyO2 was the most active cyclotide and efficiently inhibited growth of S. enterica serovar Typhimurium LT2 and E. coli. CyO2 also showed bactericidal activity against gram-negative K. pneumonia and P. aeruginosa. (34)
• Ionone / Antibacterial Against Respiratory Pathogens / Aerial Parts: Study for bioactive compounds from aerial parts of V. odorata yielded an ionone-like compound, 3-(2′,4′,6′,6′-tetramethylcyclohexa-1′,4′-dienyl)acrylic acid (1). The compound showed antibacterial efficacy (7.3  ± 0.28 to 9.3 ± 0.28 mm) against selected respiratory bacteria at 6 mg/disc concentration. Hemophilus influenza showed more sensitivity than P. aeruginosa, S. aureus, S. pneumoniae, and S. pyogenes. (35)
• Hepatoprotective / Methothrexate Toxicity: Study evaluated the protective effect of V. odorata against hepatotoxicity induced by MTX in male mice. Results showed hepatoprotective activity as suggested by diminished deterioration of hepatocytes. Activity may be due to membrane stabilization and free radical scavenging activity which may be due to the flavonoid content effect on binding of free radicals and reduction of lipid peroxidation. (36)

Availability
Wild-crafted.