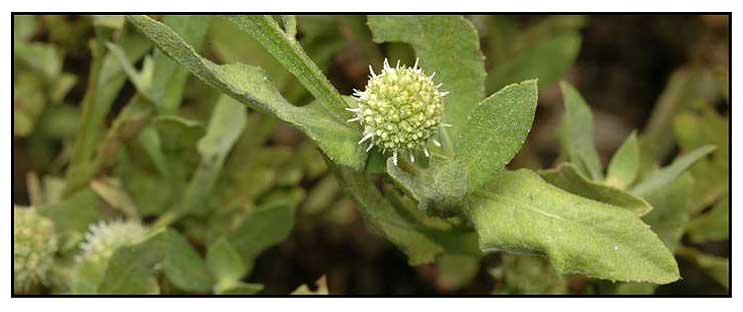 Botany
Botobotonisan is a more or less hairy or nearly smooth, rather coarse, erect or spreading, branched herb less than 1 meter in height. Stems and branches are prominently winged with three thin, wide, longitudinal structures which are the extension of the leaf blades. Leaves are obovate to oblong-obovate, 4 to 13 centimeters long, without stalks, and finely toothed at the margins. Heads are numerous, borne in dense, rounded clusters about 1 centimeter in diameter, and occur singly at the ends of erect, winged stalks. Flowers are greenish-white.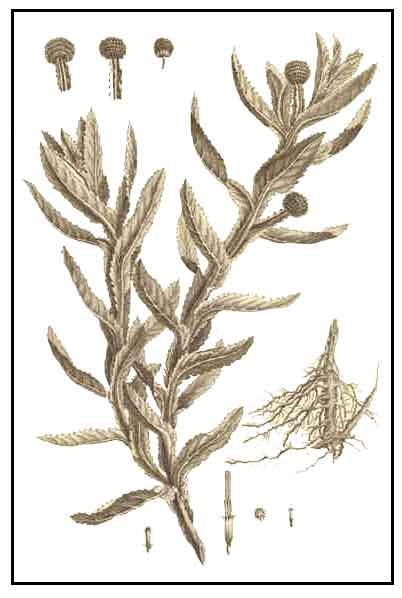 Distribution
- In open, rather damp waste places in and about towns at low and medium altitudes throughout the Philippines.
- Abundant in rice fields.
- Occurs inn tropical Africa, and Asia throughout Malaya to Australia.

Constituents
- Study yielded seven compounds: stigmasterol, chrysophenol D, 3,7-dimethoxy-4',5,6-trihydroxyflavone, chrysophenol C, 3alpha, 5beta-diangeloxoyloxy-7-hydroxycarvotanacetone, l-angeloxoyloxy-3-[4'-angeloxoyloxy-3'-methoxy]-2-propene and 1-angeloxoyloxy-3-[4'-isopentanoloxoyloxy-3'-methoxy]-2-propene.
- Flowers contains a volatile oil.
- Essential oil yields methyl chavicol, a-ionone, d-cadinene, p-methoxy cinnamaldehyde as major constituents and a-terpinene,citral, geraniol, geranyl acetate, b-ionene, sphaerene as minor constituents.
Properties
- Anthelmintic, stomach tonic and stimulant, antiblenorrhagic.
- Bitter, aromatic, vermifuge, diuretic, emollient, resolvent.
- In Ayurveda, considered laxative, digestible, tonic, fattening, alterative, anthelmintic and alexipharmic.
- Has the drug odor of terebenthine which is transmitted to the urine and sweat.

Parts used
Leaf juice, leaves, tops.

Uses
Edibility
- Leaves used as pot-herb.
Folkloric
- Used as anthelmintic, as powder, 2 to 4 grams, with a little molasses or syrup.
- Bitter and aromatic, used for diseases of the stomach and intestines for tonic and stimulant effect.
- Decoction of leaves and tops used as stomach tonic and also employed as antiblenorrhagic.
- In Ayurveda, plant pacifies vitiated vata, pitta epilepsy, migraine, jaundice, fever, cough, hemorrhoids, helminthiasis, skin diseases.
- In Bengal, plant used as tonic, vermifuge, and diuretic.
- In Indo-China, used as emollient and resolvent; applied as poultice to any ailing body part.
- Juice of leaves used as gargle in inflammation of the throat.
Others
- Aphrodisiac: Plant considered to have aphrodisiac potential. (4)
- Aqueous extract reported as poisonous to American cockroaches.
- Plant used as soil fertility indicator.

Studies
• Free Radical Scavenging Activity / Cytotoxicity: Study of ethanolic crude extract of whole plant exhibited free radical scavenging activity and cytotoxicity against various carcinoma cell lines.
• Carvotanacetone Derivatives / Antibacterial / Antifungal: Dichlormethane extract of air-dried leaves of Sphaeranthus africanus yielded four new carvotanacetone derivatives. Some compounds showed antibacterial activity against S. aureus and P. aeruginosa and antifungal activity against C. albicans, T. mentagrophytes and A. niger. (3)
Availability
Wild-crafted.