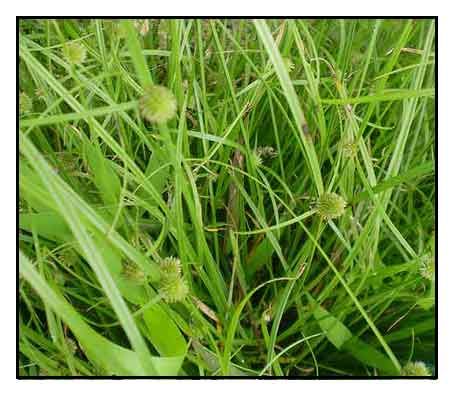 Botany
Pugo-pugo is an annual herb with slender stems, 10 to 50 centimeters high, usually scattered, rising from slender creeping rootstocks. Leaves are narrow, 3 to 10 centimeters long and less than 3 millimeters wide; shining green. Spikes are mostly solitary, ovoid, green to white, 8 millimeters long or less. Spikelets very numerous, lanceolate, about 3 millimeters long, with the keel of the flowering glume not winged. Whole inflorescence is subtended by 3 long leafy bracts. Fruit is a nut, about 1 millimeters long and compressed.
Distribution
- Throughout the Philippines, at low to medium altitudes, especially in open grasslands, waste places, along dikes, rice paddies and other moist places, at low and medium altitudes.
- Pantropic.
Properties
- Kyllinga leaves are glossier than turfgrass leaves. Also, they have a distinctive "minty sweet" scent when leaves are mowed or crushed.
Parts utilized
· Whole plant.
· Collect year round, wash under the sun.
Properties
- Prepared drug minty tasting and neutral-natured.
- Decongestant, antipyretic, antiinflammatory, analgesic, antimalarial.
Uses
Edibility
· In Paraguay folk medicine, rhizomes used as a refreshing drink.
Folkloric
· Colds with fever; when taken internally, has a perspiring (sudorific) effect.
· Whooping cough, bronchitis, swelling pain in the throat, malaria.
· Snake bites, furuncles, sprains: Apply poultice of pounded fresh leaves.
· Skin pruritus: Decoction may be used as an external wash.
· In India, used for dysentery - ten fresh tubers made into paste and consumed with rice; once daily for three days.
· Used for liver disease.
· Malays used the rhizome for poulticing sore legs.
· In Paraguay folk medicine, used as digestive, diuretic, sedative, tonic, antispasmodic, and sudorific.

Studies
• CNS Depressant Activity / Sedative Effect: Study of crude hydro-alcoholic rhizome extract of Kyllinga brevifolia on mice showed increase gastrointestinal transit, decrease spontaneous locomotor activity, piloerection, passitivity, catatonia and stereotyped behavior. It also showed a significant dose-dependent increase in hypnotic effect induced by pento-barbital. Results explain it traditional use to alleviate stress and as a sedative agent.
• Flavonoids / Antiviral: Study yielded two known flavonoids glycosides and a new quercetin. triglycoside, a compound that showed moderate antiviral activity.
• Anxiolytic / Sedative: Study of crude hydro-alcoholic extract and fractions of rhizome showed a weak sedative and interesting anxiolytic-like effect in mice and suggests a potential for use in women.
• Hepatoprotective: Study evaluated a methanolic extract of whole plant of K. brevifolia in male Wistar albino rats showed significant protection against CCl4-induced hepatocellular injury.

Availability
Wild-crafted.