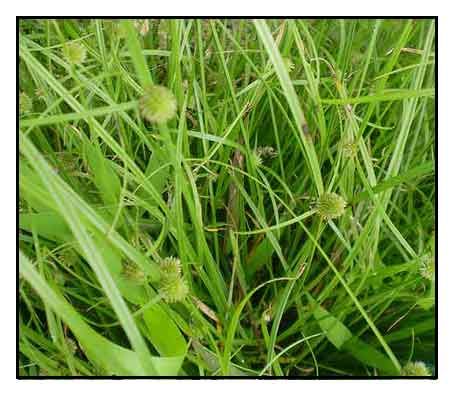 Botany
Pugo-pugo is an annual herb with slender stems, 10 to 50 centimeters high, usually scattered, rising from slender creeping rootstocks. Leaves are narrow, 3 to 10 centimeters long and less than 3 millimeters wide; shining green. Spikes are mostly solitary, ovoid, green to white, 8 millimeters long or less. Spikelets very numerous, lanceolate, about 3 millimeters long, with the keel of the flowering glume not winged. Whole inflorescence is subtended by 3 long leafy bracts. Fruit is a nut, about 1 millimeters long and compressed.
Distribution
- Throughout the Philippines, at low to medium altitudes, especially in open grasslands, waste places, along dikes, rice paddies and other moist places, at low and medium altitudes.
- Pantropic.
Constituents
- Study for essential oil from underground parts yielded 23 components, the main components of which were manoyl oxide (44.08%), ß-pinene (13.58%), cyperene (7.63%), and y-terpineol (7.37%). (11)
- Study of leaf essential oil yielded 33 compounds accounting for 96.1% of the oil composition. Major essential oil constituents were α-cadinol (40.3 %), τ-muurolol (19.5 %), and germacrene D-4-ol (12.5 %) with smaller amounts of δ-cadinene (2.9 %), and germacrene D (4.0 %). (13)
Properties
- Kyllinga leaves are glossier than turfgrass leaves. Also, they have a distinctive "minty sweet" scent when leaves are mowed or crushed.
Parts utilized
· Whole plant.
· Collect year round, wash under the sun.
Properties
- Prepared drug minty tasting and neutral-natured.
- Decongestant, antipyretic, anti-inflammatory, analgesic, antimalarial.
- Studies have shown antioxidant, antiviral, anxiolytic, CNS depressant, hepatoprotective, anti-aggressive properties.
Uses
Edibility
· In Paraguay folk medicine, rhizomes used as a refreshing drink.
Folkloric
· Colds with fever; when taken internally, has a perspiring (sudorific) effect.
· Whooping cough, bronchitis, swelling pain in the throat, malaria.
· Snake bites, furuncles, sprains: Apply poultice of pounded fresh leaves.
· Skin pruritus: Decoction may be used as an external wash.
· In India, used for dysentery - ten fresh tubers made into paste and consumed with rice; once daily for three days.
· Used for liver disease.
· Malays used the rhizome for poulticing sore legs. Leaves used for diarrhea. For treating scurf, pounded roots applied to affected area. (10)
· In Paraguay folk medicine, used as digestive, diuretic, sedative, tonic, antispasmodic, and sudorific.

Studies
• CNS Depressant Activity / Sedative Effect: Study of crude hydro-alcoholic rhizome extract of Kyllinga brevifolia on mice showed increase gastrointestinal transit, decrease spontaneous locomotor activity, piloerection, passivity, catatonia and stereotyped behavior. It also showed a significant dose-dependent increase in hypnotic effect induced by pentobarbital. Oral administration of doses up to 3,000 mg/kg did not provoke any toxic symptoms. Results explain it traditional use to alleviate stress and as a sedative agent. (1)
• Flavonoids / Antiviral: Study yielded two known flavonoids glycosides and a new quercetin. triglycoside, a compound that showed moderate antiviral activity.
• Anxiolytic / Sedative / Rhizomes: Study evaluated the putative sedative, anxiolytic effects of crude hydro-alcoholic extract and fractions of rhizomes of K. brevifolia in male male using open filed, hole board, rota-rod, and elevated plus maze (EPM) test. Results showed a weak sedative and interesting anxiolytic-like effect in mice and suggests a potential for use in the treatment of anxiety in humans. (5)
• Hepatoprotective: Study evaluated a methanolic extract of whole plant of K. brevifolia in male Wistar albino rats showed significant protection against CCl4-induced hepatocellular injury. (7)
• Anti-Aggressive Activity / Rhizomes: Study evaluated the anti-aggressive activity of hydroethanolic extract of rhizomes and various fractions on aggressive behavior in isolated-induced aggression model in male mice. Results showed a general anti-offensive aggressive activity and suggests a potential in the treatment of reactive aggression in humans. (9)
• Antioxidant: In an in vitro study of 31 medicinal wetland plants in Taiwan, Kylinga brevifolia was one of seven that showed high antioxidant activity and high total polyphenolic contents. (12)
• Silver Nanoparticles / Methylene Blue Removal: Study reports on the green synthesis of nanocatalyst K. brevifolia-mediated silver nanoparticles. KBE functioned as capping agent for stabilization of AgNPs. KBE + AgNPs is more benign to the environment and is the preferred reducing agent. The NPs showed effectiveness for degradation of MB dyes, with potential to degrade other types of toxic dyes used in textile industry. (14) (15)
• Bioremediation of Textile Dyes Wastewater / Bacteria from Mining Soils and Wetlands: New bacteria obtained from contaminated soils surrounding coal, aluminum, salt mines, and wetlands were separated, synthesized and characterized. Study showed the soils and waters have five dispersed bacteria. The bacteria were evaluated for potential removal activity of basic blue 41 and disperse red 177 dyes. Study of removal mechanism showed biodegradation to be the governing mechanism. Results suggest natural and locally available bacteria showed great efficiency for removal of dyes from aqueous solution with any unsafe by-product, and can be utilized for other water pollutants. (16)

Availability
Wild-crafted.