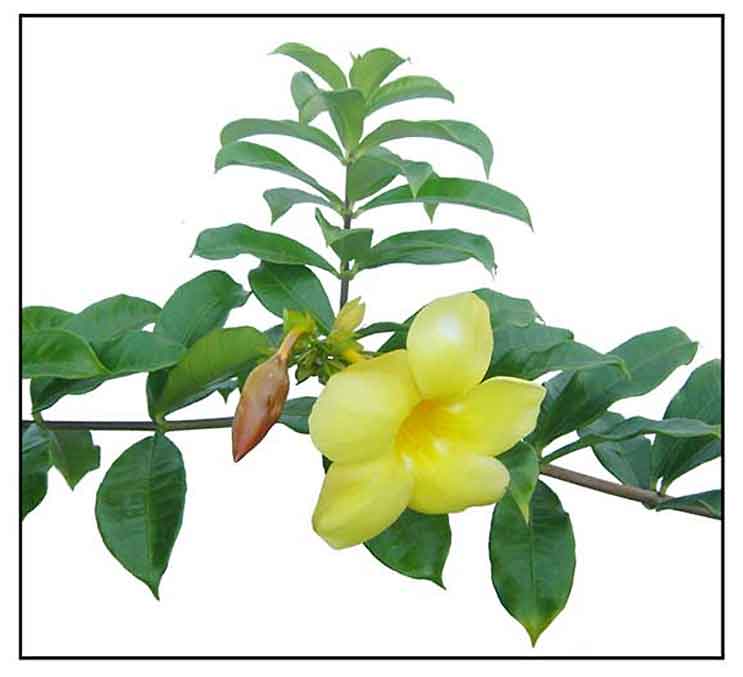 Botany
Kampanilya is a vigorous, smooth, slightly hairy shrub growing 2 to 4 meters high. Leaves are opposite, in whorls of 3 or 4, although the upper ones may be scattered, lanceolate or oblong-lanceolate, 8 to 12 centimeters long, 2.5 to 4 centimeters wide, pointed on both ends. Flowers are yellow and short-stalked. Calyx-teeth are green, somewhat spreading, lanceolate and 1 to 1.5 centimeters long. Corolla is about 7 centimeters long; the slender part of the tube being about 3 centimeters long; the tube inflated up to 2 centimeters in diameter; the lobes ovate or oblong-ovate, spreading, rounded and about 2 centimeters long.
Distribution
- Cultivated as ornamental garden plant.
- Occasionally semi-established in wild in thickets near dwellings or settlements.
- Introduced from tropical America.
Constituents
- Phytochemical studies revealed the main constituents to be alkaloids, flavonoids, saponins and carbohydrates.
- Contains allamandin, a toxic iridoid lactone.
- Milky sap is considered antibacterial, possibly anticancer.
- Study of phospholipid fatty acid composition yielded 7-Methyl-5,9-octadecadienoic acid.
- Phytochemical analysis of an ethanolic leaf extract yielded 28 different compounds, the major constituents of which were 9,12,15-octadecatrienoic acid (Z,Z,Z)-, n-hexadecanoic acid, 3-O-methyl-d-glucose and 9,12,15-octadecatrienoic acid ethyl ester (Z,Z,Z)- (10.58%). The ethanolic stem extract of A. cathartica showed the presence of 26 different bioactive compounds, the major ones 3-O-methyl-d-glucose, 2-furancarboxaldehyde 5-(hydroxymethyl)-, n-hexadecanoic acid and 9,12,15-octadecatrienoic acid (Z,Z,Z)-. (12)
- Study of whole plant yielded eleven secondary metabolites, viz., allamandin (1), allamdin glucoside (2), betulinic acid (3), ursolic acid (4), 2,6,8-trihydroxy-3-(4-hydroxyphenyl)-4H-chromen-4-one (5), pinitol (6), heptacosanoic acid (7), heptacosane (8), β-sitosterol (9), β-sitosterol-3-O-glucoside (10), and sucrose (11). (25)
Properties
- In the Philippines, whole plant is considered poisonous.
- As the name implies, the leaves, roots and flowers may be used in preparing a powerful cathartic.
- Considered purgative, cathartic with hydrogogue effect, healing, diuretic.
- Studies have suggested antidermatophytic, wound healing, antiproliferative, antifertility, antibacterial and antifungal properties.
Parts utilized:
Leaves and bark.

Uses
Folkloric
- The plant draws its name from Allamand, who made the plant known a century and a half ago, who used a cathartic infusion of the leaves for colic.
- Infusion of leaves in moderate doses is an excellent cathartic; in considerable doses, it is purgative and a violent emetic.
- The bark and latex in small doses are considered cathartic; in large doses, poisonous.
- Decoction of the bark is a hydragogue; infusion of leaves is cathartic.
- Decoction of leaves in small doses used as antidote for poisoning.
- Extract of leaves used for colic and as laxative; in large doses causes diarrhea and vomiting.
- In Trinidad, used for treating malaria and jaundice.
- In Guiana, the latex is used as a purgative and employed for colic.
- In Surinam, the plant is used as a cathartic.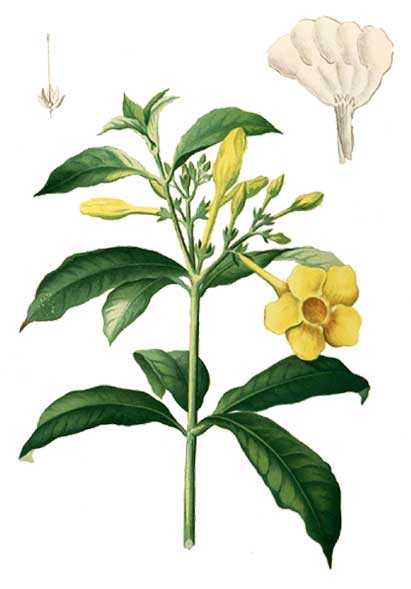 Studies
• Purgative Effect: Findings suggest AC leaf extracts can elicit a purgative effect by increasing intestinal motility, in part, via muscarinic receptor activation. (1)
• Wound Healing: The study of aqueous extract showed significant wound healing activity in wound models studies with decrease epithelizations time, high skin breaking strength, and increase in granulation tissue weight and hydroxyproline content. The Allamanda leaf extract possesses better wound healing activity than the Laurus nobilis. (2)
• Reversible Antifertility Effect: The study on the oral administration of aqueous leaf extract of AC showed reversible suppression of fertility in male mice – organ weight,, testosterone levels, sperm parameters among others – without detectable toxic effects. (3)
• Plumieride / Antidermatophytic: Plumieride, an active principle isolated from the leaves of AC showed strong fungitoxicity against some dermatophytes causing dermatomycosis to both humans and animals. (4)
• Purgative Effect : Study showed the aqueous extract of leaves of Ac could produce a purgative effect by increasing intestinal motility, partly through muscarinic receptor activation.(5)
• Anti-Proliferative / Cytotoxic: Study evaluated the anti-proliferative effect of A. blanchetti and A. schottii on K562 leukemic cells. Results showed both plants exhibited cytostatic and cytotoxic activity, the most active were located in the roots. (6)
• Antimicrobial: Study of leaf extract of A. cathartic showed antimicrobial activity – the chloroform extract showed significant activity against Shigella dysenteriae, moderate activity against B subtilis, P aeruginosa and a niger. (7)
• Bioactive Iridoids / Cytotoxic: Study of ethanol extract of A cathartica and H fallax isolated a weakly cytotoxic isoplumericin and plumericin. (8)
• Synergistic Anti-Inflammatory Activity: Study investigated the anti-inflammatory activity of a methanolic extract of Allamanda cathartica and Piper nigrum in a carageenan-induced paw edema model. Results showed a synergistic interaction between A. cathartica and P. nigrum. (10)
• Thrombolytic Activity / Leaves: Study evaluated a crude methanolic extract of leaves and its fractions for possible thrombolysis and cytotoxic activities. Results showed clot lysis activity. In brine shrimp lethality bioassay, fractions showed significant cytotoxic activity. (13)
• Seeds as Bio Fuel: Study evaluated the possibility of using yellow bell seeds crude extract as fuel. Results showed a potential for the crude extract to be a substitute for kerosene and alcohol. (14)
• Antiviral Activity: Study evaluated crude hexane extracts from stem and leaf for antiviral activity on the replication of Autographa californica multiple nucleopolyhedrovirus (AcMNPV) in Spodoptera frugiperda cell line (Sf9). Results showed the extract affected DNA replication of AcMNPV in Sf9 cell line when the extract was added at 1 h post- infection. (15)
• Anti-MDR Staphylococcus aureus: Study evaluated the prevalence of multidrug resistance S. aureus in human clinical sample and its sensitivity to A. cathartica leaf extract. Results showed the leaf extract would be useful in developing drugs that can reduce the prevalence of MDR Staphylococcus aureus causing clinical infection in human. (16)
• Antipyretic / Anti-Inflammatory / Leaves: Study evaluated ethanolic extract of Allamanda cathartica for anti-inflammatory and antipyretic activities on carrageenan induced paw edema and brewer's yeast-induced pyrexia in rats. Results showed significant suppression of paw edema development and significant decrease in body temperature. (18)
• Antioxidant / Membrane Stabilizing / Antimicrobial: Study evaluated a methanol extract of leaves and soluble partitionates of A. cathartica showed significant membrane stabilizing activity, mild to moderate antioxidant and weak antimicrobial potentials. (19)
• Hepatoprotective / Cytotoxicity: Study evaluated the hepatotoxic and cytotoxic activity of methanolic and aqueous extracts from flowers and roots of Allamanda cathartica on BRL 3-A cell lines. Cell viability was inhibited to various extents by the extracts. A flower extract showed 83.9% protection with galactosamine as hepatotoxicant, compared to Silymarin at 95.13% protection. (20)
• Anthelmintic: Study showed the efficacy of crude extract of leaves as anthelmintic against pig roundworms Ascaris suum. (21)
• Green Synthesis of Silver Nanoparticles / Antimicrobial: Silver nanoparticles has important application in medicine as antimicrobial agent. Study reports on the rapid biosynthesis of silver nanoparticles from aqueous leaf extract of Allamanda cathartica. A. cathartica aqueous leaf extract of SNPs showed highest toxicity to Pseudomonas followed by Klebsiella, Bacillus and E. coli. (22)
• Sensitivity of Multidrug Resistant Staphylococcus aureus to Leaf Extract: Study evaluated the sensitivity of multidrug resistant S. aureus in human clinical sample to A. cathartica leaf extract. 75% of the isolates were resistant to streptomycin, with varying resistance to azithromycin, chloramphenicol, gentamycin and erythromycin. The crude leaf extract was found to possess antibacterial properties of 83.33% against S. aureus isolates. (23)
• Plumericin / Antifungal: Study evaluated five Allamanda species for antifungal activity against plant pathogenic fungus Colletotrichum gloeosporioides. M. cathartica exhibited potent inhibitory effect and suppressed mycelial growth of C. gloeosporioides up to about 70%. Activity was attributed to the tetracyclic sesquiterpene plumericin. (24)
Availability
Wild-crafted.
Ornamental cultivation.