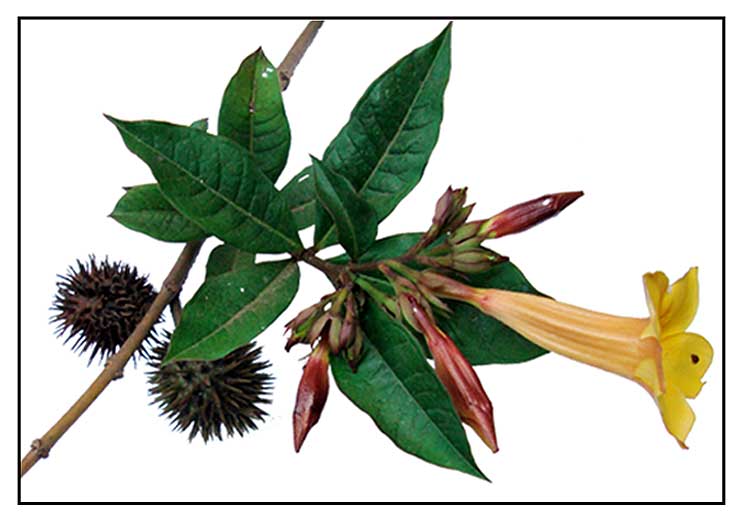 Botany
Yellow allamanda is a glabrous perennial shrub growing to a height of 1.5 meters, with a milky sap and sometimes scandent branches. Leaves are narrow, opposite or whorled, 2 to 5 at each node, 8 to 10 centimeters long, 2 to 3 centimeters wide. Inflorescence is paniculate. Flowers are bell-shaped with a golden yellow corolla, striped orange at the throat, up to 6 centimeters across, with a short and swollen tube, angular at the base. Fruit is a globose and prickly capsule.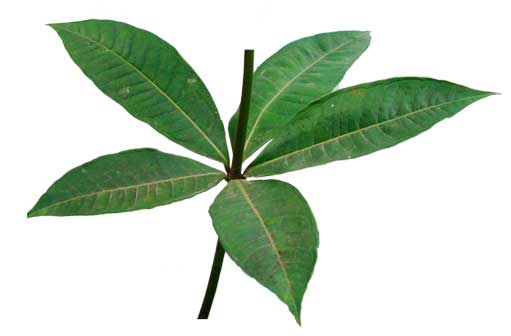 Distribution
- Recently introduced.
- Ornamental cultivation.
- Propagated by stem cuttings.
- Found wild in thickets.
- Native to Brazil.
Constituents
- Study of ethanol extract from aerial parts (leaves and stems) of A. schottii yielded a mixture of ß-sitosterol and stigmasterol. Elution of fraction 80-106 eluted yielded plumericin (56.3 mg), scopoletin (14.5 mg), ursolic acid (267.8 mg) and plumierede (74.3 mg). A dichlormethane fracton from roots yielded plumericin (22.1 mg), isoplumericin (18.0 mg), 1-(3,4-dimethoxyphenyl)-ethano-1,2-diol (8.3 mg) and scoparone (15.2 mg). (see study below) (3)
- In a study of flavonoids in flowers of different Allamanda species, A. schottii ethyl acetate fraction yielded a rutin concentration of 24.85 ±0.08 mg/100 g fresh flowers. Flowers also yielded kaempferol and quercetin. (7)
Properties
• Concerns: Milky and irritant sap. Skin contact may cause dermatitis. Reports of diarrhea or vomiting with ingestion of plant parts.
• Purgative.
• Studies have shown antiproliferative, cytotoxic, anti-leismanial properties.
Uses
Folkloric
• Reports of diarrhea and vomiting with ingestion of plant parts.
• Used as purgative and vermifuge.

Studies
• Protoplumericin / Iridoid Bis-glucoside: Study isolated protoplumericin, 13-O-(ß-D-glucopyranosyl-p-coumaroyl)-plumieride, from the methanolic extract of A neriifolia. (1)
• Anti-Proliferative / Cytostatic / Cytotoxic: Study evaluated the anti-proliferative effect of A schottii and A blanchetti ethanolic extracts on K562 leukemic cells. The root extract of A schottii showed to be the most active, showing dose-dependent cytostatic and cytotoxic effect. (3)
• Anti-Rabies Virus / Leaves: In a study of South American extracts and fractions, only a methanol extract of leaves of Alamanda schottii showed anti-rabies virus activity, with a selectivity index (SI=CC50/EC50) of 5.6. (4)
• Antileishmanial / Roots, Stems and Leaves: Study evaluated extracts, fractions, and isolated compounds from selected Brazilian medicinal plants against strains of pormastigotes of Leishmania amazonensis and L. brasiliensis in vitro. Dichlormethanes fractions of roots, stems, and leaves of Allamanda schottii showed IC50 values between 14.0 and 2.0 µg/mL. Plumericin was the main active compound, with IC50 of 0.3 and 0.04 µg/mL against the two Leishmania species. (6)
• Antimitotic Activity: Study evaluated the effects of dichlormethane fraction obtained from Allamanda schottii on sea urchin Echinometra lucunter effs, as a multicellular model for evaluating anti-tumor activity. Results showed dose-dependent inhibition of sea urchin development with IC50 for first and third cleavage and blastulae stage of 103.7 µg/mL, 33.1 µg/mL, and 10.2 µg/mL, respectively. The expressive anti-mitotic activity on sea urchin eggs reinforces the anti-tumor potential of A. schottii. (8)

Availability
Wild-crafted.